Okay, I will be the first to admit that I hate cleaning. It feels like between blogging, working from home, and friends obligations, I never have time to clean my home. When I have surprise company, I usually end up looking for quick fixes. While some things and papers can be shoved in drawers or our guest room, there usually isn't a quick way to get around dusting. While there is nothing wrong with grabbing polish before people arrive, I really don't want my whole room smelling like polish, making everyone realize I dusted for their benefit (even if it's true). I have seen pre-moistened dusting clothes at the store before, but I never thought to actually try them. Recently, however, I was approached by Scott's Liquid Gold, asking me if I was willing to review their Dust & Go Wipes. Curious to try these, I happily said yes to them!
Scott's Liquid Gold Dust & Go: What Is It
Looking for a great products for light dusting jobs? If so, we think you will love Scott's Liquid Gold Dust & Go Wipes. These pre-moisturized wipes are a great way to clean furniture without having to worry about harsh chemicals, wax, or oils. It is so gentle, it can even be used on leather! It is also great to use for little touch ups between full on dusting jobs with Scott's Liquid Gold wood Cleaner!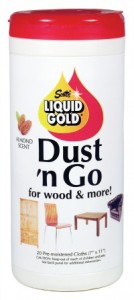 Scott's Liquid Gold Dust & Go: Cleaning
Being a fan of Scott's Liquid Gold, I was really excited to use these cloths. To me, this seemed like the perfect products for quick dusting jobs before company. You just pull out a cloth and go. Each of these cloths are pre-moisturized with Scott's Liquid Gold, allowing you to clean not just typical wood furniture but vinyl and leather as well! From my own experience, it does a great job on wood, and cleaning our leather furniture.
My only disappointment is that it just doesn't give the same results as normal Scott's Liquid Gold on wood furniture. To me, part of what makes their normal spray cleaner so amazing is the beautiful shine. You don't really get this same shine with the Dust & Go Wipes. The furniture obviously looks polished and cleaner, but it just isn't the same in my eyes. Compared to other products, it's still amazing though!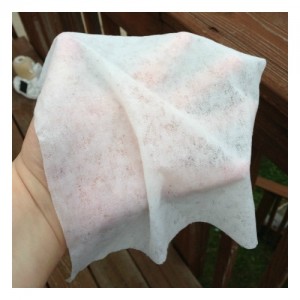 Scott's Liquid Gold Dust & Go: Overall
So far, Scott's Liquid Gold Dust & Go seems to live up to the Scott's name. It does a great job cleaning furniture. While it doesn't give wood that amazing, deep shine that their normal product provides, it is still perfect for a quick touch up job before company, and great for surfaces I couldn't use the spray cleaner on. I don't think it will replace my normal Scott's Liquid Gold for the wood furniture, but it still seems like a great product, and I am happy to award it a Budget Earth A- rating. Currently, you can purchase this product on the Scott's Liquid Gold Website (they are offering free shipping right now too), Menards, K-Mart, & many other awesome retailers near you. To see other amazing deals and other Scott's Liquid Gold products, don't forget to follow them on Facebook, Twitter, & Pinterest!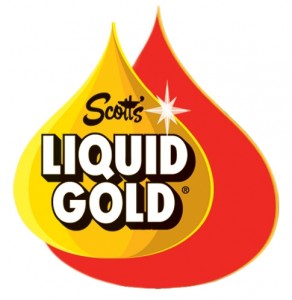 Disclosure: Budget Earth did not receive compensation for this review but did receive free product for review purposes via Tomoson.com. Only admins see this.">nofollow. All opinions on this product are my own and may differ from our readers' opinions.
Would you like to have your products featured in a similar giveaway event? Want to increase your social media exposure before the holiday season? See how we can help! Contact susan.l.bewley@gmail.com to see what we can do for your company!