Like many of you, I am not a big fan of cleaning. While I don't have kids, I have a mini zoo in my house which consists of one Alaskan malamute puppy, ten rats (anyone looking for babies?), six bearded dragons, and two turtles. With the pup alone it's not too surprising that my house isn't always perfect. One of the things I hate doing the most though is dusting, especially furniture. In my home, furniture is often just a horizontal surface, meaning that things get stacked for an indefinite amount of time and gather dust. With people coming over this weekend, I figured it was time to clean, which meant fighting the layers of dust and junk on my furniture. Knowing that it was time to clean, I decided to finally give the Scott's Liquid Gold Wood Cleaner I was asked to review a try.
Scott's Liquid Gold Wood Cleaner: What is It
For over 60 years, people have been using Scott's Liquid Gold Wood Cleaner. This cleaner was first invented in 1951 by a widow and her three sons in the garage in Denver, Colorado. It very quickly took off, quickly becoming a very well known and trusted household name. As well, it is still made right here in the United States, using natural organic oils that deep clean, moisturize, and protect natural wood without using harmful waxes or polishes. It works on all natural woods, including furniture, moldings, doors, and also on most metal surfaces.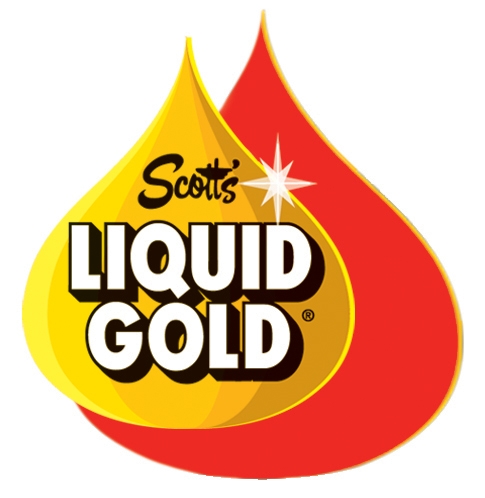 Scott's Liquid Gold Wood Cleaner: Cleaning
Right now, I am kicking myself that I waited so long to use Scott's Liquid Gold Wood Cleaner. While I always intended to give this cleaner a fair review, I wasn't certain it could possibly replace my Method Wood for Good Cleaner. Boy did this wood cleaner surprise me! After one wipe over, my coffee table didn't just look clean, but like it did when it was purchased, over six years and three moves ago! Scott's Liquid Gold Wood Cleaner left it with a natural shine that I have never seen produced by other cleaners on the market. Best of all, it was easy to spray, and left no mess or residue behind.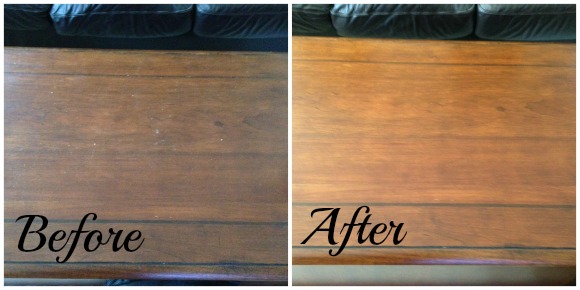 Scott's Liquid Gold Wood Cleaner: Smell
When I first sprayed Scott's Liquid Gold Wood Cleaner on my coffee table, I was a bit surprised. I didn't smell anything. Having read that it has an almonds scent, this was not what I was expecting. What shocked me more was there wasn't a scent until I started rubbing the liquid into the furniture. It was then I picked up a nice, but not overpowering almond scent. As someone who hates the smell of sharp cleaners of fake scenting chemicals, I have to say this was a pleasant, very happy surprise for me (especially since I refuse to use overly smelly cleaners).
Scott's Liquid Gold Wood Cleaner: Overall
I have to say that this is hands down the best furniture polish and wood cleaner I have ever used. Before I had tried Scott's Liquid Gold Wood Cleaner, I was a huge fan of Method's Wood for Good Cleaner. While I still love Wood for Good, this is the polish to use when you really want your furniture to look like new. Since this is made with all natural, organic oils, I feel comfortable using this product in my house. Since I would recommend this product to just about anyone, I would happily give it an A+ rating. Currently, you can purchase this product as Lowes, Wal-Mart, Amazon, or the Scott's Liquid Gold website. To get the latest information on this product and their sales, make sure to check out their Facebook & Twitter Pages.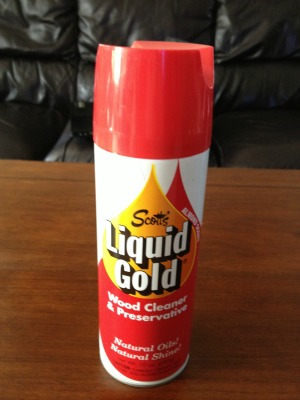 Disclosure: Budget Earth did not receive monetary compensation for this review , but did receive a can of Scott's Liquid Gold for review purposes from Tomoson.com. All of the opinions on this blog are the opinions of said author and these opinions may differ from your own.