Do you have certain foods that you pull out when you don't feel like cooking? Just like every person, I have my times where I just want to be lazy and fall back on canned or frozen foods. Recently, this was when my husband was gone on a business trip. When he is gone, I just don't think it's worth the hassle of dirtying up pans, especially for just me. One of my favorite fall back foods is tuna – especially albacore tuna packed in water. Being someone who loves fish, I always thought that there was nothing wrong with canned tuna in moderation, but with many of the mercury concerns, I really wanted to find something healthier. Lucky for me, I found it in the form of an eco-friendly tuna company right here in the United States – Sea Fare Pacific. Wanting to learn more, I reached out to the company, and they were generous enough to let me review two of their products – their Albacore Tuna infused with Jalapeño and their Albacore Tuna in Sea Salt.
Sea Fare Pacific: Who are They
Want to know why Sea Fare Pacific so different from their competition? For one, this fish is actually caught and packaged right here in the United States. Each of the tuna used is line caught on the west coast and packaged in Oregon, keeping jobs here in the United States and guaranteeing it's at the best quality possible. From there, the fish is packed in ice, placed in sealed packets, and then cooked once in its own oils, giving you the full benefit of the fish oil (normally this is discarded or evaporated since most big companies cook the fish twice and discard the oils). By prepping the fish this way and packaging it in eco-friendly packaging, the fish has a low carbon footprint and prevents containments from going in the environments.
As someone who loves tuna, I also love that Sea Fare Pacific's tuna is gluten free, GMO free, and contains no mercury. Through multiple studies, it has been found that fish caught on the pacific coast do not contain mercury, something that is a big plus for tuna lovers. Who knew we had such an eco-friendly, healthy option on the market?
Sea Fare Pacific: Albacore Tuna infused with Jalapeño
When I first told my husband about Sea Fare Pacific infused jalapeño tuna, he really wasn't for sure what to think. Since he is not a big fish fan anyways, I decided to give this tuna a try for myself. While it is very different from traditional tuna, I have to say that it is quite tasty! The jalapeño pieces give the tuna a nice, refreshing bite that isn't overpowering. Really, I could eat this stuff without any other type of condiments.

Sea Fare Pacific: Albacore Tuna in Sea Salt
In my family, this was the true winner. My husband and I both loved the taste of Sea Fare Pacific's Albacore Tuna in Sea Salt. It tasted just like the tuna I normally cook at home! This was the last thing I was expected from packaged tuna. When I combined it with olive oil mayonnaise and onions, it tasted even better. I think this tuna easily made the best tuna fish sandwich I had tasted in my life! Best of all, it wasn't overly salty, but had just enough to enhance the flavor of the fish itself.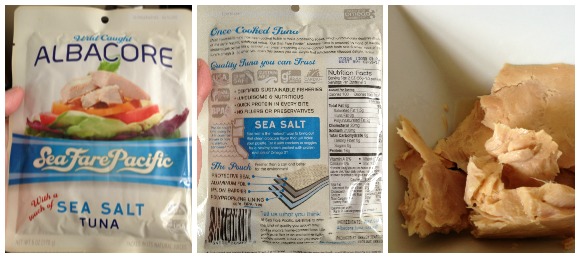 Sea Fare Pacific: Overall
Based on my experience with Sea Fare Pacific, I have to say this is the best packaged tuna I have ever tasted. It really tastes like fresh cooked tuna and has a very clean, refreshing taste. I really don't know how I can go back to normal, everyday canned tuna. This is one of those food items I will happily give an A+ rating and can't wait to purchase more to keep in my cabinet!

Sea Fare Pacific: Giveaway
Would you love to try some of this yummy tuna for yourself? If so, we are happy to announce that we are working with Sea Fare Pacific to bring you this awesome giveaway! Read the rules below and see how you can win two packages of this tuna to try for yourself.
Sea Fare Pacific Tuna Giveaway
1 Winner will receive two packages of Sea Fare Pacific Tuna.
Open to US Only.
Winner will be chosen at random through Rafflecopter via Random.org.
Giveaway ends June 12th at 11:59 pm EST.
Winner will be notified through email.
Winner will have 48 hours to respond before new winner is chosen.
Must be 18 Years or Older to Enter Rafflecopter.
Entering the Rafflecopter means you agree to terms above.
If you have any questions, feel free to email budgetearth@gmail.com
Good Luck!
Disclosure: Budget Earth did not receive monetary compensation for this review and giveaway, but did receive a Mía Mariú Rejuvenate Your Skin Anti-Aging Pack for review purposes from Tomoson.com. All of the opinions on this blog are the opinions of said author and these opinions may differ from your own.