Disclosure: I received these products for free to review . The opinions in my review are honest and my own.
I will freely admit, my husband and I may be addicted to computer gadgets. If something new comes out, we have to try it. We even have our own little quirks, like his preference for his Nexus, while I love the ease of use that comes with the iPad. It isn't that we have to have the latest and greatest, but we have a very tech oriented house and love anything that can bring a bit more convenience to our lives. The one time we really can't enjoy most of our gadgets is when we are traveling.
Usually, we have to deal with my FM transmitter for my iPhone, which has badly needed a replacement. It's even worse when we are traveling for business and don't have access to our media server in the living room, which has all of our videos, music, and computer game backups. It is when we don't have our files that it is obvious that we are media junkies. More than once we have wondered if there was anything on the market to make our life easier, without having to carry a bulky external hard drive that only stores our data. Just when I was about to start our search, I was approached about the Seagate Wireless Plus and asked if I would be willing to review it on Budget Earth. After looking over the specs, I was too impressed to not say yes!
Seagate Wireless Plus: What is It
Make watching or listening to your favorite music on the go easy with the Seagate Wireless Plus! With this media device, you no longer have to struggle with figuring out what information you will store on your tablet or smartphone since you can literally bring everything with you on the drive! This drive is capable of holding over 500 HD quality movies, 16,600 hours of music, 320,000 photos, and even more documents! Want to know the best part? It can stream wirelessly to up to 8 devices simultaneously without being on a wireless network!  With this awesome 1 TB hard drive and media device in one, you can turn any room into an awesome hotspot for up to 10 hours on battery, or indefinitely with the included adapter, entertaining friends and family alike!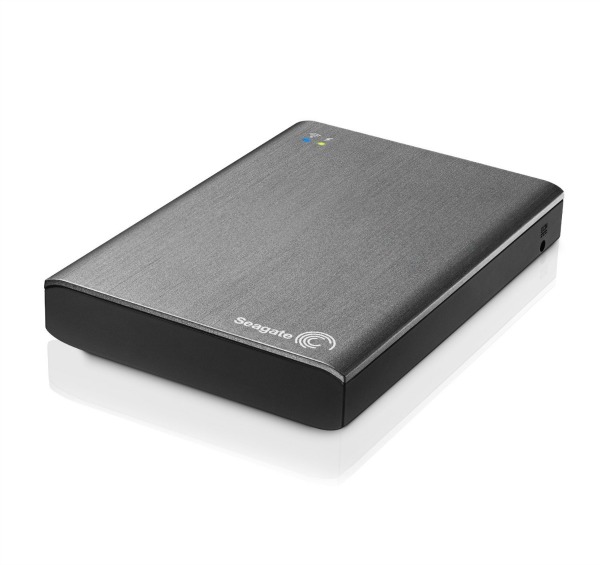 Seagate Wireless Plus: Set Up & Storage Use
I will freely admit, my husband I both were like little kids on Christmas morning when the Seagate Wireless Plus drive arrived in the mail. We are a very tech friendly household, and have just about every gadget you can imagine (or so it feels when we have to find storage places for them all). What we didn't have was a way to easily transport music, videos, and other files with us on the go. With how much we are traveling, it seemed awesome to have one drive that could stream music throughout the car and allow us to watch videos on our tablets before bed in the hotel room.  As long as everything worked as advertised, we had the possibility to have most of our media library with us anywhere.
While I was very excited, I was a bit nervous getting it out of the box. As anyone who plays with computer hardware and media devices will tell you, setup is sometimes a beast for even the most simple devices. To my surprise, most of the setup was done for me. From the moment you plug the Seagate Wireless Plus into a USB port, you have just about everything you need to get started. When you first look at the drive, it will look like a normal external hard drive, though it comes with some pre-set up folders, such as music, documents, photos, videos, and a Seagate folder with information on the drive. At this point, you use the drive just like any other hard drive, dropping everything into the correct folders and going from there.
To test the drive out, we ended up copying over 80 gigabytes of music, videos, and programs that we would normally like to bring with us or access on our tablets. On a 1 terabyte drive, this obviously leaves a lot more room for music and videos! Once you have your desired files on the Seagate Wireless Plus, you then remove it from the USB drive and plug it into a wall outlet using the provided charger. Why do this you may ask? Well, I am glad you asked! At this step, the drive switches from being your everyday external hard drive to a powerful media sharing device. In this stage, it is going through the data and collecting information about what it finds that you added, to make it capable of streaming on various devices. Now, the downside of this is that this can take anywhere from half an hour to several hours to finish. We gave up waiting with the massive amount of data we put on our drive in one go, and let it finish overnight. If you are impatient and want to check it on your drive, you can connect to it wirelessly, where it will tell you it's still making tables, or show you its media interface to start streaming.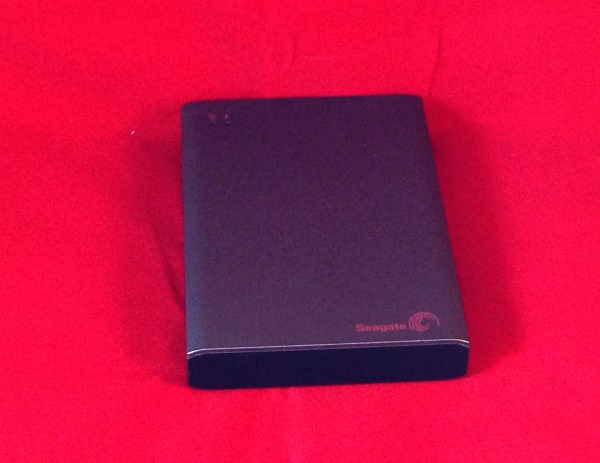 Seagate Wireless Plus: Specs
If you are anything like me or my husband, you are probably wondering about the actual specs of this device. The Seagate Wireless Plus is a 1 TB hard drive. It supports both USB 2.0 and USB 3.0 (which is obviously better for moving data quickly quickly – we saw transfer speeds that were 2-3 times faster over USB 3.0). It also comes with a compact wall charger that is easy to store away in any small pouch of your laptop bag. This sleek looking device is fairly compact, making it ideal for throwing in your laptop bag or purse. As well, the Seagate Wireless Plus works with just about any device or operating system, including  Macs, PCs, iPad, iPhone, Kindle Fire, and most Android devices – in general, if it has wireless capability and a web browser, you will probably be able to use it to some degree.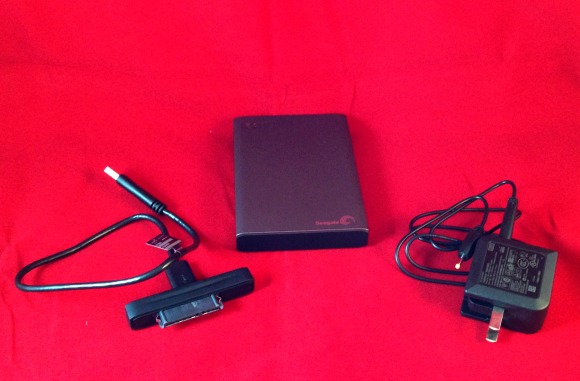 Seagate Wireless Plus: Media Interface
To me, this is what truly makes the Seagate Wireless Plus a must for everyone – the user friendly, easy to navigate user interface. Really, the hardest part of the media interface is putting in a password if you decide to protect your drive (which we do). Once the wireless connection forms between your device and the Seagate Wireless Plus drive, you decide what you want to access or stream directly from the drive. By just clicking on the file (most of which have an associated picture showing the movie or band), you can start streaming just about anything on your computer, tablet, or even smart phone.  From our testing, we found it worked beautifully with the iPad, iPhone, Nexus 10, and my husband's Shield (a portable Android gaming device). Everything played beautifully and quickly. With how the Seagate Wireless Plus is designed, I can even stream a different file on a second device without either of us having issues. For me, this makes is pretty great if I want to listen to music while he watches an anime or tv show.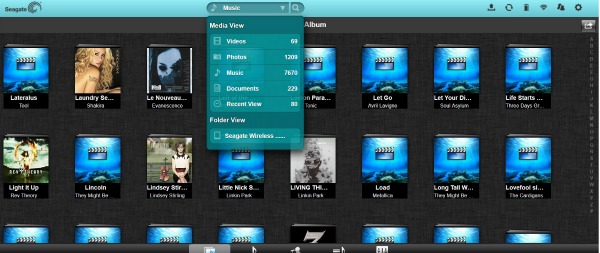 Seagate Wireless Plus: Overall
I will freely admit, I think the Seagate Wireless Plus may be one of the best gadgets I have played with in quite some time. It really does take care of all of our media needs and I can't wait to try it the next time we go on one of our ten hour drives to New Jersey. As well, I could easily see this being a fun way to take all of our digital books, especially D&D books with us to sessions, allowing everyone to quickly access them in the room if they have questions. If you love watching movies, listening to music, or reading books on the go, the Seagate Wireless Plus is a must! After our awesome experience with this Seagate hard drive, I am happy to give it an A+ rating!
Seagate Wireless Plus: Where to Purchase
Would you like to try this amazing device? You can currently purchase the Seagate Wireless Plus on Amazon.com, Best Buy, Walmart, or even Staples for about $199.99. From my own research, Amazon currently (as of 11/20/2013) has the best price on the Seagate Wireless Plus, selling it for $183.73. If you are looking for something awesome to give as a gift or to treat yourself, I highly recommend grabbing this device!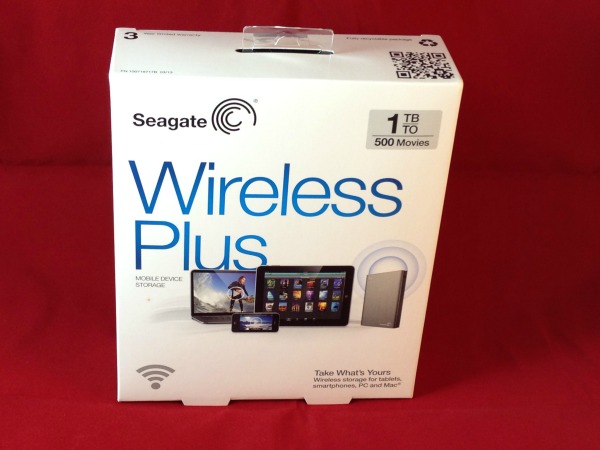 Disclosure: Budget Earth did not receive compensation for this review but did receive a Seagate Wireless Plus for review purposes. All opinions on this product are my own and may differ from our readers' opinions.
Would you like to have your products featured in a similar review or giveaway? Want to increase your social media exposure before the holiday season? See how we can help! Contact susan.l.bewley@gmail.com to see what we can do for your company!