Disclosure: I received this product for free to review. The opinions in my review are honest & my own.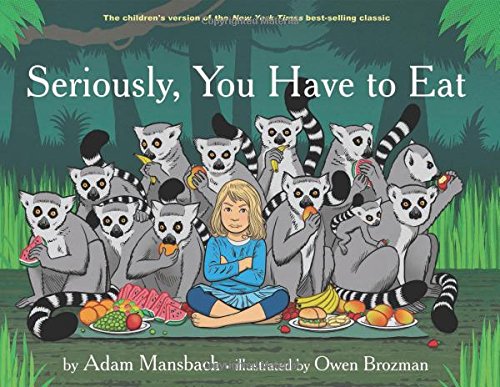 How many of you have kids? If you raised your hand or nodded, you likely know the struggle of getting kids to eat. While I don't have kids myself, I grew up with children in our family, not to mention my husband having younger siblings  when we were in high school. With many of my friends going through this struggle as well, I couldn't help but laugh when I read Go the F**k to Sleep.  When I heard that Adam Mansbach had a new book, Seriously, You have to Eat, I knew I had to check it out!
Seriously, You Have to Eat: What is It?
Looking for a fun book on the same level as Seriously, You Have to Sleep? If so, we think you will love the kid friendly version of Adam Mansbach's latest book Seriously, You Have to Eat. This hilarious book goes into the struggle of getting children to eat and how frustrating it is for parents. This book is filled with quite a bit of humor while still containing no profanity what so ever, allowing you to read this book to children and still get a bit of a giggle yourself. With the age-old struggle of getting kids to eat, we are certain parents and grandparents alike will love this book!
Seriously, You Have to Eat: Overall
Honestly, my husband and I thought this book was funny, even though we don't have kids. Anyone that has ever dealt with children will find this book absolutely hilarious. The book goes through a parent's perspective on kids refusing to eat, including them turning down their favorite food and refusing to eat what is available for them. As a sequel to Go the F**k to Sleep, parents will easily get a kick out of this book and the beautiful illustrations. Best of all, since this book is designed for kids and parents, you can sit and read the book with your kids, getting a big of a laugh out of this kid friendly version of You Have to F**king Eat. This can easily be the perfect gift for any new parent. Based on our own experience, I am happy to give Seriously, You Have to Eat an A rating.
Seriously, You Have to Eat: Where to Purchase
Want to purchase this hilarious book for your own book collection? You can find Seriously, You Have to Eat on Amazon.com for $13.14 or get the Kindle version for only $3.99.
Disclosure: Budget Earth did not receive monetary compensation for this review, but did receive products for review purposes.  All opinions on this product are my own honest assessment, and may differ from our readers' opinions. 
Would you like to have your products featured in a giveaway event? Want to increase your social media exposure? Contact susan.l.bewley@gmail.com to see how I can help YOUR company today!