Disclosure: I received these products for free to review . The opinions in my review are honest and my own.
As some of you know, I am a big tech geek. I love playing with not only new technology, but love getting my hands on new games. While I am a big fan of first person shooters (FPS) and roleplaying games, I am also not embarrassed to admit that I love games that let me simulate real life. Earlier this year, I actually got myself addicted to playing Sims. Yes, I am one of those girls who got addicted through Sims Social and all of my hardcore gaming friends got a kick out of me playing dress up and building a world for my little sim. Once I got into the actual games though, I wondered why I played the Facebook game for so long, especially with immersed I found myself in the world of Sims.
When I heard that EA was going to be putting out a Sims 3 expansion with a sci-fi theme, I must admit, I was very excited and my husband pretty well knew he was going to lose me for months when it came out. He was even more shocked when he had a fan girl jumping up and down when she was asked to review the latest expansion. To say the least, I was eagerly waiting for release day to come so I could try out the new Sims Into the Future expansion!
Sims Into the Future: What is It
Do you dream of living in the future and building a life revolving on the greatest technology? Make your dreams come true by building submerging your sims into a whole new, amazing world  with Sims 3 Into the Future! In this fun expansion, your sims can go jump through a portal to the future, where they can visit Oasis Landing and all the marvels that exist there, including robots, hover boards, futuristic styles, and more! To get a taste of this expansion, make sure to watch the short video below!
Sims Into the Future: Appearance
One of the things I have always loved about the Sims series is how they can take a concept and truly bring it to life. With Sims 3 Into the Future, you walk through the portal into a gorgeous, sci-fi world built around post-modern architecture, some of it new and other parts borrowed from decades of sci-fi culture. Many of the aspects of the game are obviously inspired by this culture, such as hover-boards (Back to the Future), jetpacks (similar to Futurama), and sleek robots that can do just about any task. As a sci-fi lover, it was easy for me to get lost in this world and I spent days just exploring Oasis Landing. Even the furniture and clothing styles are designed with a very futuristic feel that was taken from cult classics.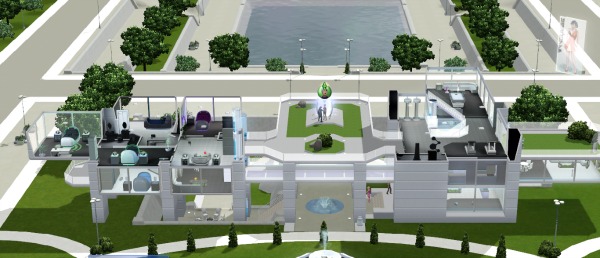 Sims Into the Future: Game Play
While it is easy to get impressed with the graphic and design of the game, every gamer knows that how it plays is probably the most important. Nothing is worse than getting a brand new game and finding out it is filled with too many bugs to play. Well, I am happy to report that after quite a bit of play, I still haven't found any bugs in Sims Into the Future. It plays smoothly and all the features seem to work. The only times they don't work is when they shouldn't work (for example, your sims can fail on the jetpack or get into trouble – just like real people). What really makes the game in my eyes is not just the beauty of the game itself, but the interaction with different technology. You can play with portals, build robots, and even shop for clothes on interesting touch screen computers, allowing your sim to really interact with everything. I will freely admit, I lost track of time playing this game more than once and my husband wasn't about to stop me with how stressed I have been this holiday season. With how EA built this expansion, it truly is easy to get lost in this future world for hours!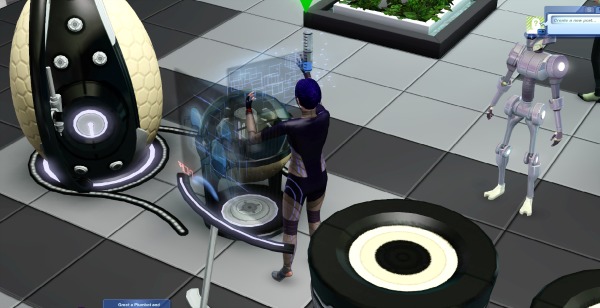 Sims Into the Future: Overall
As someone who loves sci-fi themed stuff, I have to say that I am glad that Sims 3 Into the Future lived up to my expectations. EA really outdid themselves with this expansion and I think this may be their best one yet, and that is saying a lot since they have put some amazing expansions out for Sims 3. With a strong storyline, awesome items, and an expansive world, there really isn't anything I would change about this game, making it a must for anyone who plays Sims. Based on my own experience with Sims Into the Future, I am happy to give this game an A+ rating!
Sims Into the Future: Where to Purchase
Are you wanting this awesome expansion for your own Sims? You can purchase Sims Into the Future with a physical disk or you can purchase it digitally on Origin for $29.99. Just make sure that you pay attention at purchase since they are available for both Mac and PC computers. Also, don't forget that this is an expansion, so you will need to purchase the base Sims 3 game if you don't already have it on your computer. Just be warned that once you start playing Sims 3, you may find yourself totally addicted to this awesome game!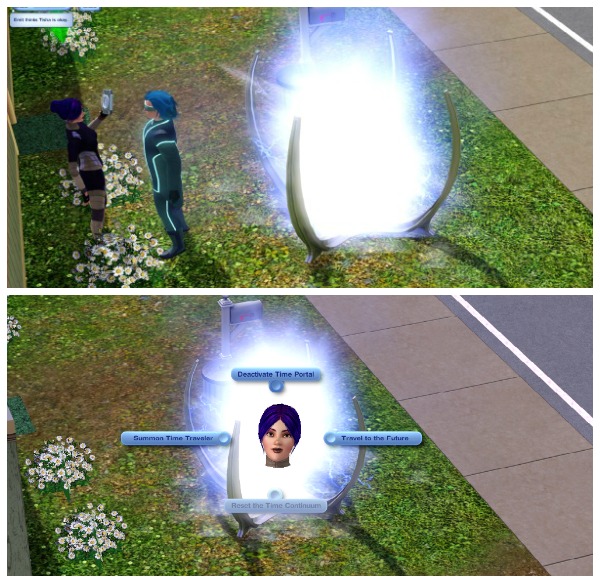 Disclosure: Budget Earth did not receive compensation but did receive products for review purposes. All opinions on this product are my own and may differ from our readers' opinions.
Would you like to have your products featured in a giveaway event? Want to increase your social media exposure this holiday season? See how Mom Powered Media can help! Contact susan.l.bewley@gmail.com to see what we can do for your company!