As much as I love to eat healthy, I have always had one weakness that has kept me from losing weight for years – soda. Back in middle school, I started this dirty habit, getting a soda a day from the vending machine, and many times skipping lunch so I could purchase one of my favorite beverages. Not only did it get worse as I got older, but very quickly took its toll on my checkbook. As I started researching more about the chemicals in these sodas, I was a bit more horrified, leaving me looking for an alternative at home that was cheaper, and more importantly, healthier. Eventually, my search ended when I learned about the Sodastream. From the moment I heard about this in-home carbonator, I wanted one, especially when I read how eco-friendly they systems were, helping every soda-loving household that owned one to shrink their carbon footprint.
Even though I have wanted a Sodastream for years, it wasn't until recently I was able to acquire one. Last month, Sodastream sent me their Genesis unit and a bunch of tasty soda flavors for me to review. Having been decided on purchasing one of these even before I got one for free, I also noticed there was little comparing the two most popular units – the Sodastream Jet and Sodastream Genesis.
Sodastream: What is It
So, what is the Sodastream? For those who haven't seen this spiffy little gadget, it is a compact, home beverage carbonation system that turns water into sparkling soda or soda water. Unlike the home systems of the past, it is meant to be simple to use and has almost no cleanup. The best part of all, however, is that the Sodastream is more convenient and cheaper than buying name brand soda. If you do the math, it is about .25 cents for 12 oz of soda, or .25 for a liter of soda water. By using the Sodastream, you can also reduce your carbon footprint by no longer buying disposable plastic bottles made from crude oil or paying the transporting costs for shipping huge shipments of bottles to the store and back. I love that the Sodastream drastically reduces pollution, while also giving me a bit more floor space in my fridge and pantry.

Sodastream: How it Works
While I had wanted a Sodastream for years, I had no clue how it worked until I got one. I thought it would be difficult, and was even begging my husband to read the instructions first. As it goes with most guys, he started experimenting and totally ignored the manual. In less than five minutes as I was panicking looking through the manual, he had the carbonator in the unit, cleaned soda bottles, and was preparing to make our first bottle of soda water. To make soda water, all you have to do is screw on the bottle, and push the carbonator button up and down repeal, until you hear three beeps. The whole process takes less than 30 seconds.
Even though you can use tap water, we never do in our household. We use the filtered water from our fridge. I think it tastes ten times better and gives a cleaner, refreshing taste to the soda. As well, it is important that you only carbonate water in the Sodastream – this prevents contamination and guarantees you can keep things clean. If you want to turn your carboninated water into soda, you pick your syrup, measure the amount required in the cap, pour it in the bottle, and gently shake. It really is that easy!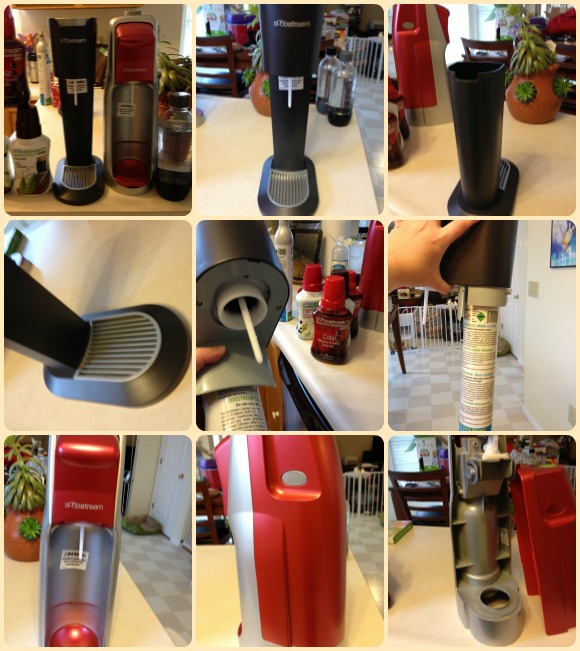 Sodastream Jet & Genesis Comparison
Before I got my Sodastream Genesis for review from Sodastream, I had planned on buying my own Sodastream. This is how I ended up with my Sodastream Jet. When I first went looking, however, I was overwhelmed by all the different models and had no clue what I wanted. For price reasons, I was between the Sodastream Jet and Sodastream Genesis. Both looked amazing, and when you put the cost difference on paper, there was really no difference in cost. In the chart below, I outline the major differences between both units. To learn more, make sure to check out the Youtube video I have below as well.
Sodastream Model Comparison

Sodastream Jet

Sodastream Genesis

Price: $79.95

Price: $99.95

Flavors: 6 Flavor Trial Pack

Flavors: 12 Flavor Trial Pack

Bottles: 1

Bottles: 2

Colors: Black, Red, or White

Colors: Black or Red

Button: very top middle

Button: Top front of unit

Bottle Placement: Unit tilts out and screw on with one hand. Releases pressure when tilted out again after carbonating.

Bottle Placement: Screw on in a traditional manner to unit – allowing you to screw it on or off. Feel a bit more pressure when release bottle

Size: Taller & wider than Genesis

Size: More Compact for Smaller Kitchens

Carbon Dioxide Container Size: 60L or 130 L

Carbon Dioxide Container Size: 60 L
Sodastream Flavors
Want to know what really makes the Sodastream worth every penny? You guessed it, the flavors! When I first saw all the different flavors for my Sodastream, I was truly overwhelmed. What really impressed me about all the flavors, however, was that they all were corn free, allowing my father in law – who has a corn allergy – to finally be able to drink any soda he liked. Not even counting the corn allergy, I also try avoiding purchasing things sweetened with corn because from what I have read, I think it is a very unhealthy sweetener! You can currently find just about any type of soda with Sodastream, many in different formulations from natural sodas flavored with cane sugar, to traditional soda flavors with a mix of sugar and Spenda, calorie-free Crystal Light varieties, and their newest line of Stevia products.
Of course, I wanted to try all the traditional flavors. The only thing that surprised me at first was that most of the traditional syrups are lower calorie since they contain Spelnda. Not being a huge fan of Splenda, I was found that most of the traditional flavors were very hit or miss, with my favorite traditional flavors being Cranberry Raspberry, Mr. Pete, and Fountain Mist (the Mountain Dew equivalent). My true love for the Sodastream didn't happen however until I tried the natural flavors. These flavors were made instead with all natural cane sugar, making them truly amazing and even better than Coke and Pepsi. Out of the natural flavors, however, I have to say my favorite is the Natural Ginger Ale. This soda is a bit sweeter than normal ginger ale and has a great, refreshing taste in my opinion.

Sodastream Overall
What do I think of the Sodastream? To be quite honest, I have no clue how I lived so long without it. I could never imagine just getting bottled soda again. For that matter, I don't even buy soda out anymore, preferring to go with lemonade or even water. As long as you drink soda in moderation and make healthy choices, the Sodastream is a must for every family. For this reason, I give it an A+ rating! If you would like to learn more about the Sodastream, make sure to check out the Sodastream website or the Sodastream Jet & Sodastream Genesis product pages on Amazon.com.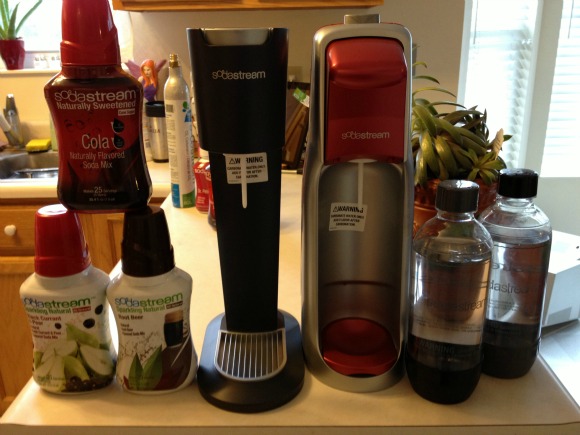 Disclosure: Budget Earth did not receive monetary compensation for this review, but did receive a Sodastream Genesis & flavors for review purposes from Sodastream. The Sodastream Jet, however, was purchased with our own money. All of the opinions on this blog are the opinions of said author and these opinions may differ from your own.