Disclosure: I received this product for free to review. The opinions in my review are honest & my own.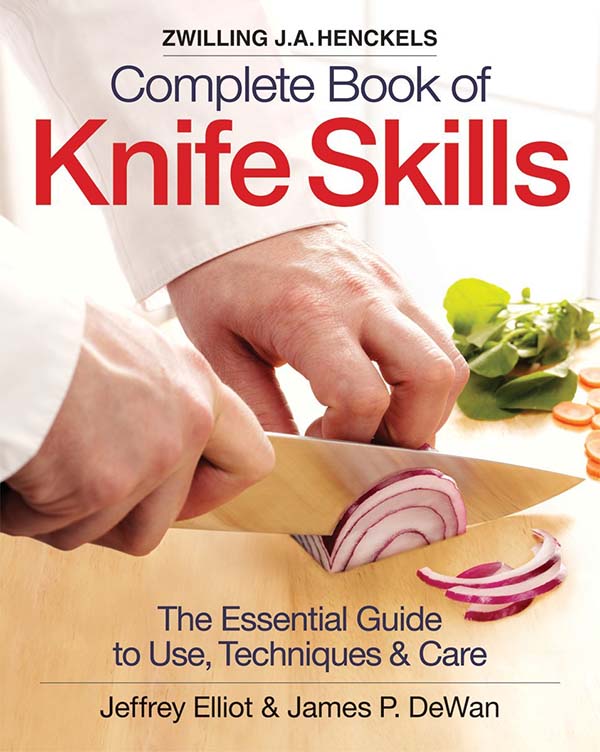 As someone who loves to cook, I have to say I have spent a lot of time over the years cutting fruits, vegetables, and meats. Without a question this is the most time consuming part of cooking for me, even with having my husband assist me. Even though I have a nice set of knives, it sometimes seem challenging knowing how exactly to use them, especially with oddly shaped items. I have always wanted to take a cooking class just to learn how to speed up cooking prep., With my busy schedule, I needed something to help. Luckily, we recently found the perfect solution – the Kwilling J.A. Henckels's Complete Book of Knife Skills.
Complete Book of Knife Skills: What is It?
Looking for a book to teach you how to properly cut just about any food in your kitchen efficiently and safely? If so, we think you will love the Complete Book of Knife Skills.  In this book, home chefs will learn everything they need to know  about properly using knives in the kitchen, allowing you to work more safely, effectively, and, of course, faster. By having everything cut properly, not only will your dishes look better on the plate, but cook more evenly, allowing every bite of your meal to taste perfect every time. Each of these skills are taught using picture demonstrations, as well as detailed descriptions, making it easy for even beginner chefs to learn about using a variety of different techniques. One thing is for certain, this guide from Jeffrey Elliot and James P DeWan is perfect for any aspiring home chef!
Complete Book of Knife Skills: Our Thoughts
As someone who has a very nice knife set, I have to say I was very excited to get this book. I will honestly say I was ignorant when I first got them, and assumed having very nice knives would make me a better cook. While it made prepping a bit easier, I have to say it wasn't always more efficient. With the Complete Book of Knife Skills, I was shocked at how many things I was cutting wrongly, making twice as much work for me and making a bit more of a mess out of what I was cutting. While relearning how to cut some things will take time, I have to say that having the picture guides showing me the proper technique and knife makes learning so much easier. Based on my own experience, I am delighted to give the Complete Book of Knife Skills an A+ rating!
Complete Book of Knife Skills: Where to Purchase
Want to buy this awesome book for yourself or someone in your family? You can buy the Complete Book of Knife Skills on Amazon.com for only $27.87.
Disclosure: Budget Earth did not receive monetary compensation but did receive products for review purposes. All opinions on this product are my own and may differ from our readers' opinions.
Would you like to have your products featured in a giveaway event? Want to increase your social media exposure? Contact susan.l.bewley@gmail.com to see how I can help YOUR company today!