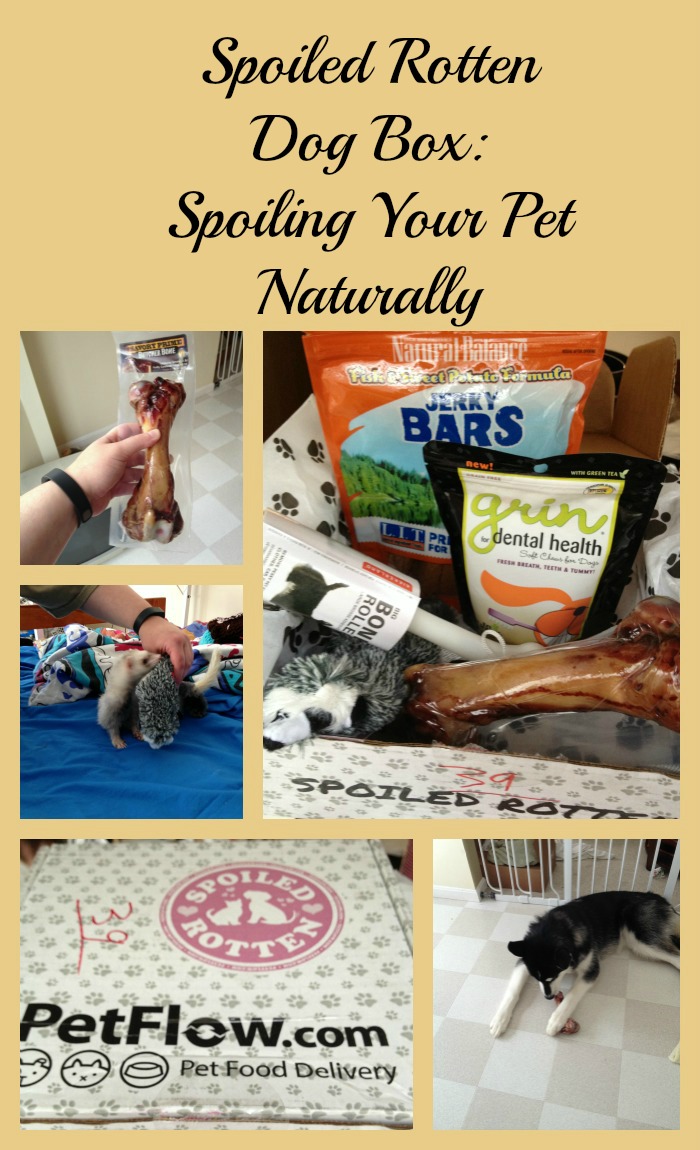 Do you love to spoil your animals? Come on, be honest. We all have a soft spot for our dog or cat, especially when they give us those cute looks. To many of us, they are no different than kids, and we are always trying to find the healthiest, most fun treats for them. Since we got our Alaskan Malamute puppy back in May, she has been the center of attention. It's almost hard to believe she is going to be six months old on August 21. The good news is that now that she is a bit bigger, can enjoy more of the big girl treats on the market. While I only feed Reya natural food and treats, it is still overwhelming with all the choices on the market. As someone who loves subscription boxes, I started looking into some of the companies out there, where I came across Petflow's Spoiled Rotten Box. When I approached them to review one of their boxes, they were excited for Reya to sink her teeth into these adorable treats and provide an opinion!
Spoiled Rotten Box: What is it?
Since I try to keep our home as natural-oriented as possible, I was very picky about pet boxes – I didn't want Reya introduced to anything that might be dangerous. With Petflow's Spoiled Rotten Box, I didn't have to be concerned since it was filled with only items from premium, natural companies that make products right here in the United States. Not only that, but everyone on the Spoiled Rotten box team spends a year testing the toys, treats, and accessories going in the box, letting you know you are really getting the best hand-picked products. From what I have seen, this truly is the case, making it the perfect box for pet lovers or as a fun gift for someone who seems to have just about everything!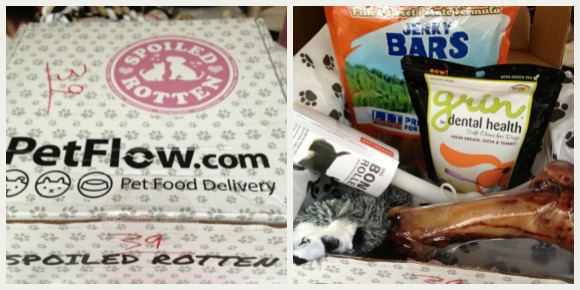 Spoiled Rotten Box: InClover Grin Daily Treats
Like many owners, I try buying treats that help my pup's teeth. We had actually just run out of Greenies and I was beginning to worry when the Spoiled Rotten box arrived. The InClover Grin Daily Treats are grain free, all natural, and leave your pets teeth looking beautiful without giving your pup digestive issues. Reya wasn't sure what to think of these treats at first but very quickly warmed up to them. Now, all I have to do is shake this bag for her to come for her daily dental treat!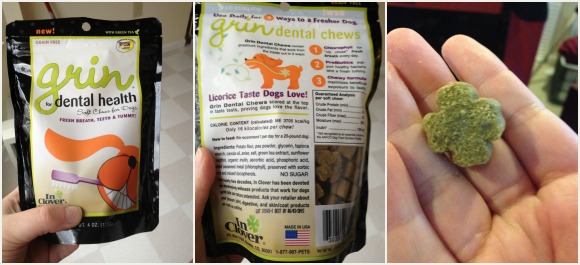 Spoiled Rotten Box: Natural Balance L.I.T. Limited Ingredients Treats Jerky Bars
Oh boy, these have to be Reya's favorite treat in the Spoiled Rotten box. The Natural Balance LIT Limited Ingredient Treats Fish and Sweet Potato Jerky Bars seem to be one of our favorite quiet time treats. These treats are grain free and made without artificial flavors and colors, making them perfect for natural owners like me. The only downside is that they smell strongly of fish (and so does her breath after eating one of these). With how much she loves these treats though, it seems like a fair trade!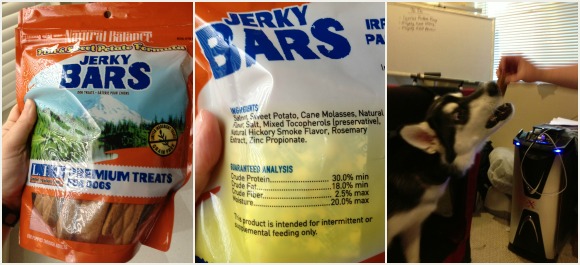 Spoiled Rotten Box : Kikkerland Dog Bone Lint Remover
While I love my Reya puppy, I don't always like wearing her fur. Like every pet owner, I have problems with her shedding everywhere.  Like many Alaskan Malamutes, she has been starting to blow coat – shedding even more than usual. Even though this is completely normal, it means that we are sometimes wearing what seemed like another dog on our clothes. Since we use quite a few lint removers in our house, getting the Kikkerland Dog Bone Lint Remove was much appreciated. This seems like a higher quality lint roller than you get at most stores, allowing you to get more hair off with each sheet!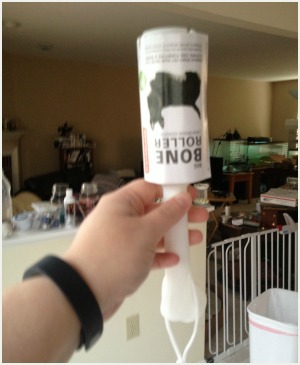 Spoiled Rotten Box : Randall the Raccoon
Out of all the items in the Spoiled Rotten Box, this was one of the few items that wasn't in some ways enjoyed or used because of Reya. It wasn't that I didn't like Randall the Raccoon (he is actually quite adorable), but Reya was just too big for this critter. Luckily, this little stuffing-free squeaker toy did find an owner in our family – Lucy the Ferret! My brother in law's ferret seemed to have fun with this little toy, when she wasn't being overwhelmed by a lot of visiting humans. As you can see from the picture, Randall got her seal of approval!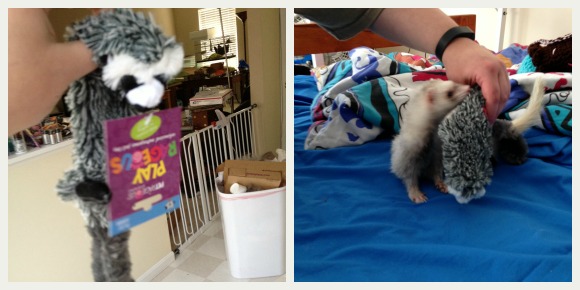 Spoiled Rotten Box: Savory Prime Butcher Bone
I won't lie, this was the only item in the Spoiled Rotten Box that made me nervous. Until this toy, I had never let Reya play with a bone, mostly due to scary stories from our vet. From what I was reading on the package, however, it seemed like it could be a good treat if she was very carefully watched. The Savory Prime Butcher Bone is a 100% pure hambone that is all natural, hickory smoked, and still had a bit of meat around the bone. From the moment the package opened, Reya was ALL about this bone. She sat in the middle of the kitchen floor and chomped down gently on this bone, seeming to just be taking in the flavor and texture. Once all the meat was clear and I saw her going into the marrow of the bone, it was tossed. For the time she had it though, Reya did seem to feel like she was spoiled and licked the floor where her bone was for about five minutes!

Spoiled Rotten Box: Overall
As you can guess, I am a big fan of the Spoiled Rotten box. I have tried a lot of subscription boxes lately and I have to say, this is one of the best. Each of the treats in this box are full size and give your pet plenty of time to see exactly what they think of all these treats. While Reya may not have been able to play with Randall the Raccoon herself, at least another family pet got to enjoy it, making each items in this box worth it for us. Due to how much enjoyment this box has brought my family's four-legged friends, I will happily give it an A+ rating!
Spoiled Rotten Box: Where to Purchase
Want to try this box for yourself? You can currently subscribe to the Spoiled Rotten box at the PetFlow Website. Here, you can sign up for either the dog or cat version of this box, both of which cost $24.95 a month. While this may seem pricy, realize too that each box does contain around $40 in products, making it a bargain since all the items in side are full size. In my opinion, this seems like a steal with how much I spend on treats!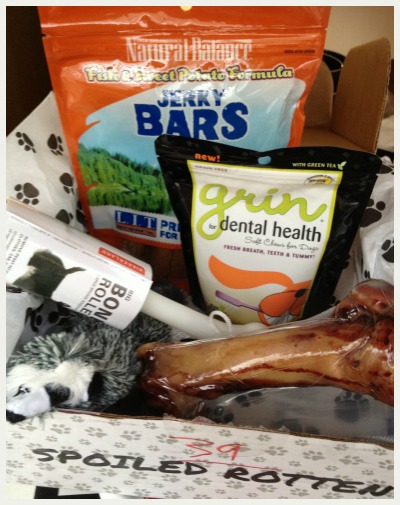 Disclosure: Budget Earth did not receive compensation for this review but did receive free products for review purposes via Petflow. All opinions on this product are my own and may differ from our readers' opinions.
Would you like to have your products featured in a similar giveaway event? Want to increase your social media exposure before the holiday season? See how we can help! Contact budgetearth@gmail.com to see what Mom Powered Media can do for your company!