Disclosure: I received these products for free to review. The opinions in my review are honest and my own.
For me, one of the hardest things is finding quality exercise shirts. I can find cute yoga pants and sweat pants just about anywhere, but most exercise shirts for women seem more designed for a fashion contest. When I'm exercising, I want to feel cute but comfortable. For this reason, I much prefer tank tops and t-shirts when I exercise. With me getting back into exercising regularly, I thought it was time to purchase some adorable shirts. After taking a look online there seemed to be only one place that would fit my style – Spreadshirt!
Spreadshirt: What is It
Looking for unique, fun shirts or apparel that is perfect for any style? If so, we think you will love Spreadshirt! They are a worldwide, creative platform where you can get custom made, personalized apparel ranging from tank tops and t-shirts to hoodies and other fun products you can enjoy throughout your day. Along with selling a wide range of their own products, you can make your own fun designs, create shirts, and then sell them on the site for some extra cash! It doesn't matter if you are buying or selling, Spreadshirt is the place to be for awesome and unique shirts!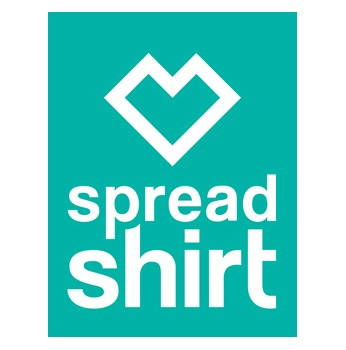 Spreadshirt: Will Lift for Coffee Spaghetti Strap Tank
Like many people, I like to be as cool as possible when I'm doing aerobics or a lengthy workout on the exercise bike.  For times like that, nothing is better than a spaghetti string top, allowing you to feel sexy as you are lifting weights or bouncing around the room. Even though there is no one else in the room while I'm exercising, I think it is important to look good and feel great when you work out. Since I have been trying to exercise in the morning and I can't survive without my coffee, my husband and I both agreed that I needed one of Spreadshirt's 'Will Lift for Coffee' shirts. Not only did the design look great, the shirt itself is high quality. This lightweight top for women is 100% pre-shrunk cotton and has a nice, fitted contour to make anyone feel confident while they exercise. Based on my opinion, we give the Women's Will Life for Coffee Spaghetti Strap Tank an A rating.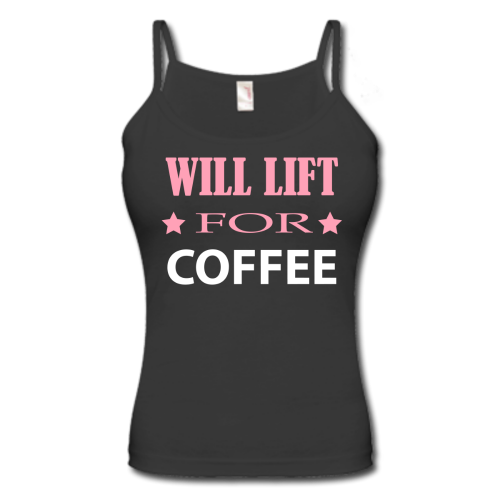 Spreadshirt: Don't Sweat Sparkle Flowy Tank Top by Bella
If I had to to pick one shirt that was perfect for wearing around the house or exercising during the summer, it is the Women's Flowy Tank Top by Bella. This shirt is super comfortable, cool, and still allows you to feel pretty as you sweat. For my review, I chose the 'don't sweat…sparkle!' design for this top since I loved the message. Exercise is all about attitude! This shirt is also super soft, comfortable, and an A-line body design. Based on my own experience, I am happy to give the Women's Flowy Tank Top by Bella in the 'don't sweat…sparkle' design an A rating.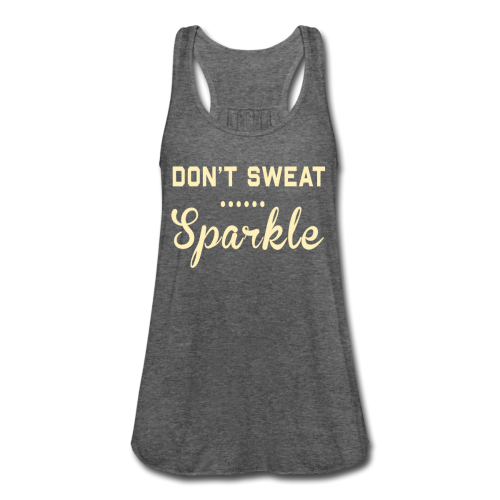 Spreadshirt: Installing Muscles Women's T-Shirt
Of course, there is nothing wrong with having a fun t-shirt that you can wear to keep you motivated while in the gym or walking the dog. I love my Installing Muscles Women's T-Shirt. This shirt is made from 100% pre-shrunk cotton and is a comfortable, roomy fit. Since the fabric is a bit more on the heavier side, you can expect this to be a year round t-shirt that lasts. Based on our own experience, we are happy to give the Installing Muscles Women's T-Shirt an A rating.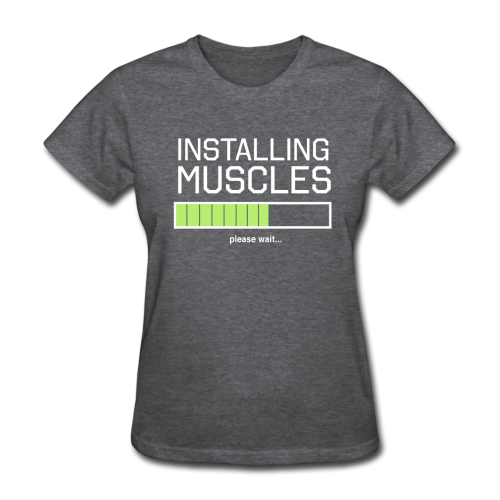 Spreadshirt: Where to Purchase
Want to purchase some of the awesome shirts featured in this review? You can find all these shirts and hundreds of other designs at the Spreadshirt website. Don't forget, they also do custom order shirts that you design yourself and the company orders!
Disclosure: Budget Earth did not receive compensation but did receive products for review purposes. All opinions on this product are my own and may differ from our readers' opinions.
Would you like to have your products featured in a giveaway event? Want to increase your social media exposure? Contact susan.l.bewley@gmail.com to see how I can help YOUR company today!