Disclosure: I received these products for free to review. The opinions in my review are honest and my own.
As many of you know, I try hard making my house as eco-friendly as possible, without forgoing quality or spending a small fortune on what should be inexpensive products. One area that I have had some trouble making eco-friendly is my office environment. Yes, I reuse as much as I can, but it can be hard finding green office supplies without spending a small fortune compared to the normal products. Even worse, a lot of the green products on the market are poor quality and just not designed to last. This is why when many companies say they are coming out with eco-friendly products, I always take it with a grain of salt, wondering if they are actually worth the money or just a marketing promotion designed to sell cheap products at a higher price. When I heard Staples was coming out with their green product line called Sustainable Earth, I decided to take the risk and try some of their new products from this line.
Staples Sustainable Earth: Stapler
Easily one of my favorite products from the Staples Sustainable Earth line is their stapler. This gray stapler has a soft, gray casing made from recycled ink and toner cartridges, giving the stapler a very comfortable feel when using it. While this stapler feels very comfortable in your hands and is easy to use, it also has a very sleek design, making it perfect for just about any office decor. Currently, Sustainable Earth Stapler is selling for $7.99, making it comparable to other staplers on the market.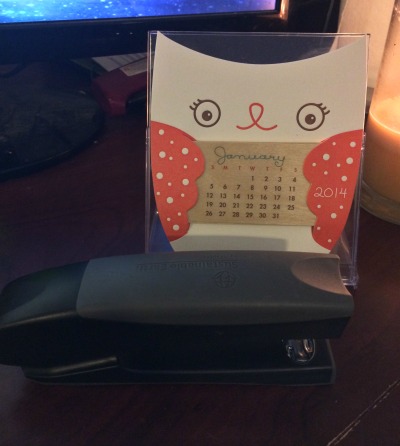 Staples Sustainable Earth: Copy Paper
Personally, I thought this was another really great item in the Staplers Sustainable Earth line. This ream of paper is made of mostly sugarcane fibers, a renewable resource that grows at the same rate or faster than what we can use, making it a great substitute for tree-based paper. Since it is acid free, it doesn't yellow or crumble over time, making it great for long-term filing. With 500 sheets per pack, this is really one of the best ways we can continue to print out necessary paper without harming the environments. At a cost of only $8.49 a ream, the Sustainable Earth Copy Paper really is a must for any office or home environment.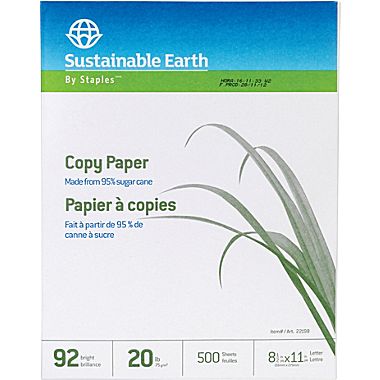 Staples Sustainable Earth: Notebook
Out of all the products in Staples Sustainable Earth line, their notebooks are by far my favorite. As a writer, I am constantly writing down notes not only for blogging, but my own planned novel. This means I have notebooks scattered around my house, some of which are nicer than others. The Sustainable Earth notebook is a nice mix of elegance, quality, and eco-friendliness, a sturdy notebook with easy to tear out pages made from quality sugar cane fiber paper. With the built in heavyweight pockets and heavy-duty coils, I know my notes won't be leaving this notebook unless I want to remove them! Currently, the Sustainable Earth notebook is selling for $5.99 at Staples.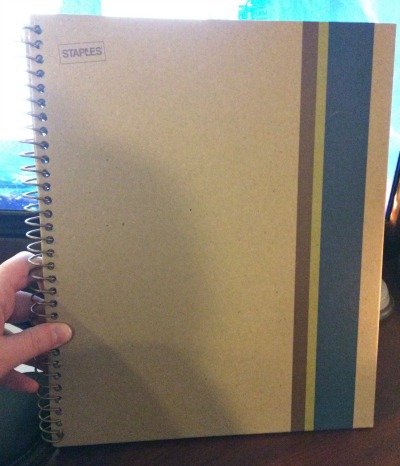 Staples Sustainable Earth: Calculator
Sometimes, it is good just have a basic, solar powered calculator. This 8 digit calculator has a case made from recycled ink and toner cartridges, making a great eco-friendly addition to any office. To me, $8.50 seems a reasonable price for this calculator since the buttons push easily, and it is a good simple calculator. While some people on the website complained of it being hard to read, I personally had no issues and found it was even easy to read in very dim light.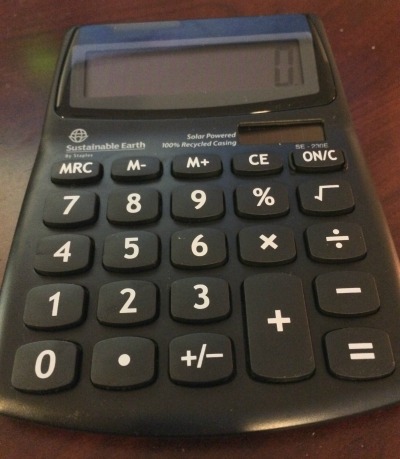 Staples Sustainable Earth: Overall
Personally, I am a big fan of Staple's new Sustainable Earth line. Not only are these products eco-friendly, but high quality and reasonably priced. I was even more amazed to see that they have many other must-have office supplies in this line, allowing anyone to have an entirely eco-friendly office environment. Based on my own opinion of these high quality office supplies, I am happy to give the new Staples Sustainable Earth line an A rating!
Staples Sustainable Earth: Where to Purchase
Would you love to purchase some of the awesome office supplies features in this review? We are excited that Staples is now offering an Earth friendly line of products, allowing everyone to high quality office supplies without doing damage to the environment. Best of all, you can find much of the Sustainable Earth line at your local Staples or on Staples.com.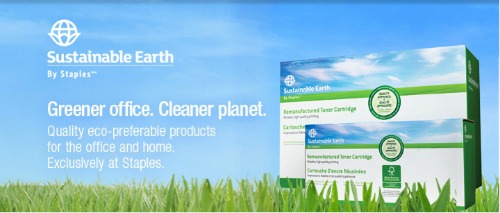 Disclosure: Budget Earth did not receive compensation but did receive products for review purposes. All opinions on this product are my own and may differ from our readers' opinions.
Would you like to have your products featured in a giveaway event? Want to increase your social media exposure this holiday season? See how Mom Powered Media can help! Contact susan.l.bewley@gmail.com to see what we can do for your company!