Disclosure: I received this product for free to review. The opinions in my review are honest and my own.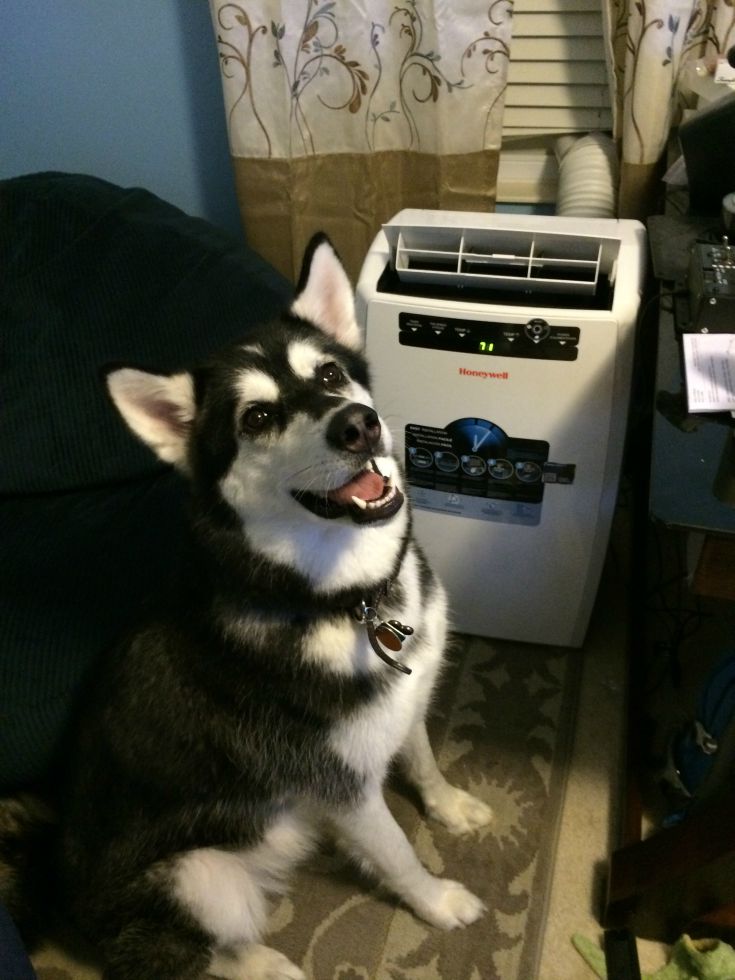 How many of you like summer? In our household summer isn't the best of seasons since my husband and I both despise the heat. Part of what makes it worse is that we both work (and game) from home in our home office, which has multiple computers constantly running. While we had always thought our room was a little on the warm side, we didn't realize just how bad it was until we checked the temperature in the room in early July. It was 83 degrees! No wonder Reya wanted nothing to do with us while we were in the office! Even though we had fans running in the room, it didn't seem to put a dent in our issue, meaning we had to look at other solutions. At first, we seriously considered putting in a window air conditioner unit. This was quickly vetoed after we considered the impact on the curb appeal of our home. Just as we were about to give up, Honeywell approached us, asking if we would review one of their Portable Air Conditioners.
Honestly, I had never seen a portable air conditioner and was unsure how exactly it would work.  After watching some videos online, however, my husband and I both realized this could easily be the solution to all of our heat issues! To our delight, Honeywell shipped one of their larger units for us, perfect for the size of our office. Once it arrived, we couldn't wait to hook it up and see the results.
Honeywell MN12CESWW Portable Air Conditioner with Remote Control: What is It?
Looking for an air conditioner that is easy to move between rooms, or perfectly sized for your apartment? If so, we think you will love the Honeywell MN12CESWW Portable Air Conditioner. This super quiet air conditioner is designed to not only cool and dehumidify your room, but look sleek and unobtrusive – allowing you to enjoy cool, comfortable air in up to 450 square foot. As well, set up is very easy since the unit does not require permanent installation, and utilizes four caster wheels to make  moving the unit effortless. In other words, the days of ugly window air conditioners is really a thing of the past! You can also see the current and set temperature of your room anytime, with the convenient LED screen. With the included remote, you can even change the temperature and function settings from across the room, allowing you to adjust the room temperature of the room gets too cold while company is visiting. With this portable air conditioner, keeping your room comfortable this summer is so much easier!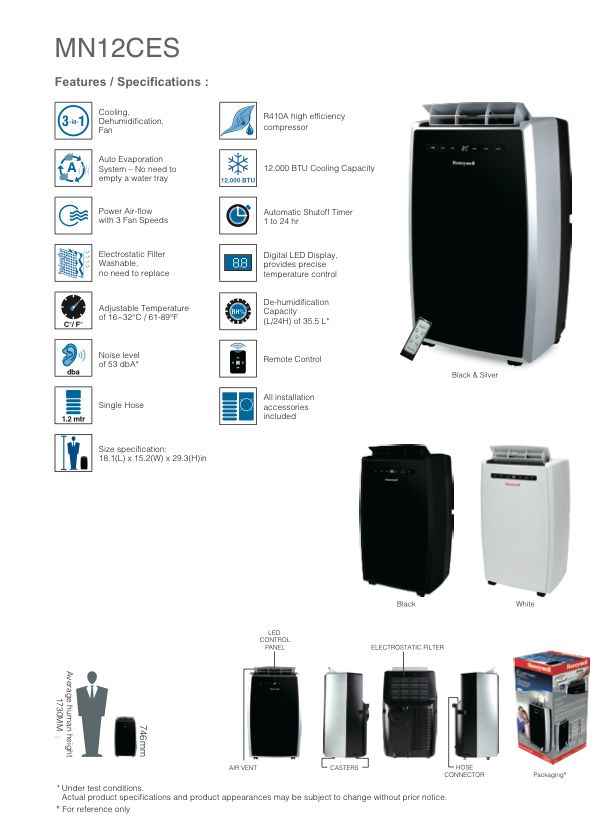 Honeywell MN12CESWW Portable Air Conditioner with Remote Control: Overall
Before I go any further, I have to say that everyone in our house thinks our Honeywell portable air conditioner is the best thing ever. For the first time since we moved up to our new office, Reya is staying with us and actually wanting to hang out with the humans now that it is comfortably 70, rather than in the 80's in our office. What amazed me, personally, was just how easy it was to install. When my husband took it upstairs, I thought it would take a half hour or so, not as long as it took me to get a cup of coffee downstairs.
Since we have so many computers running at once, we regularly keep the unit going, keeping our room at an awesome 68 degree throughout the summer without having the lower the temperature of the rest of the house. We also found the unit is very eco-friendly since, with the central AC straining less, our overall electricity bill has gone down rather than up! Really, I don't think we could be happier, and am hoping that we can at some point get one of these units for our master bedroom. Based on our own experience, we are delighted to give the Honeywell MN12CESWW Portable Air Conditioner an A+ rating!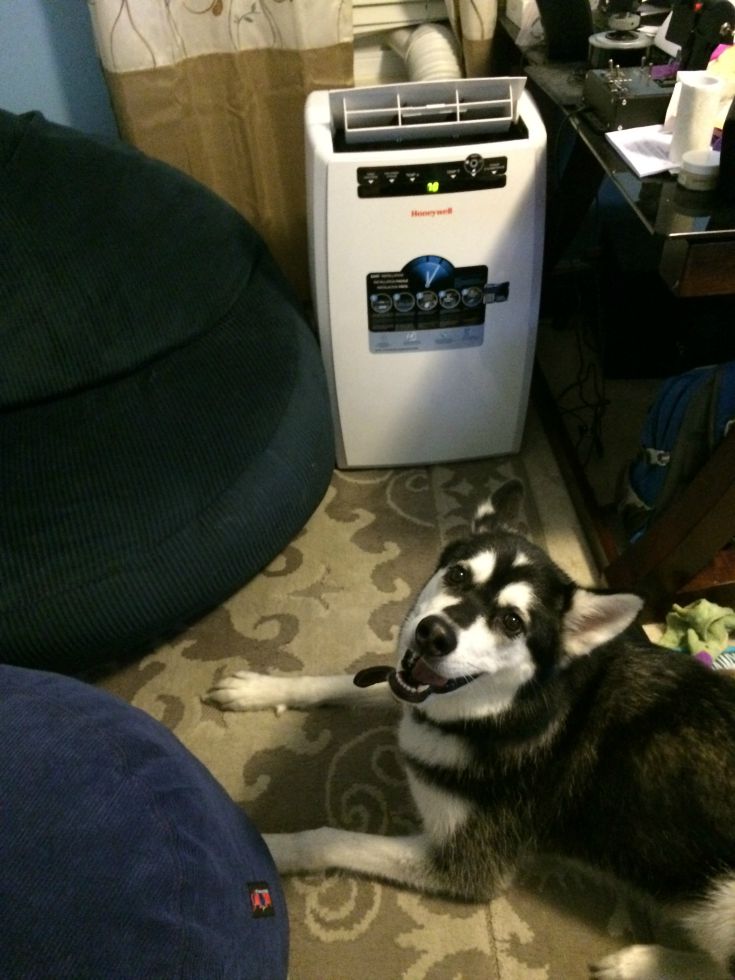 Honeywell MN12CESWW Portable Air Conditioner with Remote Control: Where to Purchase
Want to purchase this awesome portable air conditioner for your own home or apartment? You can buy the Honeywell MN12CESWW Portable Air Conditioner for $599.95 on the Honeywell website in white, black, or black and silver. For those who love deals, they currently have this portable air conditioner on sale for only $499.95, saving you $100 on this air conditioner! Also, don't forget to check out the other portable air conditioners in this line, offered on the Honeywell website!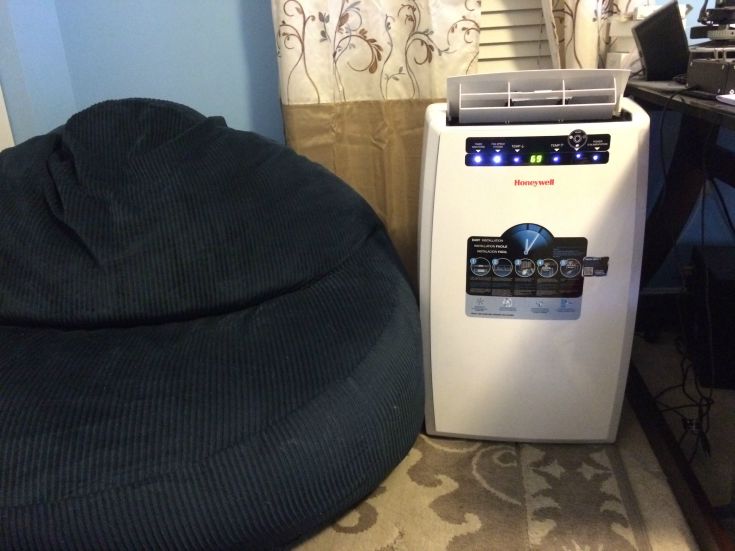 Want to learn more? Check out JMATEK on Social Media!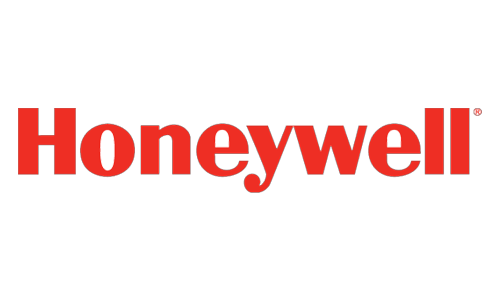 Disclosure: Budget Earth did not receive monetary compensation for this review, but did receive products for review purposes.  All opinions on this product are my own honest assessment, and may differ from our readers' opinions. 
Would you like to have your products featured in a giveaway event? Want to increase your social media exposure? Contact susan.l.bewley@gmail.com to see how I can help YOUR company today!