Disclosure: I received this products for free to review. The opinions in my review are honest and my own.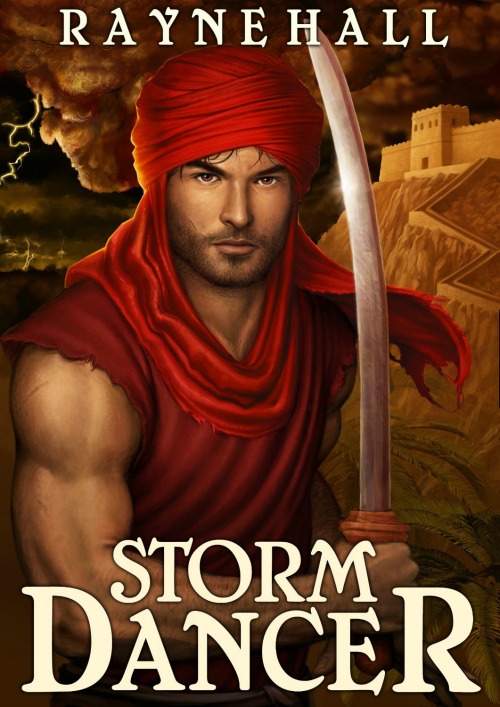 As some of you know, I am a big reader. Nothing is better to me than sitting down with my Kindle and reading a good book. While I am very behind with my reading, I am a sucker for a good dark fantasy, especially if it has a great story that seems fascinating and interesting. Recently, I was introduced to a new book that definitely made me curious – Storm Dancer by Rayne Hall. After hearing how dark this book can be and how people who love George R.R. Martin will likely love it, I couldn't wait to dig into this book myself!
Storm Dancer: What is It?
Are you someone who loves dark fantasy or a world nearly as somber as George R.R. Martin's? If so, we think you will love Storm Dancer. In Storm Dancer, you follow Dahoud, a troubled hero with a dark past. As a siege commander, he razed cities, killed, and worse during that time, and loved it. Now, he is looking for atonement, and has sacrificed everything in hopes of building a new identity – one where he hopes to live peacefully and devote himself to protecting women from harm. Yet, this isn't as easy as it sounds, because Dahound is possessed by a devious demon who wants nothing more than to subdue and harm what he desires to protect. The demon within constantly torments him with pain and tempts him with forbidden desires, making controlling his secrets difficult. Yet, his careful control breaks when a woman from his past betrays him. Now, the question remains – is it possible for a man like him to be trusted, redeemed, and possibly even find love?
Storm Dancer: Overall
While I wasn't sure what to think at first, having read it I have to say that I definitely like Storm Dancer. As someone who has read quite a bit of fantasy, I do have to say that it was not as dark as I expected. It has its violent moments, but nothing too bad if you are someone who comfortably reads Martin, or enjoys horror novels. That being said, I would not recommend the book for someone who is not used to reading violence, or a younger teenager. Some of the topics brought up are very mature, so parents, take maturity into account if you are buying ebooks for your teenager.
As for the story itself, I personally found it very interesting, with political intrigue and a very well developed world. The story itself has a slow start, but very quickly builds up, introducing you to two very well developed characters – Dahoud and Merida. With each of them coming from very different worlds, it creates a very interesting dynamic – especially once their paths cross. My only problem with the book was that by the time the end came, I felt it was a bit abrupt, and I personally wanted to know more! The pacing felt a bit off in a handful of areas, with some scenes feeling rushed. That said, I am hoping that Rayne Hall has a sequel coming out soon, because I would love to know what happens next for Dahoud and Merida! Based on my own experience, I am happy to give Storm Dancer an A- rating.
Storm Dancer: Where to Purchase
Would you like to purchase this book for yourself? You can buy Storm Dancer in hard copy on Amazon.com for $12.34, or buy the Kindle version for only $2.99.
Disclosure: Budget Earth did not receive monetary compensation but did receive products for review purposes. All opinions on this product are my own and may differ from our readers' opinions.
Would you like to have your products featured in a giveaway event? Want to increase your social media exposure? Contact susan.l.bewley@gmail.com to see how I can help YOUR company today!