With me losing weight, I have been trying hard to find substitutes for some of my favorite foods. With sweets, I have found that it is easier said than done. I have tried cooking with Spenda and other sweeteners, and found that they most of the time ruin a recipe or give it a very strong, bad aftertaste. My husband is even worse since he will most of the time not even try a recipe if he knew there was Spenda or Stevia used to sweeten the recipe. He just HATES the aftertaste. Really, there is only one sweetener in our house that is used regularly, and both of us can use without complaining – Nectresse.
I have been using Nectresse for the past year and have slowly been converting to using it in my tea. While I can't say I always remember to use it, it's not a bad experience when I do remember. One thing I had never considered doing, however, was using it in baking. As part of one of the Sugar and Spice Voxbox, they gave me a package of individually wrapped Nectresse packages. As someone who travels and drinks coffee, I was pretty happy about getting this product to review. What I wasn't expecting was to be asked to make a sugar free recipe.
I spent nearly a month trying to figure out the perfect recipe. Eventually, my husband came up with an idea I was reluctant to try – converting my vanilla cream cheese icing into a sugar free recipe, since icings sometimes have more sugar than what they top. Even though I wasn't sure about it at first, I tried it. What happened shocked both of us – it was absolutely amazing! Neither one of us could even tell it was sugar free! Just like my original recipe, it makes enough to cover a two layer cake. We also found that it is a great on Cinnabon bagels! Don't worry, you don't have to tell anyone its sugar free, it will be our secret!
Sugar Free Vanilla Cream Cheese Icing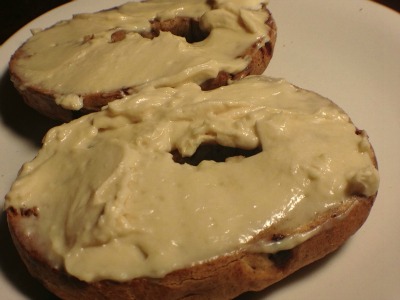 Ingredients
Instructions
Place the cream cheese and butter in a stand mixer (you can use a hand mixer too if that is what you have). Beat for one minute.
Slowly, pour in the vanilla extract. It should have a very light brown color when it's finished.
Pour in the NECTRESSE. I used 3 tablespoons in mine but this can be adjusted to taste. Mix until the icing is smooth and easy to spread. Makes enough to cover one two layer cake.
Disclosure: Budget Earth did not receive monetary compensation for this recipe, but did receive package of NECTRESSE for review purposes from Influenster.com. All of the opinions on this blog are the opinions of said author and these opinions may differ from your own.