Disclosure: I received these products for free to review. The opinions in my review are honest and my own.
One of the hardest things about losing weight to me is, ironically, eating. I have always been horrible about skipping meals and spent years in high school and college getting most of my calories for the day through empty liquid calories. As part of my weight loss efforts, I have been trying to get in three well-rounded meals a day, along with healthy snacks. One of the problems for me, however, is finding the healthy snacks. Many of the low calorie, 'healthy' snacks on the market contain ingredients that I can't easily pronounce, never mind want in my body. As I was starting my search for the perfect healthy snacks, I was approached to try Taste of Nature snack bars. After reading about them a bit online, I couldn't wait for them to arrive!
Taste of Nature Snack Bars: What is It
Are you looking for a delicious snack  that is not only healthy, but delicious? If so, we think you will love Taste of Nature's snack bars. These 100% certified organic bars are made from only the best, natural non-GMO ingredients and are gluten free, making them perfect for anyone who lives a busy lifestyle. Not only are they the perfect pocket size, but they are high in fiber and healthy carbohydrates, allowing you to have the perfect snack to keep you full before your next meal. Once you have tried one of their delicious flavors you will see why everyone loves Taste of Nature!

Taste of Nature Snack Bars: Overall
In all honesty, I was very skeptical when I first tried these snack bars. I expected them to taste just like any other nut or fruit bar on the market. When I first bit into my first bar, however, I was very quickly surprised. Not only were Taste of Nature's bars delicious, but one of the best bars I have tried, hands down. All the bars I had were sweetened naturally and weren't overly sweet, making them a very nice, refreshing snack. Best of all, they were quite filling and healthy, making them the perfect purse sized snack to bring with me anywhere. After trying these bars, I am happy to give Taste of Nature's snack bars an A+ rating!

Taste of Nature Snack Bars: Where to Purchase
Would you like to purchase these awesome snack bars for yourself? You can purchase Taste of Nature snack bars at Whole Foods and other natural food stores. To see if it's sold at a store near you, make sure to check out Taste of Nature's Where to Buy page.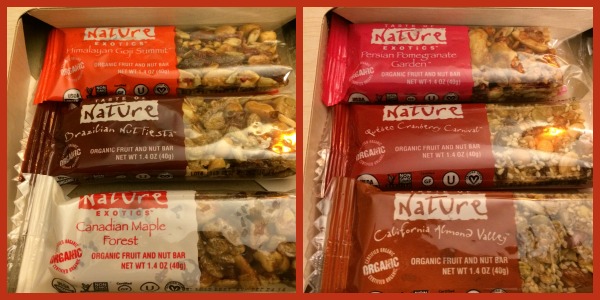 Disclosure: Budget Earth did not receive compensation but did receive products for review purposes. All opinions on this product are my own and may differ from our readers' opinions.
Would you like to have your products featured in a giveaway event? Want to increase your social media exposure this holiday season? See how Mom Powered Media can help! Contact susan.l.bewley@gmail.com to see what we can do for your company!