Disclosure: I received this product for free to review. The opinions in my review are honest and my own.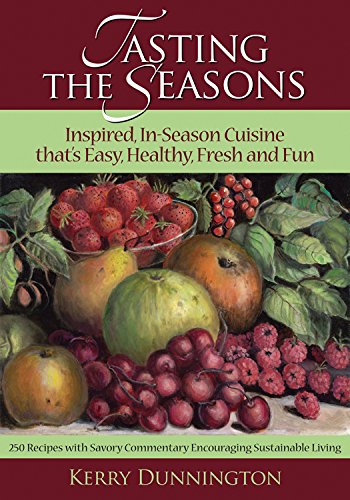 Do you love to cook with seasonal ingredients? To me, nothing is more fun than going to a farmers market or local farm and getting fresh fruits and vegetables during the harvest season. This is the time of year when you can really get some good deals and make the sort of fall recipes you crave all year long. The problem for me, however, is finding great recipes to use them in. I have some seasonal cookbooks but  many of them require unrealistic ingredients, 0r in all honesty, have recipes that aren't very appealing. As I was looking for some new cookbooks, I was approached to review a new seasonal cookbook – Tasting the Seasons: Inspired, In-Season Cuisine That's Easy, Healthy, Fresh, and Fun. After reading a bit about this book online, I couldn't wait for it to arrive in the mail!
Tasting the Seasons: What is It
Looking for a cookbook that focuses on healthy, seasonal recipes that are realistic for busy cooks like you and me? If so, we think you will love Tasting the Seasons. This cookbook contains 250 recipes and commentary on the recipes created by culinary expert Kerry Dunnington. All the recipes in the book are designed to be made in your home kitchen, and for entertaining friends and family. While the approach of the book promotes eco-friendly, sustainable living, it also is realistic, allowing busy cooks like us the chance to feed our families meals that we are proud to put on the table. Once you have tried some of these delicious recipes you will never go back to high fat, processed food recipes again!
Tasting the Seasons: Overall
Okay everyone, I have to say this may very well be one of the best cookbooks I have tried in awhile. All the recipes are realistic, have easy to follow directions, and the ingredients are made using seasonal foods that are perfect for foodies like me. After going through this cookbook, I can't wait to get in the kitchen and start cooking. Now all I need is a trip to the local orchard or to send my husband to the grocery for us while I work! Probably the best section in my eyes, however, are the soups. Many of the soups sound absolutely heavenly, and are meals you would expect to find on restaurant menus. Based on our own experience, I am happy to give Tasting the Seasons an A+ rating!
Tasting the Seasons: Where to Purchase
Would you like to purchase this yummy cookbook for your own family? You can find Tasting the Seasons on Amazon.com for $14.46!
Disclosure: Budget Earth did not receive monetary compensation but did receive products for review purposes. All opinions on this product are my own and may differ from our readers' opinions.
Would you like to have your products featured in a giveaway event? Want to increase your social media exposure? Contact susan.l.bewley@gmail.com to see how I can help YOUR company today!