This is a sponsored post for Teespring. The opinions in this post, however, are 100% my own.
I will be the first person to tell you, I hate being in charge of fundraisers. Don't get me wrong, I am all for throwing myself into a cause and I'm out there helping with everyone else. To me, it's the logistics that kill me every time. Years ago, back when I was still in college, I was the treasurer of my college's little Habitat for Humanities chapter. While we always had big ideas, we never were able to pull in the funds to do anything other than help with labor. One year, we even had this cool idea to sell t-shirts. Even though this seemed like a cool idea and we had the design, it quickly fell through when we discovered the costs. Now, nearly a decade later, I am amazed at all the cool things out there for non-profits, including a fun company I just learned about recently – Teespring.
Teespring: What is It
Never heard of Teespring? It is a new, innovative way to make t-shirts for fundraising or just to make extra money. Normally, to make t-shirts for whatever cause, you have to design a shirt, decide how many of each size to order, and then pay costs upfront for each t-shirt. While some places have great success with this method, others are left with extra t-shirts and actually end up losing money. Even worse, the t-shirts are usually poor quality, making them even harder to sell. With Teespring, you design your shirt online, and set how many you would like to sell before they start printing. Once your goal is met, they start making shirts, allowing you to make a profit without paying anything to Teespring. Best of all, your customers order directly from the site, meaning you don't have extra shirts laying around. Really, Teespring is a non-profit's dream come true when it comes to t-shirts!
Teespring: Design a Shirt
Even though I love to play around with drawing, I'm not very good at it. For this reason, I always need a program that is rather…well…intuitive. TeeSpring's design center is very easy to use, allowing you to use some of their own clipart to make shirts, or the ability to upload your own. This allows you to make the perfect shirt for your campaign. You can even control what colors will be used during printing to cut costs even more on each of your shirts. Personally, I love that you can choose between a variety of shirts, letting you design a top quality shirt that everyone will be proud to wear!
Teespring: Overall
Based on what I have seen from their website, I have say that I am impressed with TeeSpring. I know that if I ever have to make t-shirts again for an event or fundraiser, I will definitely be using their site. Likewise, if you are someone who plans on making t-shirts anytime in the near future, I highly recommend giving TeeSpring a try, I don't think you will be disappointed!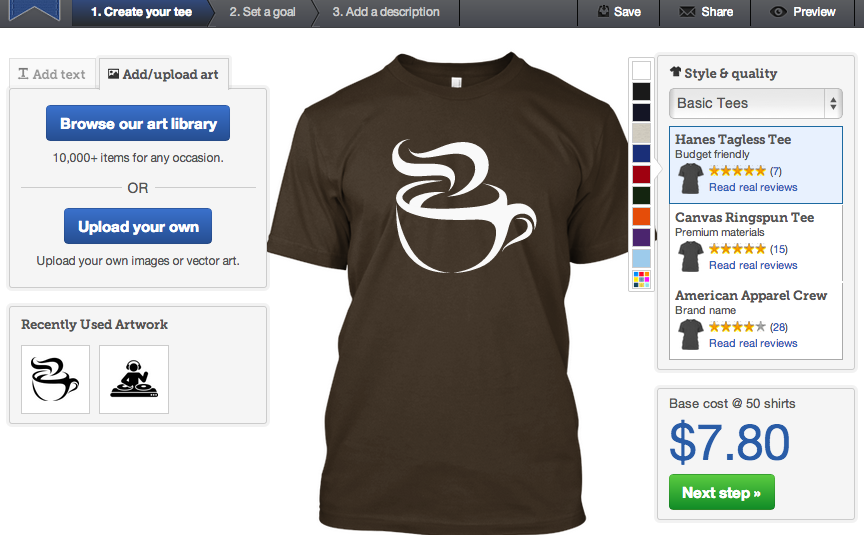 Disclosure: Budget Earth's writer received monetary compensation for this review via Sverve & Teespring. All of the opinions on this article and blog are the opinions of said author and these opinions may differ from your own.
Would you like to have your products featured in a similar giveaway event? Want to increase your social media exposure before the holiday season? See how we can help! Contact budgetearth@gmail.com to see what we can do for your company!