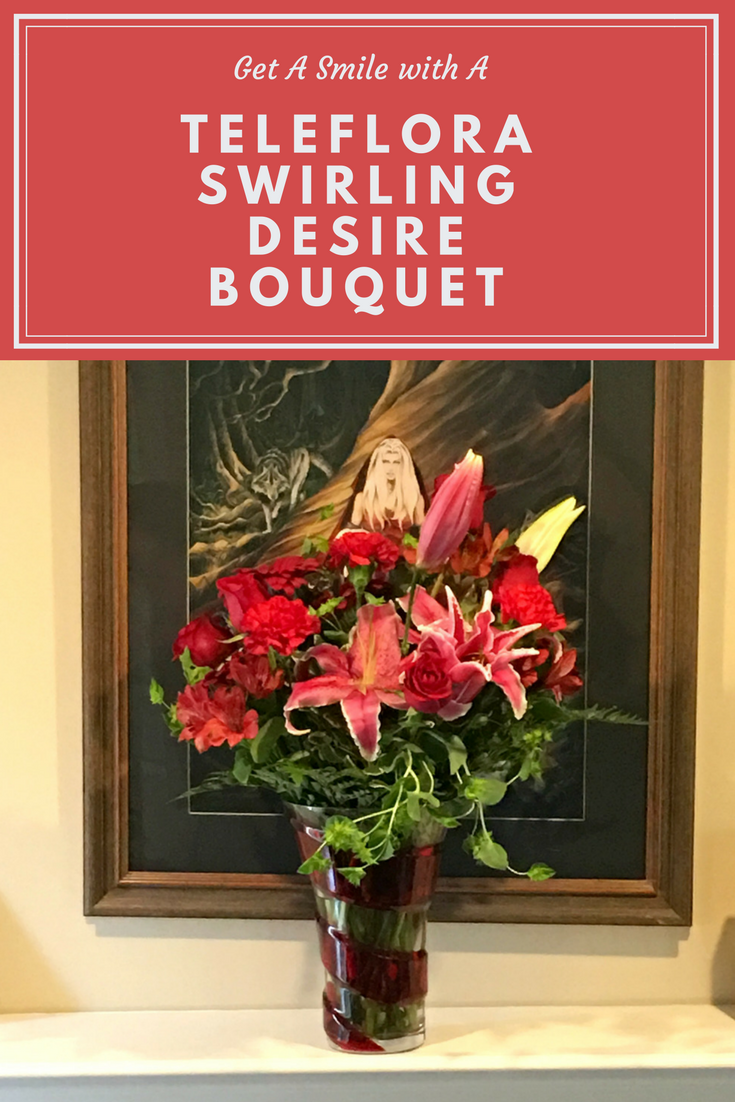 Does it make you smile to get a Valentine's Day flower arrangement from someone special? For me, getting flowers for Valentine's Day has always been special. Even when we were in high school and college, my husband (boyfriend at the time, of course) surprised me with roses and beautiful flowers, much to my delight. I especially get spoiled during that time since our anniversary is also in February. There is just something wonderful about waking up on a cold winter day to a cheerful red rose flower arrangement on my kitchen table. Of course, not every flower, or arrangement, is created equal, and I have seen that it is truly an art to style a vase full of flowers, especially if you want to create something beautiful and unique. When it comes to handcrafted flower arrangements, no one beats Teleflora. They have the most amazing local florists in their network and you know that every arrangement that is delivered is going to be created with love and care to make someone truly smile. I will freely admit, I know I smiled when the Teleflora Swirling Desire Bouquet arrived on my doorstep!
Teleflora Swirling Desire Bouquet: What is It?
Are you looking for a gorgeous, one of a kind Valentine's Day flower arrangement? If so, we think you will love the Teleflora Swirling Desire Bouquet. This stunning arrangement features red roses, hot pink oriental lilies, gerberas, and red Valentine's Day blooms that come in a striking glass vase with a beautiful red swirl design. One thing is for certain, if your sweetie gets this arrangement at work, she is guaranteed to be the talk of the office, making it a memorable Valentine's Day for both of you!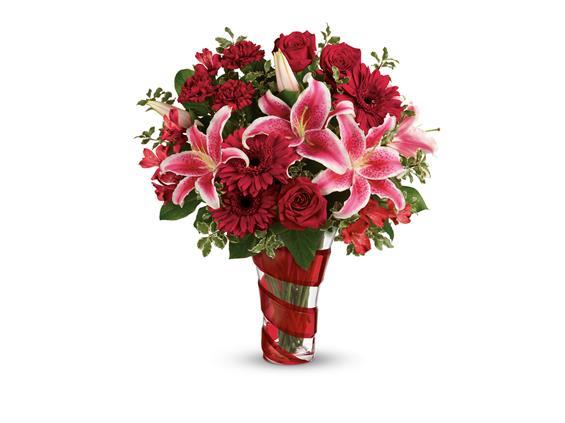 Teleflora Swirling Desire Bouquet: Our Thoughts
So, what did I think of the Teleflora Swirling Desire Bouquet? I admit, I think Teleflora and our local florist truly outdid themselves with this Valentine's Day flower arrangement. First, let's discuss the delivery. While Teleflora's local florists are always amazing with delivery, they truly outdid themselves this time. On the day my flowers were delivered, we were having a mix between rain and snow all day, leaving the weather very…gross. To keep the flowers protected, they wrapped them in multiple layers of tissue paper loosely, keeping the flowers protected from the elements but not in a way that would get them damaged or even out of place. They also verified everything and spent some time to say hi to our dogs, which truly made Ivi and Rylie smile! For me, this was above and beyond what was expected out of the florist, especially since he was nice, courteous, and extremely helpful, even reminding me to add a little bit of water since they had a bit less than usual due to the car trip.
Once I un-wrapped the flowers, though, that was when the true magic started with this arrangement. I was quickly greeted with the most amazing, sweet scent, strong enough to fill our entire kitchen with the smell of all the flowers. It was truly heavenly. Even my husband commented that the flowers smelled amazing and even more fragrant than we had had before. Since we wanted to enjoy the flowers as much as we could, we decided to put them on our mantle, where we watched the arrangement, and the lilies especially, continue to open for a few days and make our downstairs smell even better. I cannot remember the last time I enjoyed an arrangement this much. Every morning was a smile as I went down for coffee and enjoyed my gorgeous Valentine's Day flower arrangement. Overall, I don't think anything could have been more perfect with the experience, between the beautiful arrangement of flowers, choice of flowers, and of course, the wonderful scent of fresh flowers.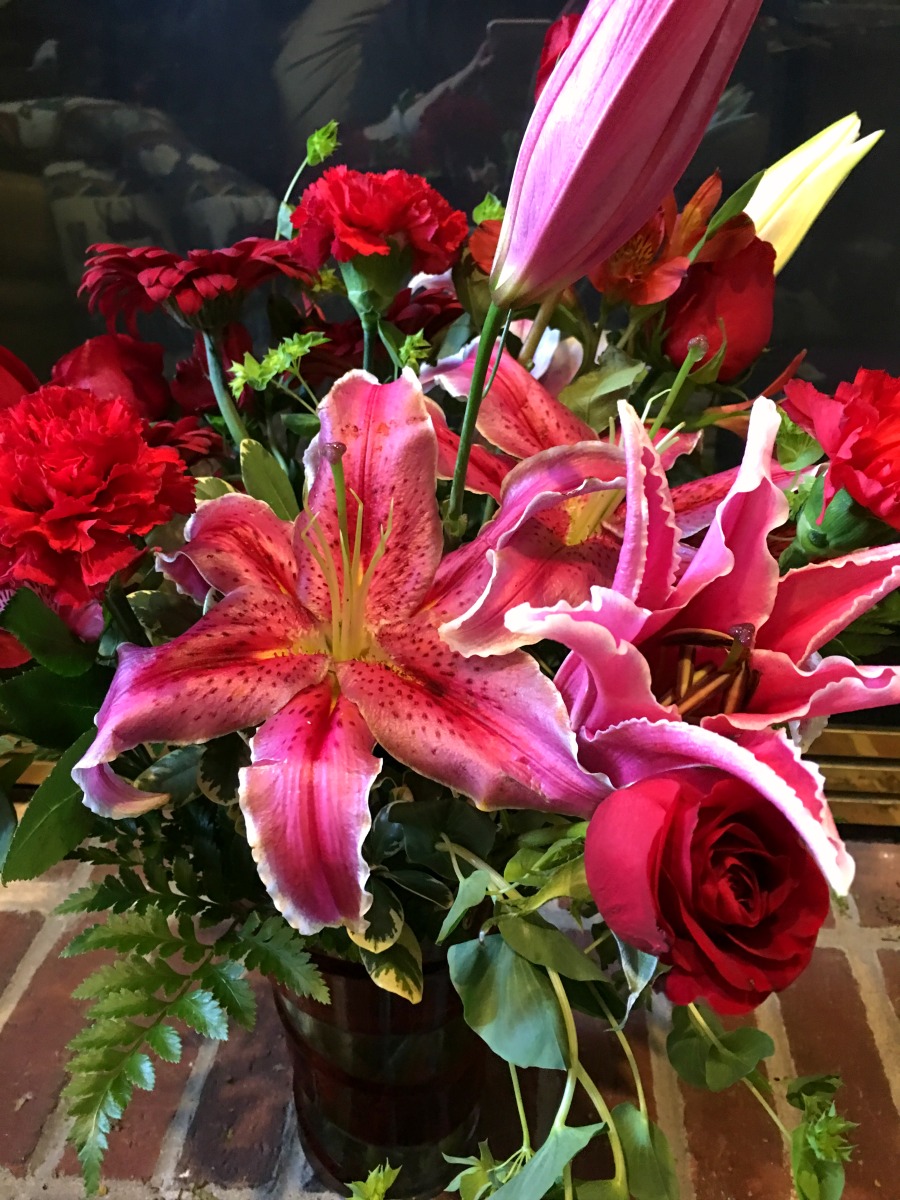 Teleflora Swirling Desire Bouquet: Where to Purchase?
Would you like to purchase this gorgeous Valentine's Day flower arrangement for someone special in your life? You can currently buy the Teleflora Swirling Desire Bouquet on the Teleflora website starting at only $99.95.
Not sure if this is the right arrangement for someone you love this Valentine's Day? Don't worry; Teleflora has a variety of gorgeous Valentine's Day flower arrangements perfect for girlfriends, wives, or even a special mom that needs a pick me up for the holiday. We are certain Teleflora has exactly what you need to make someone special smile during the season of love!