Disclosure: I received these products for free to review. The opinions in my review are honest and my own.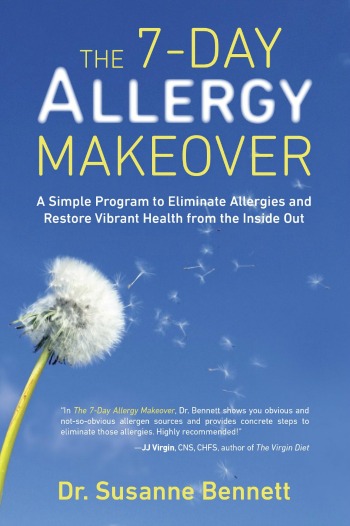 Even though many adults don't talk about it, nothing is worse than finding out you have an allergy to a food you love. I LOVE peanut butter. I used to live off of it in college and my most favorite candies usually had peanut butter. Living with a food allergy now is a pain, especially since it feels like peanuts are in just about everything, including many dog treats. Wanting to learn how to improve my life with an allergy, I was excited when I was asked to review the 7 Day Allergy Makeover.
The 7 Day Allergy Makeover: What is It
Do you have a child or someone in your home that suffers from allergies? In The 7 Day Allergy Makeover, Dr Susanne Bennett discusses her comprehensive holistic program to help stop allergy symptoms and improve the lives of those who suffer from allergies. With 23 years of clinical experience, Dr. Bennett discusses how you can improve different aspects of your health and environments by changing what causes most people to suffer from allergies, including nutrition, living environment, water, body hygiene, and stress.
The 7 Day Allergy Makeover: Overall
If you are looking for a way to naturally manage your allergies, this is one of the best books for you. It is filled with lots of helpful, practical advice that is perfect for children and adults alike. It even has stories of some of her past patients, letting you see how she helped them deal with their allergies and improve their own lives. With all the useful information in this book, I consider it a must for any family who deals with allergies. Based on my own opinion of this book, I am happy to give The 7 Day Allergy Makeover an A rating.
The 7 Day Allergy Makeover: Where to Purchase
Would you love to purchase this awesome book for yourself? You can purchase The 7 Day Allergy Makeover on Amazon.com for $12.42 or the Kindle version for $7.99.
Disclosure: Budget Earth did not receive compensation but did receive products for review purposes. Budget Earth may, however, receive compensation through purchases from affiliate links in this post. All opinions on this product are my own and may differ from our readers' opinions.
Would you like to have your products featured in a giveaway event? Want to increase your social media exposure this holiday season? See how Mom Powered Media can help! Contact susan.l.bewley@gmail.com to see what we can do for your company!