Disclosure: I received these products for free to review. The opinions in my review are honest and my own.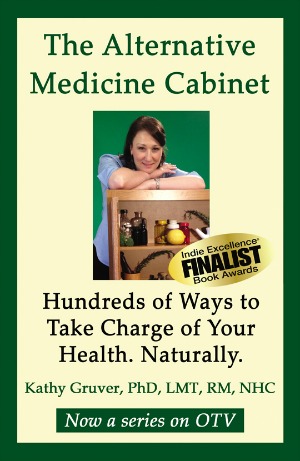 While it may sound, I am one of those people who don't want to go to the doctor unless it is absolutely necessary. I feel that if our bodies can naturally fight something off or if there is a natural way to deal with an issue, that should be investigated first. While I know of some common alternative therapies, I always like to learn more about them and educate myself on what are realistic expectations with each of the different methods out there. As I was doing a bit of research, I was approached by Kathy Gruver, who asked me to review her award winning book – The Alternative Medicine Cabinet. Once this book arrived, I couldn't wait to start reading!
The Alternative Medicine Cabinet: What is It
Want to know more about alternative medicine but don't know where to start? If so, we think you will love The Alternative Medicine Cabinet. This book gives practical advice to help individuals and parents find the right advice for helping deal with common issues without the use of drugs or expensive surgeries. Once you see the practical advice in this book, you will see why Kathy Gruver is a trusted source through the US when it comes to alternative medicine.
The Alternative Medicine Cabinet: Overall
When my copy of The Alternative Medicine Cabinet arrived, I really wasn't for sure what to expect. From my experience many alternative medicine books are either very well written or so bad I don't even bother finishing the book. While the book itself may be small, you shouldn't let the size fool you since each page is packed with valuable information. It may very well be the best introduction to natural medicine I think I have seen to date. It goes into most of the popular natural medicines and techniques, including homeopathy, herbal medicine, and Reiki. As well, it goes into the benefits of massage and seeing a chiropractor  – two things I hadn't really considered part of natural medicine. Even those experienced with natural medicine can easily get something out of this book, making it a must for any bookshelf. Based on my own experience, I am happy to give The Alternative Medicine Cabinet an A rating.
The Alternative Medicine Cabinet: Where to Purchase
Would you like to read this awesome book for yourself? You can purchase a copy of The Alternative Medicine Cabinet on books website, along with other amazing books written by Kathy Gruver.
Disclosure: Budget Earth did not receive compensation but did receive products for review purposes. All opinions on this product are my own and may differ from our readers' opinions.
Would you like to have your products featured in a giveaway event? Want to increase your social media exposure? Contact susan.l.bewley@gmail.com to see how I can help YOUR company today!