Disclosure: I received this product for free to review. The opinions in my review are honest and my own.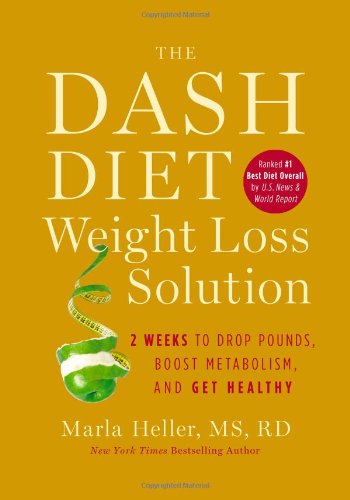 Let's face it everyone, weight loss majorly sucks. As someone who has been struggling with her weight most of her life, I have tried quite a few diets. Most of the time, the ones that work best for me involve eating healthy, cutting the soda, and lots of exercise. With the holidays being around the corner though, I have wanted to play around with a few more recipes and jump start my diet with something healthier, rather than going back to the whole 'diet shake thing' that I usually do to jumpstart my weight loss. As I was looking at a few diet books, I couldn't help but be excited when I was asked to review The Dash Diet Weight Loss Solution.
The Dash Diet Weight Loss Solution: What is It?
Looking for the perfect diet that will not only help you live better but also lose weight? If so, we think you will love The Dash Diet Weight Loss Solution! Using key elements of the DASH (Dietary Approaches to Stop Hypertension) diet, dietician Marla Heller creates an effective diet for quick and long lasting weight loss. Readers of this book and people who follow this diet will enjoy a diet rich in vegetables, fruits, low fat and non fat dairy, lean meat, whole grains, and more! By the end of this diet, you should be reaping the benefits of a faster metabolism, lower body fat, improved strength and improved cardiovascular fitness-plus the diet can lower cholesterol and blood pressure without medication, and without counting calories!
The Dash Diet Weight Loss Solution: Overall
Really, I think this is a very easy to follow diet. It gives you a nice list of the foods you can and cannot eat, along with helping you watch your salt intake. While I am not a fan of some of the imitation food (margarine) or the use of artificial sweeteners, many of the recipes in the book do sound quite tasty and can be made using things commonly found in most homes. That being said, I do think quite a few of the recipes and diet ideas need to be modified for those of us who prefer living more a natural lifestyle.
The Dash Diet Weight Loss Solution: Where to Purchase
Would you like to purchase this book for yourself or someone in your family? You can buy The Dash Diet Weight Loss Solution for only $22.99 in hard cover or $9.99 for the Kindle on Amazon.com.
Disclosure: Budget Earth did not receive monetary compensation but did receive products for review purposes. All opinions on this product are my own and may differ from our readers' opinions.
Would you like to have your products featured in a giveaway event? Want to increase your social media exposure? Contact susan.l.bewley@gmail.com to see how I can help YOUR company today!