Disclosure: I received these products for free to review. The opinions in my review are honest and my own.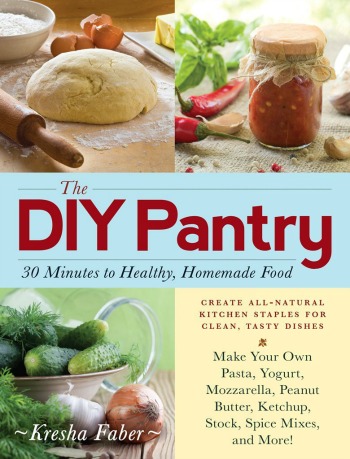 Over the past few years I have spent a lot of time trying to find healthy alternatives to a lot of our foods. While some of the boxed food we find in stores may be tasty and convenient, it is unhealthy and filled with ingredients that aren't easy to pronounce. Some of the foods though I had to concede I couldn't easily make at home, especially with many of the recipes I found online taking hours, if not days to make from scratch. Recently, however, I was introduced to a book that could potentially be one of my new kitchen go to books – The DIY Pantry.
The DIY Pantry: What is It
Tired of having to purchase processed foods for recipes or spending hours of your time in the kitchen to make healthy alternatives? With The DIY Pantry, you can now make your own artisan breads, seasoning mixes, and kitchen staples for only pennies a serving and using only all natural ingredients.  With more than 150 all natural, budget friendly recipes that take 30 minutes or less to make, you can make amazing meals that are nutritious and healthy for your family. Once you have tried these recipes, you will wonder why you waited so long to make these natural alternatives!
The DIY Pantry: Overall
In all honesty, I think I have fallen in love with this book. As someone who tries keeping all the foods in my house as natural as possible, it is nice having a book that tells you how to make just about everything your house needs. As well, how nice is it to be able to open a book and find a recipe for an ingredient you found out you forgot to purchase. While some of the recipes may not be cost effective, they can save you from having to make an extra grocery trip in the middle of cooking. Other recipes are a great alternative to some condiments and kitchen staples with far too many unnatural ingredients. Based on my own experience with The DIY Pantry, I am happy to give this book an A+ rating and very highly recommend it!
The DIY Pantry: Where to Purchase
Want this book for your own kitchen? You can purchase The DIY Pantry on Amazon.com for $12.83 or you can purchase the Kindle version for $9.99.
Disclosure: Budget Earth did not receive compensation but did receive products for review purposes. All opinions on this product are my own and may differ from our readers' opinions.
Would you like to have your products featured in a giveaway event? Want to increase your social media exposure this holiday season? See how Mom Powered Media can help! Contact susan.l.bewley@gmail.com to see what we can do for your company!