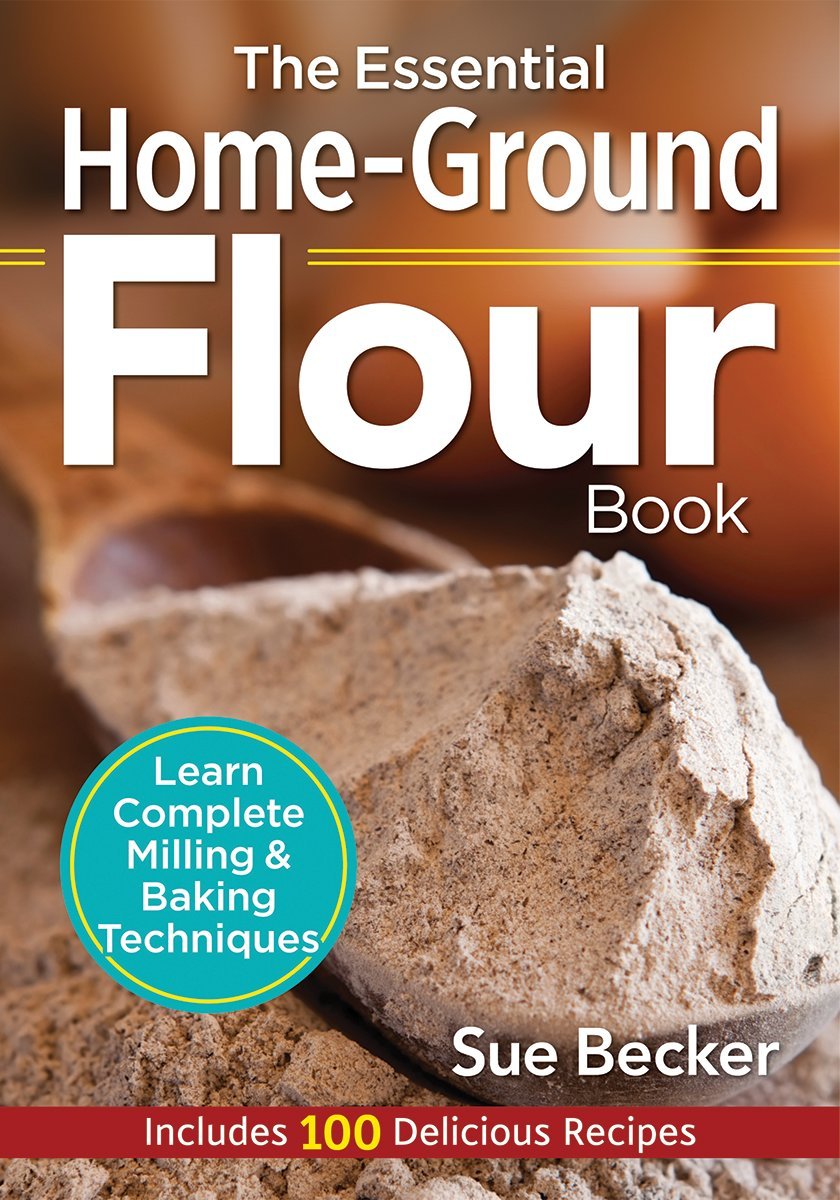 Have you ever concerned milling your own flour? As some of you know, I absolutely love baking with my own flour using my Wonder Mill, but sometimes it takes a lot of trial and error to get the recipes right. This can sometimes mean the loss of not only expensive ingredients, but my time, which can be quite frustrating. While I have some books on milling, most are filled with recipes and have very little information, which is quite frustrating to someone who is still fairly new to working with newly milled flour. Luckily, I recently found out about a new book that makes learning about milling even easier – The Home Essential Home-Ground Flour Book. When Robert-Rose (the publisher) asked if I would be willing to review this book, I couldn't wait for my complimentary copy to arrive!
The Essential Home-Ground Flour Book: What is It?
Looking for a book to teach you how to mill your own flour at home? If so, we think you will love The Essential Home-Ground Flour Book. This book can help educate on the many benefits and appeal of making your own nutritious bread, and other goodies at home using your own grain. Not only does milling your own flour save you money, it is also great for those who have special dietary needs. As well, this book features valuable information such as:
The history of whole grains and grain anatomy
Benefits of commercially milled flour vs home milled flour
Tools and equipment for home flour milling
Baking basics including mixing methods and techniques — the importance of gluten and moisture
Going with the grains — a thorough description of grains such as barley, rye, kamut and buckwheat
Nut flours such as almond
Baking with freshly milled grains.
One thing is for certain; with over 100 recipes and valuable information, even experienced millers can find something to love with The Essential Home-Ground Flour Book.
The Essential Home-Ground Flour Book: Our Thoughts
I will be honest with everyone; I have been waiting months for this book to come out. While I have some books on milling, I have had to figure quite a bit of it out as I go. Honestly, I love that this book is filled with not just recipes, but so much information! I learned techniques for better milling, how to make it work in my bread maker (something I've never seen discussed), and different types of grains that I can use in my mill. While I have only worked with wheat, it makes me want to experiment with other grains as well. The recipes are also amazing; showing you beautiful pictures of not just traditional breads but brownies, cinnamon rolls, and even bagels! After going through the book I can't wait to get out my grain mill and start baking! Based on our own experience, I am happy to give The Essential Home-Ground Flour Book an A+ rating!
The Essential Home-Ground Flour Book: Where to Purchase?
Want to purchase this book for your own collection? You can buy The Essential Home-Ground Flour Book on Amazon.com for only $16.13.
Disclosure: Budget Earth did not receive monetary compensation but did receive products for review purposes. All opinions on this product are my own and may differ from our readers' opinions.
Would you like to have your products featured in a giveaway event? Want to increase your social media exposure? Contact susan.l.bewley@gmail.com to see how I can help YOUR company today!