Disclosure: I received this products for free to review. The opinions in my review are honest and my own.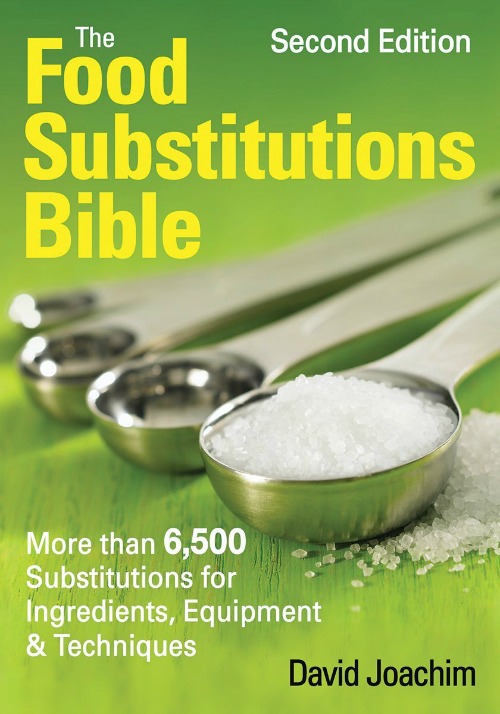 Have you ever been in the middle of a recipe, only to find that you didn't have one of the ingredients you needed? I have done this more than once. Usually, this ends with me in a panic trying to find said ingredients in the house or sending my husband to the store on an emergency run so I can finish dinner or a dessert I'm making. Before you say go to the internet, let's be real. Sometimes you can get good ideas, but others…well…I have ruined some recipes by taking bad advice from people who swore up and down they were experts. Wouldn't it be great if there was something you had in the house that you could run to just to find a quick substitution? Recently, I found the perfect solution for busy cooks like me – The Food Substitution Bible by David Joachim.
The Food Substitutions Bible: What is It?
Looking for the perfect book to help you find the right substitutions for your recipe? If so, we think you will love The Food Substitutions Bible. This comprehensive, easy to use guide organizes ingredients from A to Z, with thousand of different alternatives to help you fix your cooking dilemma. Many of the substitutions can even help you get the same flavor without texture issues you may have experienced previously in a recipe, helping save you time and money when making new foods. This reissue of this book is also 25% bigger than its predecessor, giving you an amazing reference guide for the money. With this amazing guide, you will find yourself loving cooking even more!
The Food Substitutions Bible: Overall
I will freely admit, I am in love with this book. While it isn't one of those books you use often, it is a lifesaver when you need it. In the past two weeks, I have gone to this book twice looking for substitutions, with it saving my recipe once and another time keeping me from taking bad advice alone. To give you an idea of how this book is, I call it more of a cooking substitution encylopedia. You find the ingredient you need, it tells you about it, then gives substitutions with correct conversions for what you need of said ingredient. It even tells you if the substitution may change the flavor, saving you time and money. Really, I consider this book a must for any cook!
The Food Substitutions Bible: Where to Purchase
Would you like to purchase this awesome book for a chef in your family or yourself? You can buy The Food Substitutions Bible on Amazon.com for only $16.79 or other retailers for the regular price of $24.95.
 Disclosure: Budget Earth did not receive monetary compensation but did receive products for review purposes. All opinions on this product are my own and may differ from our readers' opinions.
Would you like to have your products featured in a giveaway event? Want to increase your social media exposure? Contact susan.l.bewley@gmail.com to see how I can help YOUR company today!