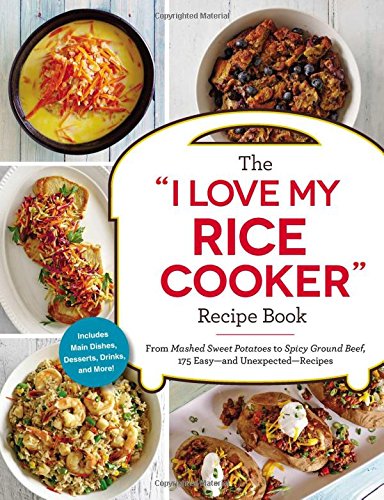 Have you ever tried any rice cooker recipes? While I had seen some on Pinterest and knew some of my friends cooked in their rice cooker, I had never tried it myself. It isn't that I don't think it is a good idea (quite the contrary), I never really think about it. That and some of the recipes I have seen just didn't seem good for my own family. When I started hearing that you could make some pretty complicated, delicious dishes in your rice cooker though, I was intrigued. I mean, who doesn't like the idea of fresh Japanese or Chinese dishes in your own home? To help make experiment a bit easy, I was delighted when I was asked to review The I Love My Rice Cooker Recipe Book by Adams Media. Once it arrived, I couldn't wait to start reading!
The I Love My Rice Cooker Recipe Book: What Is It?
Do you want to experiment with your rice cooker? If so, we think you will love The I Love My Rice Cooker Recipe Book. Here is what the publisher has to say about this new and innovative cookbook:
Learn how to get the most out of using a rice cooker in this go-to guide—with 175 recipes for cooking nearly everything from soups and appetizers to meats, veggies, pasta, and even dessert.

Rice cookers are a great way to perfectly cook rice, but they're also great for cooking just about everything else! These popular kitchen appliances can steam, stew, stir-fry, braise, and sauté, almost like a portable stovetop.

In The "I Love My Rice Cooker" Recipe Book, you'll learn how to use your rice cooker to create 175 delicious, one-pot meals that are healthy and easy to make using fresh ingredients and basic pantry items. With detailed explanations of the techniques and processes you can use, this cookbook will empower you to use your rice cooker in news ways to create your favorite dishes.
The I Love My Rice Cooker Recipe Book: Our Thoughts
Okay guys, I won't lie, this cookbook far exceeded my expectations. Don't get me wrong, I was very excited about the cookbook, but I wasn't expecting the quality of recipes that appeared in this cookbook. I personally wasn't expecting recipes like the Root Beer Beef Short Ribs, or the Drunk Apple and Onion Pork Tenderloin. Of course, there, were also traditional recipes – like Spicy Beef Noodles – that got me especially excited. Best of all, the recipes are very easy to follow and don't use too many exotic ingredients, making it a great cookbook for beginners too! If you are looking for a new, innovative, and very fun cookbook to add to your collection, I highly recommend The I Love My Rice Cooker Recipe Book!
The I Love My Rice Cooker Recipe Book: Where to Purchase
Would you like to purchase this awesome book for yourself or someone you know? You can find The I Love My Rice Cooker Recipe Book on Amazon.com for only $6.99 for the Kindle or $11.59 in paperback. After going through this book ourselves, we don't think you will be disappointed!