Disclosure: I received these products for free to review. The opinions in my review are honest and my own.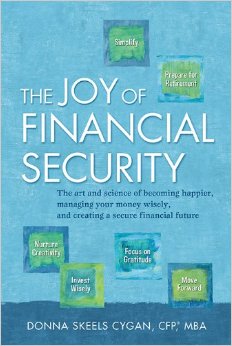 For the past few years, I have been living one of my New Year's resolutions from 2011 – gaining control of my finances. Like many others, I made some bad financial decisions and I'm determined to get my credit cards completely paid off in the next year. I know it's a major goal, but I think it can happen! In 2014, I want to get us more on a budget and saving money. Yet, when it comes to finances, I never took my own happiness into account, at least, not until a new book arrived that I was asked to review – the Joy of Financial Security by Donna Skeels Cygan. To say the least, this book was very eye opening!
The Joy of Financial Security: What is It
Do you want to gain control of your finances and feel more secure? In The Joy of Financial Security, Donna Skeels Cygan takes a new, interesting approach when it comes to gaining financial security by bringing one thing into the equation that most people do not even consider – happiness. Throughout this book, she shares a variety of stores talking about how she helped her clients gain financial security and prepare for things that were important for them by taking into account what will make them happy. While we know money doesn't bring happiness, we know it can seriously impact it! You may be surprised with this practical advice that is easy to implement and will in the long turn make you happier and richer!
The Joy of Financial Security: My Thoughts
While I normally don't read non-fiction, I thought this was an interesting, very eye opening read. Much of the focus on this book is explaining why happiness can lead to more money and what you can do to invest more in yourself. From there, she gives different tips, ranging from investments, retirement, and even taxes! When I first started skimming through the book, I thought it was going to be very complicated, but most of the advice is practical, down to earth, and perfect for everyone. Really, I wish I had a book like this when I first went out on my own after college. Based on my own experience with The Joy of Financial Security, I am happy to give this book an A rating.
The Joy of Financial Security: Where to Purchase
Would you like to purchase a copy of The Joy of Financial Security for yourself or someone you love? Currently, this book is available for $21.90 on Amazon.com.
Disclosure: Budget Earth did not receive compensation but did receive products for review purposes. Budget Earth may, however, receive compensation through purchases from affiliate links in this post. All opinions on this product are my own and may differ from our readers' opinions.