Disclosure: I received these products for free to review . The opinions in my review are honest and my own.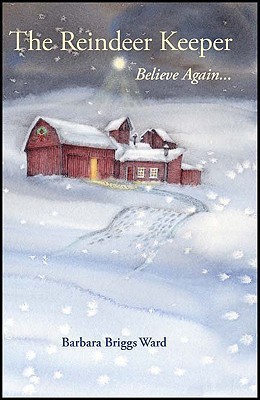 Is there really anything better than sitting down with a good book? For me, the perfect world is sitting with a nice, hot cup of tea and a book as I snuggle on our couch. Christmas is one of those exciting times for me because it's the time when I'm truly looking for new books, especially since I'm spending even less time than usual outside. After reading The Snowman Maker, I decided to read the other book that came with this one from the author, The Reindeer Keeper. having loved the first book I read, I couldn't wait to get started reading this Christmas story.
The Reindeer Keeper: What is It
The Reindeer Keeper revolves around a couple who inherited a farm from one of the main character's fathers. Abbey and her husband Steve have been together since the 60s and have been through many trials and tribulations together, including dealing with her cancer that recently went into remission. On the farm inherited from her father, they not only find a barn full of animals, but a man caring for reindeer on the property. Through their journey, they find a secret that rekindles their belief in Christmas and gives them the strength to take care of a very important challenge!
The Reindeer Keeper: Style
One of the things that is so magical about Barbara Briggs Ward's books is her ability to weave an amazing story and truly get you interested in her characters. As you are reading along, you want to know what happens to each of the characters and what could possibly happen next. This story about not simply Christmas, but the whole of life leaves you on the edge of your seat and unable to put the book down. In other words, it has all the elements necessary for an amazing, heartwarming family story.
The Reindeer Keeper: My Thoughts
Personally, I thought this was a very emotional book. In some ways it is very touching and magical, and others sad as you see the characters grow over time. I nearly started crying at one point in the book, and that is rare for me when I am reading. The Reindeer Keeper really is a wonderful, magical book that rekindles that happiness every child has on Christmas morning. Based on my own experience, I am happy to give the book an A rating.
The Reindeer Keeper: Where to Purchase
Want to enjoy a heartwarming Christmas story? You can find The Reindeer Keeper on Amazon.com in both paperback and Kindle format! Make your favorite bookworm smile on Christmas morning with this awesome book!
Disclosure: Budget Earth did not compensation for this review but did receive a copy of the book for review purposes. All opinions on this product are my own and may differ from our readers' opinions.
Would you like to have your products featured in a similar review or giveaway? Want to increase your social media exposure before the holiday season? See how we can help! Contact susan.l.bewley@gmail.com to see what we can do for your company!