Disclosure: I received these products for free to review . The opinions in my review are honest and my own.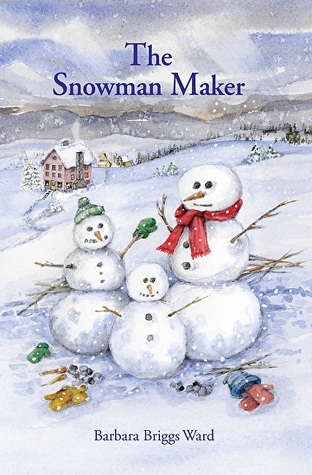 Like many other people, I love sitting down and taking in a heartwarming story  – either through a movie or good book. Since I have seen many of the classic Christmas movies by now, I usually do this in the form of a fun book. Over the past month, I was given the opportunity to read a new Christmas book by Bara Briggs Ward – The Snowman Maker. Being a new holiday book, I couldn't wait to review this book when it arrived!
The Snowman Maker: What is It
The Snowman Maker is a heartwarming tale of hope and rekindling love. The story revolves around Ben and Ellie, who have been having problems in their marriage. Ben has been distancing himself from his wife, leaving her feeling down. All of their problems started when Ben got a cardboard box from his dying father before he passed away. Thing seem to be changing when they discover an old sleigh decorated in pine boughs and silver bells – a sleigh that has something to do with a little boy and a Cardboard box.
The Snowman Maker: Style
One of the things I really love about the The Snowman Maker is the pacing and character development. Barbara Briggs Ward does a great job weaving the story and truly getting her readers interested in her story. It is rare that you find books that are this well written. Just expect a clean, family friendly book revolving around family and understanding.
The Snowman Maker: My Thoughts
Okay, this is one of those books that give you a warm, fuzzy feeling after reading it. This Christmas book deals with the true meaning of family, love, and what Christmas is truly about. While it is not the type of book I would normally read, I did enjoy it and couldn't put it down. Since The Snowman Maker did such a great job winning me over, I am happy to give it an A rating and highly recommend it to anyone who is looking for a fun Christmas love story.
The Snowman Maker: Where to Purchase
Want to read this heartwarming story of family and the true meaning of Christmas? You can find the Snowman Maker on Amazon. At the time of this review, The paperback version was selling of The Snowman Maker was selling for under $14, with the Kindle edition being under $8.
Disclosure: Budget Earth did not compensation for this review but did receive a copy of the book for review purposes. All opinions on this product are my own and may differ from our readers' opinions.
Would you like to have your products featured in a similar review or giveaway? Want to increase your social media exposure before the holiday season? See how we can help! Contact susan.l.bewley@gmail.com to see what we can do for your company!