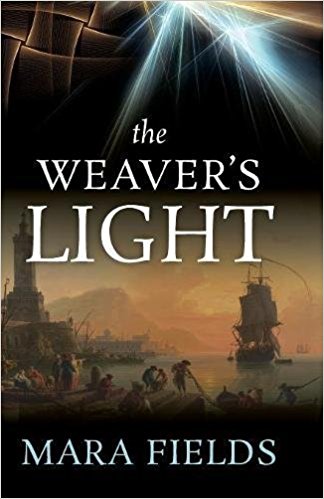 With summer here, I am constantly in need of new books. I don't know what it is but there is something fun about lying on the couch with a good book, especially as natural sunlight is coming in from a nice summer day. One of the best parts of being from a family of readers though is always having good book recommendations and sometimes a rather large reading list. Along with my family offering me books, I sometimes get the chance to read new books right before they hit the market, allowing me to get a sneak peak and share new and upcoming books. Recently, I had one of these opportunities where I got a complimentary copy of The Weavers Light by Mara Fields. When this book, arrived, I couldn't wait to get started!
The Weaver's Light: About the Book
Looking for a fun new fantasy book filled with adventure and suspense? If so, we think you will love The Weaver's Light. Here is what the publisher has to say about this fun new fantasy novel:
A Master Weaver with Nothing Left to Lose
An Orphan with No One to Care for Her
An Enemy So Powerful Its Victims Deny Its Existence

With the loss of his wife and son, master weaver Callan Vellus has fallen into emotional darkness. Then when his hand is mangled in a tavern brawl, even his art is taken from him. But a dream vision rouses Callan from his stupor, spurning him into traveling north until he reaches the fire-wracked city of his dream. There he finds the destruction is worse than he had imagined. Locals claim that the catastrophe was caused by a freak lightning storm, but Callan knows his vision was something more than an alcohol-induced hallucination, that falcon-faced warriors with blue flame leaping from their bare hands are the cause.

Pashi is an orphan living in the ravaged city. With the help of the secrets her mother taught her before disappearing, Pashi not only lives safely in the streets, but survives a direct attack from the falconmages. Yet she finds herself even more isolated from her classmates and community after the attack, as they have no memory of bizarre warriors blasting the city with unnatural fire.
Drawn together by their knowledge of the truth of the bird-faced sorcerers and what they plan to unleash on the realm, Callan and Pashi scramble to find clues about the invaders and how to stop them. But the two uncover more than they'd bargained for, and the malevolent eyes of the falconmen turn on them.

With the fate of their world resting on their shoulders, will the two unlikely heroes find a way to to stop the invasion? Or will the sorcerers' blue flames reduce their world to ashes?

A compelling story of courage borne of adversity, The Weaver's Light reminds us that defining and accepting love, loyalty, and family are often ultimately the choices that save us.
The Weaver's Light: Our Thoughts
As someone who likes fantasy, I have to say that I thought this book was a very fun read. I can easily say this is one of those books that you start on a weekend and get through fairly quickly, not because it is a small book, but a well written story. All of the character interaction throughout the book isn't forced and you truly feel for the characters as they go on their own personal quests with a similar end goal. You especially can't help but feel sorry for the main character, as he is going through the loss of his  beloved family and how it changed his life and his overall drive in life. I will also say the ending to Weaver's Light is very satisfying, making it a very good stand alone book that is great for a fun, relaxing weekend read.
The Weaver's Light: Where to Purchase?
Want to pick this book for yourself for someone you know or yourself? You can buy The Weaver's Light on Amazon.com in paperback for $11.09 or enjoy it for free as part of Kindle Unlimited.
Would you like to have your products featured in a giveaway event? Want to increase your social media exposure? Contact susan.l.bewley@gmail.com to see how I can help YOUR company today!