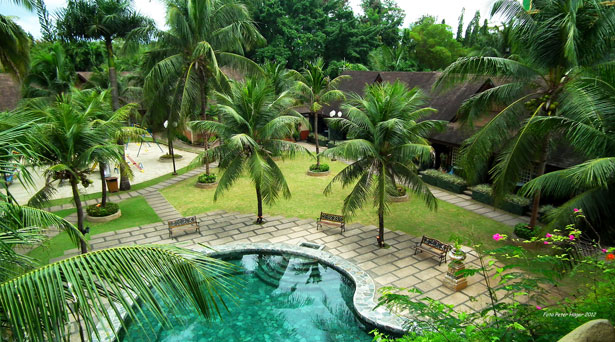 As some of you may know, my husband I don't exactly go on vacation very often. It isn't that we don't want to go on vacation, it's that getting away from work for us isn't easy.  Between my business and his consulting, getting away just seems nearly impossible at times. Usually vacation involves spending time with family, and driving to our chosen location. Recently, however, I have been loving the idea of getting away from everything and going on a vacation.  While pricing out possible vacations, I have been looking at a variety of options to see which would be the cheapest way to go, including looking into time share rentals.
While I have some members of my family who love time shares, I had never really considered looking into them, mostly since we are Hilton Honors members (and my husband earned a lot of those points in his last job). Recently, however, I had an opportunity to look into a time share rental service called RedWeek.com. Hearing that time shares could be the way to go to save money while on vacation, I had to check it out!
RedWeek.com Timeshare Rentals: Company Overview
For those who have never heard of the company, RedWeek.com is an online marketing site that specializes in time share rentals or helping individuals with time shares sell their share in properties. Through this site, you can find amazing deals on timeshares that are up to 50% less than the cost of spending a week in a hotel near your chosen resort or attraction. To get the best deals, RedWeek.com directly works with time share owners to set up a time share rental agreement, letting you get the best deals possible for your vacation.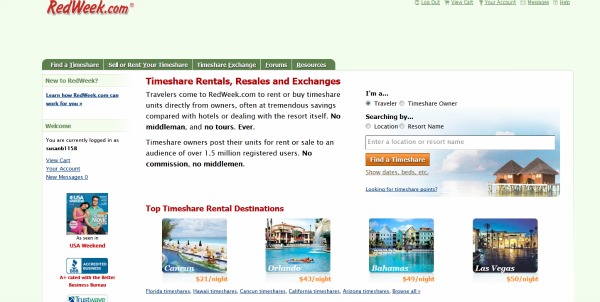 RedWeek.com Timeshare Rentals: Usability
Let's get straight to business, part of what makes time share rentals so appealing is the fact that you can save money, especially if you have a large family. Having come from and married into a large family, I can tell you that staying in hotels can be painfully expensive, and a bit cramped too. Fitting six to eight people into two hotel rooms isn't comfortable and usually leads to very few people getting a pleasant night's sleep. By renting a time share, you aren't renting a hotel room for the night, but a condo. With this condo rental, you usually are getting:
Full Maid Service
Spacious Room
A Full Sized Kitchen
Full Access to Resort Amenities (swimming pools, golf, private beaches, etc)
For large families, this is an amazing deal since you can make your own food during your stay and come back to rest in a comfortable room that is a home away from home. Best of all, some of the timeshares are even pet friendly, allowing you to bring the family dog or cat with you on vacation! Once you put it all together, you can have a fairly inexpensive vacation that lets you spend your hard earned money on your family, rather than your accomodations. To get the most information possible, RedWeek.com also has three blogs available for members, giving you more information in choosing the right timeshare for your family.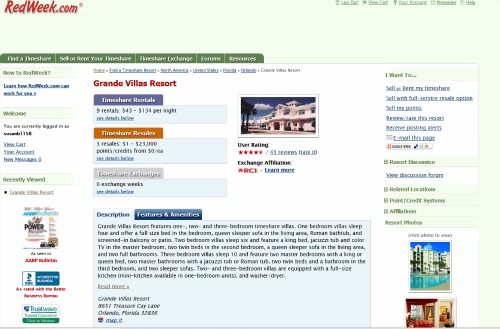 RedWeek.com Timeshare Rentals: Deals
From what I had personally seen, most of the deals depend not only on the season, but which individuals are renting. Many of the time share rentals at RedWeek.com ranged anywhere from $50 to $300 a night, depending on the resort or attraction and popularity of the time you are wanting to stay at the timeshare. For me, the hardest part of using RedWeek.com was being overwhelmed by choices. There are so many timeshares in their system that you can easily spend hours trying to figure out the right timeshare for your family. What helps make the choice a bit easier is that each resource is reviewed by those who own the timeshare or rented from someone who owns timeshares from that chosen location. Unlike some sites, the reviews are actually useful since no one seems to waste words or sugar coat the resorts in their reviews. For me, this was especially helpful since the last thing I want to do is stay in a rundown condo. With all the information and options available, it is easy to put together an inexpensive vacation for your family at a well known vacation resort.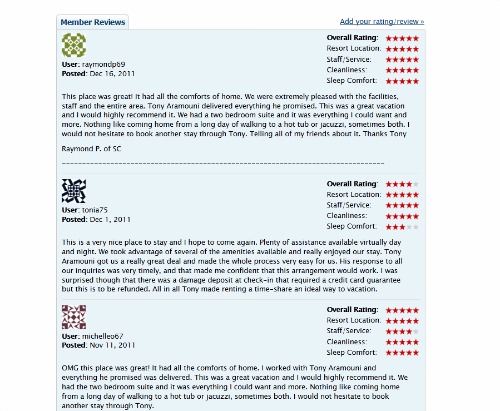 RedWeek.com Timeshare Rentals: Overall
As someone who usually doesn't stay at resorts, I have to say that RedWeek.com is perfect for families who are love staying at resort or looking for somewhere comfortable to stay while traveling for business. If you are looking for a bargain, however, you need to look at all the rentals carefully. Some of the deals on RedWeek.com seem a bit overpriced, while others are truly a bargain. Since the owners can price the time shares themselves, this is to be expected since some individuals think their timeshare has more to offer than others. For most bargain shoppers, however, this is part of what says that RedWeek.com isn't too good to be true. If you are willing to schedule your vacation around the best weeks with dirt shirt time share rental fees, you can easily put together an inexpensive vacation for any sized family. Overall, I would give this time share rental site an A rating since it is very easy to use, loaded with information, and truly has good deals that help families get one step closer to the vacation of their dreams. To learn more, feel free to visit RedWeek.com to see all their amazing time share rentals.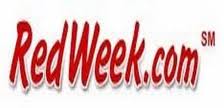 Disclosure: Budget Earth did not receive monetary compensation for this review and giveaway, but did receive a 1 year complimentary membership to RedWeek.com for review purposes via Tomoson.com. All of the opinions on this blog are the opinions of said author and these opinions may differ from your own. Budget Earth is not responsible for sponsor prize or prize shipment.