Disclosure: I received this product for free to review . The opinions in my review are honest and my own.
Even though many of us don't want to think about it, we have stresses that effect us each day. Some of these stresses are good, while others eventually become toxic in our lives. If we don't deal with these stresses in a healthy way, they can be harmful not only to ourselves, but those we care about or depend on at work. For this reason, it is important to confront stress head on and nip it in the bud.  Recently, I found out an innovative and cute idea for helping deal with stress – Too Many Rocks in Your Pocket. When I was asked to review this interesting stress relief tool, I couldn't wait to get started!
Too Many Rocks in Your Pocket: What is It
What are Too Many Rocks in Your Pocket? This set of what looks like ordinary rocks are actually a fun and educational training tool to help you manage stress in your life. It has been found that when you keep stress built up inside, it will eventually start affecting your work performance and relationships in your personal life. Rather than letting it get out of hand, you can learn to reflect and manage these stresses using this innovative stress relief technique.
In each of the Too Many Rocks in Your Pocket packs, you will find various rocks with different words relating to life stress, such as relationship, kids, work, etc. When  these stresses occur, you take that rock out of sack and place it in your pocket and purse. By carrying around the weight, you are reminded about the stress and then it needs to be considered. At the end of the day, you take all of these stresses out of your pocket, and confront these stresses, reflecting and figuring out ways to resolve them. Then, you place them back in the sack, leaving those stresses there, allowing you to sleep in peace or spend time with those you care about, starting the new day refreshed.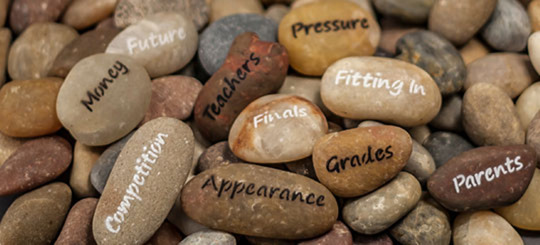 Too Many Rocks in Your Pocket: Overview
Too Many Rocks in Your Pocket: Where to Purchase
Would you love to purchase a set of Too Many Rocks in Your Pocket for yourself or someone in your family? You can purchase any of these stress relief sets for $29.95 + $7.95 shipping and handling (in other words – $37.90). There are currently there sets that can be purchased now – the General Stress Rocks, Business Stress Rocks, and the Student Stress Rocks. You can also get these specially made for your business or special order a set of your own. For my information or to purchase a set for yourself, make sure to check out the Too Many Rocks in Your Pocket website.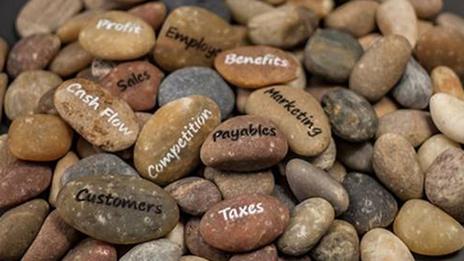 Disclosure: Budget Earth did not receive compensation but did receive products for review purposes. Budget Earth may, however, receive compensation through purchases from affiliate links in this post. All opinions on this product are my own and may differ from our readers' opinions. 
Would you like to have your products featured, or in a giveaway event? Want to increase your social media exposure this holiday season? See how Mom Powered Media can help! Contact susan.l.bewley@gmail.com to see what we can do for your company!