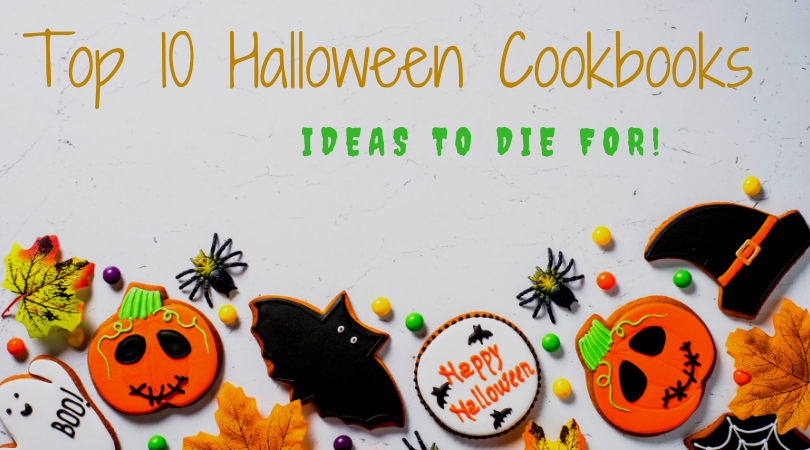 With Halloween right around the corner, many of us are looking forward to Halloween parties and trick or treating. Yet, sometimes making those perfect treats for Halloween parties can be a bit challenging. While there are obviously hundreds of different ideas on Pinterest, I normally don't get anywhere since I end up spending the day pinning and not actually picking out recipes (I know, terrible or what?) Even worse, I'm always crunched for time, leaving me quickly scrambling to find adorable recipes for my guests. Of course, this usually leads to mass panic. Luckily, Amazon had some truly adorable and fun cookbooks perfect for any Halloween get together or party!
Rated 5 starts, get Best of Halloween Tricks & Treats, Second Edition (Better Homes & Gardens Crafts)
on paperback for just $12.56! List price is $16.99. Ships free with Amazon Prime or with Super Saver Shipping on orders over $25.
From spooky to whimsical and everything in between, this all-new edition of Best of Halloween Tricks & Treats is a treasure-trove of neat ideas and helpful how-tos for adding a personal touch to Halloween parties and celebrations. You'll get instructions for throwing Halloween parties that are festive for the whole family and learn how to make Halloween decorations that will transform your home into the spookiest place on the block. Plus, you'll get tasty recipes for Halloween treats, easy-to-follow craft projects, and step-by-step instructions for making handmade Halloween costumes that are clever, creative, and fun.

Halloween party ideas and kitchen-tested recipes
Instructions for making handmade Halloween decorations and crafts
Halloween costume patterns and ideas for kids' games

Best of Halloween Tricks & Treats shows you how to create imaginative Halloween celebrations whatever your level of crafting ability.
Find great recipes in this Halloween Delights Cookbook: A Collection of Halloween Recipes (Cookbook Delights)
for only $16.10 on paperback. Originally $19.95. Ships free with Amazon Prime or with Super Saver Shipping on orders over $25.
For this fun and festive time of the year, author Karen Jean Matsko Hood presents a unique cookbook that is full of tasty and satisfying recipes. Inside are page after page of mouth-watering recipes that will certainly be a hit with family and friends during this special time. Written for the novice cook as well as the accomplished chef, Halloween Delights Cookbook will be appreciated by all. The ingredients for each recipe can be found at your local market throughout the year. Halloween Delights Cookbook is sure to be a valuable addition to your kitchen library and a great gift idea for the chef on your giving list.
This is a great selection for those with food allergies, get SPOOKtacular Gluten-Free Halloween Desserts: A cookbook of delicious, wheat-free, dairy free, all natural organic recipes that will dazzle your guests at your scary party
for only $14.70 on paperback. List price is $19.99. Ships free with Amazon Prime or with Super Saver Shipping on orders over $25.
Halloween is our favorite holiday, but we couldn't stand the day of guilt that followed. This little book is our solution: TO-DIE-FOR desserts that aren't killers. This year you can give a Halloween party and feed your friends gluten-free, dairy-free treats made with all natural ingredients. You can create your own Witchy Carrot Cake Cupcakes or a scary graveyard chocolate cake using alternative flours: quinoa, rice, or millet. The directions are all here. The trick is these gluten-free desserts aren't frightful at all. They're nutrition in disguise. They're delicious and—SURPRISE!—they're actually good for you!
Grab this Betty Crocker cookbook for tons of recipe ideas! Right now you can get Betty Crocker Halloween Cookbook
for only $11.59! This book is available on paperback. Original price is $16.99. Ships free with Amazon Prime or with Super Saver Shipping on orders over $25.
When it comes to fun food, nothing beats Halloween. From scary treats (Boneyard Dirt Pops) to frightening main dishes (Spiderweb Black Bean Burgers) to blood-curdling beverages (Chilling Jack-o'-Lantern Smoothies), this must-have collection of Halloween recipes will keep kids and adults well fed and fully entertained too! Includes almost 100 recipes with a full-color photo of every one Offers bonus features on setting up a Halloween buffet, fun ways to reuse Halloween candy and recipes perfect for gift-giving Includes helpful cooking tips and techniques throughout Features full nutrition information for every recipe If you're looking for fun this Halloween season, fear not. Betty Crocker Halloween Cookbook is the terrifying good time you've been waiting for.
We have an awesome discount on this book! Get Gooseberry Patch Halloween
on paperback for under $5! List price is $18.95. Ships free with Amazon Prime or Super Saver Shipping on orders over $25.
Gooseberry Patch was founded in 1984 by Vickie Hutchins and Jo Ann Martin, two moms looking for a way to do what they loved and stay home with kids too. 25 years later, they're best known for their collection of family-friendly, community-style cookbooks. Each book is created with today's time-strapped, budget-conscious families in mind and filled with recipes shared by cooks all across the country. Along with treasured family recipes, each book includes the stories the go along with these tried & true dishes.
Are you a Harry Pottery fan? If so, we think you will love The Wizard's Cook (available for under $15).
Inspired by the most famous wizards in history, from Merlin to Dumbledore to Marry Poppins,The Wizard's Cookbook includes magical dishes that are both quick and easy to prepare for any occasion. Beaupommier provides a beautiful spread of festive themed dishes to enchant your guests. Recipes are accompanied by beautiful full-page color photographs of the delectable food and drinks. In addition to the sustenance necessary to battle your nemesis―whether it be a dragon or an empty stomach―this book also includes recipes to prepare divine desserts and devilish snacks, as well as intoxicating potions and elixirs to quench your thirst. 

Whether you're a beginner or an expert wizard, open this spell book, grab your wand, and . . . Abracadabra! You'll create delicious, bewitching recipes from The Wizard's Cookbook that are sure to teleport you and those dining with you to another world.
Get great party recipe ideas with Halloween Cookbook
Kindle edition for only $2.99!
Are you ready for October 31st ? For that amazing Halloween party to be a success ? If you are looking for the recipes which can be spooky, ghoulish, scary and tasty at the same time then the Halloween Cookbook is for you.. The cookbook contains Halloween Party Recipes for the following : Scary Appetizers Spooky Drinks Frightening Main Dishes Side Dishes and much more like Halloween cookies
Released in September of this year, get Halloween Party Ideas
Kindle Edition for only $.99!
We've given a few tips for invitations, themes, decorations and party game ideas. Our favorite section is the delicious food ideas for your Halloween Party. We've included the following spook-tacular recipes for you. Chocolate Devils' Food Spidery Critter Cupcakes Batty Appetizers Freshly Dug Grave Cake Monster Mash Dip Spooky Spider Bites
Make use of all those pumpkins! Get The Great Pumpkin Recipe Book
Kindle Edition for only $3.29!
This recipe book offers a full spectrum of pumpkin recipes, from soup to nuts, or perhaps more appropriately, soup to seeds. If you love the taste of pumpkin then you'll enjoy the recipes we have waiting for you.
Find more great ideas with 35 Halloween Recipes For The Faint Of Heart: Recipe Ideas for Halloween Parties, Dinner and Appetizers
Kindle edition for $.99!
This spooky recipe cook book includes: – Pumpkin Pudding for Goblins – Monster Mash Burgers – Spooky Graveyard Treats – Pumpkin Filled Cupcakes – Noodle Brain Prank – Plus 30 more!!!! So, start planning your Halloween party today and be prepared with some delicious recipe ideas for all the ghosts, goblins, witches and other spooks coming to your dinner table.

---

---