Okay, I will admit, I hate that it's already getting below freezing here in Kentucky. What happened to fall? We are supposed to be having beautiful 40 – 60 degree weather, not wondering if it's about to be starting to snow! Well, if I like it or not, the cold weather is here, meaning its also time start bringing out my beloved Crock-Pot for some yummy hot dishes. Lately, however, I have been looking for some motivation when it comes to new slow cooker recipes. After a quick look on Amazon, I found that there are some amazing cookbooks, all under $3! If you are someone who loves cheap cookbooks, we think you will love our top 10 slow cooker cookbooks list!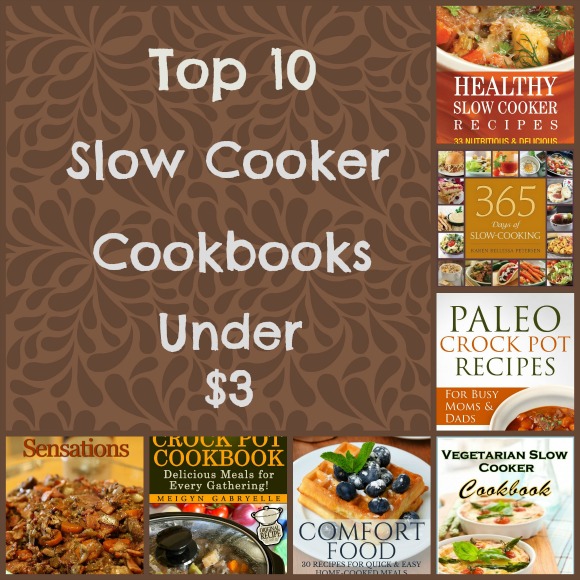 Out of all the slow cooker cookbooks on our list, this is the best deal! You can currently get Slow Cooker Sensations
for FREE! Originally $2.99.
Choice abounds in this unique collection of Slow Cooker recipes. Choice chicken meals, beef specialities, meatless vegetarian options, and a rare selection of desserts for the slow-cooking sweet tooth. Meal planning is a snap with this delightful recipe book.
Looking for slow cooker cookbooks that include comfort foods? Get COMFORT FOOD : 30 Recipes for Quick & Easy Home-Cooked Low-Budget Meals
for just $.99. Would you like to cut your grocery budget, while serving healthy, tasty meals that can be cooked in 30 minutes or less?
Then you will enjoy this collection of 30 fast, easy, and healthy, recipes inspired by the world's best chefs. You'll find suggestions for breakfast, lunch, and dinner, even sweet treats! There's something for everyone: vegetarian dishes, chicken, beef, soups, and pasta. I've included dishes that every member of your family will love.
Looking for some yummy slow cooker cookbooks to make preparing for the holidays a bit easier? You can get 35 Slow Cooker Side Dish Recipes: Delicious Side Dishes to Make Your Main Course Shine
for only $.99.
I wanted to free up some of time for you by compiling this crockpot cookbook filled with 35 side dish recipes and here are a few I've included . . . – Italian Bean Casserole – Zucchini & Cheese Souffle – Baked Cinnamon & Orange Apples – Spanish Rice & Tomatoes – Hash Brown Potatoes & Cheese – Plus many more
Finding slow cooker cookbooks that are vegetarian friendly can be very difficult! When I discovered this cookbook, I was pretty excited! You can get Vegetarian Slow Cooker Cookbook: Delicious and Convenient Vegetarian Eating
for only $.99.
This book offers you healthy options for the slow cooker. From main dishes to desserts, you have the option of giving your self more free time. Each recipe has been adapted to be vegan or vegetarian, helping you lead a healthier lifestyle. First you will find soups and stews, followed by main dishes, then dishes to eat on the side and finally desserts. Enjoy these delicious recipes your body will thank you for.
While I couldn't imagine using my Crock-Pot all year, there are some great recipes in thie slow cookder cookbook! Get 365 Days of Slow-Cooking
for only $.99.
Family dinner may be the most important part of the day—and for busy households, a slow-cooker may be the most important item in the kitchen! This volume of slow-cooker recipes offers easy instructions for creating appetizing meals that are prepared on your own time and served at just the right time. With 365 dishes that can be assembled in minutes, including dozens that require just two minutes or less, this collection is the perfect solution for hectic days and crowded schedules. Tempt your family's palate with favorite entrees like golden beef stroganoff and smothered pork chops, hearty side dishes like buttermilk mashed potatoes, and delectable desserts like hot fudge pudding cake. Perk up tired menus with ethnic delights from Thai peanut noodles to Greek pita folds, and find the perfect soup or stew to please a crowd with minimal prep time. Thanks to this user-friendly guide, dinnertime just got a lot more simple—and a lot more delicious.
Get The Incredible Slow Cooker Cookbook
for just $.99.
The Incredible Slow Cooker Cookbook is a slow cooker (also known as a Crock-Pot) lover's dream. With over 57 recipes, this book is chock-full of tasty meals that are easy to prepare. This is sure to become your go-to resource time and time again.
Just released on October 20th, get Mom's Crock Pot Cookbook: Delicious Meals for Every Gathering
for only $2.99!
The popularity of crock pot cooking is based on three things: convenience, cost and variety. Over the years, this form of cooking has become a standard method of meal preparation in many homes, with more followers being added daily. Our Rock That Crock Pot Report is designed to introduce the novice to slow cooking and to provide the more experienced cooks with more recipes to add to their collection. In this report, you'll find recipes ranging from appetizers to desserts, all of which are easy to prepare with readily available ingredients. You'll find the nutritional analysis helpful in diet control and the finished product superb, regardless of the dish or the occasion for which you're preparing it.
While I haven't used this slow cooker cookbook yet, it does look very good! You can get the Kindle Book 341 Crockpot Recipes: Slow Cooker Recipes
for only $2.99.
Looking for something different for dinner today? Something you can enjoy with the ingredients you have currently in your pantry. These easy to make slow cooked meals are tasty and delicious. The book contains 341 recipes you can start on right away. These include appetizers, casseroles, desserts, main dishes, side dishes, soups & stews and even breads, butters and sauces for that something extra for your meals.
Get the Healthy Slow Cooker Cookbook (Healthy Slow Cooker Recipes That Keeps You Full & Help You Lose Weight)
for just $2.99!
Using the crock pot (a.k.a. slow cooker) to prepare meals is one of the simplest way to prepare healthy and delicious meals. If you're a busy mum like me, using the crock pot is the way to go. Just set the timer for the crock pot and leave for the day, expect a sizzling hot meal upon returning home. This cookbook is filled with unique and delicious one-pot meals that are very healthy and easy to prepare. Whether you are a complete newbie to slow cooking or an experienced crock pot user, you will find the recipes healthy and scrumptious yet simple and easy to prepare. You will be AMAZED by our best healthy slow cooking recipes for you that I'm sure you and your family WILL love, that's my promise!
Looking for some Paleo friendly slow cooker recipes? You can get Paleo Crock Pot Recipes: For Busy Moms & Dads (Slow Cooker Series)
for $2.99.
Looking for some quick and tasty Paleo crock pot recipes? This book has you covered. You'll find everything from chicken to beef, pork, lamb and seafood dishes.