Like many of you, I am always trying to find bargains online. Years ago, when I was still in college, I used to hang around EBay looking for deals on textbooks and things like inexpensive, unique gifts. As I got older, my bargain shopping started to broaden, looking for fun, unusual items that I couldn't find anywhere else. In time, I eventually took my shopping elsewhere, waiting for some of my favorite shops to have sales instead of trying to fight with people 'sniping' bids at the last second. In fact, people bid sniping was one of the main reasons I gave up on auction sites like EBay. While existing auction sites have continued to grow and gain popularity over the years, I have mostly ignored them, until one of my friends online told me about a new auction site – Tophatter.
Tophatter
If you spent a lot of time on Facebook, you have likely heard some of your friends talking or sharing auctions from Tophatter. At first glance, it likely seems just like any other online auction site. What makes it different and unique is that it's actually an online live auction – not an automated auction where things are listed for days. On Tophatter, sellers tell the site that they want to sell an item and put up a description for potential buyers, telling them the timeslot where the auction is going to appear and some basic information to get their interest. Buyers can then show up at the beginning of the hour when that category of auctions start, or set a reminder for Tophatter to text their phone a reminder when the item they want is about to show up for auction. Since the sellers are also available during the auction, you can ask questions on the fly, getting the information you need, when you need it! To learn more about Tophatter, make sure to watch the video below.
Tophatter: Auction System
Like some of you are probably wondering, my first concern with Tophatter was how the live auction system would actually work. When you first log into Tophatter, you are brought onto the catalogue page for a live auction. Once you enter the live auction, you are shown an animated scene with an auctioneer, seller, buyers, a list of items set of auction, and a chat window. Right above the items set for auction, you will see the current item being bid on and a blue button you push to bid.
Just like a real auction, bids are instant and done in a set increment. (usually $1 – $2 at a time). As people push the button, the bid increases. After ten seconds of no one bidding, the automated auctioneer will give a warning telling you the higher bidder. A bar will then appear, representing the first five second warning as the auction is close to being finished. After that soft warning, the auctioneer will give another, final warning. Once the white bar fills on that final warning, the auctioneer will audibly drop the gavel, signaling the end of that auction. After another two seconds, the auctioneer will start talking about the next item – and the whole auction block will continue in that category until no items are left. If you are the winner of an auction, you will be sent an invoice by Tophatter to pay for that auction. Really, the whole auction system with Tophatter couldn't be easier!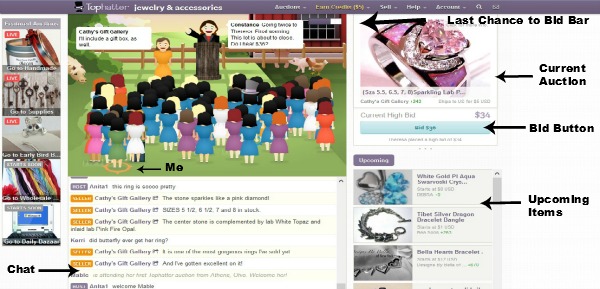 Tophatter: Buyer Experience
While I have never sold an item on Tophatter, I have to admit that the whole live auction experience on their site is very addictive! The first auction I attended I only planned on spending a half hour on their site. Two hours later, I was still talking to people in the chat and looking at all the pretty auctions coming up. When I found a listing of the day's auctions in my email the next day, I was smart and told the system to remind me about the next auctions. This saved me time and allowed me to still bid on some of the cute jewelry. With all the interesting and unique items up for auction, it is very easy to lose hours going through the auctions and get caught up in the experience. Having attended some in person live auctions in my life, I have to say they really brought the whole auctioning experience into everyone's home.
If I had to pick one thing I love the most about Tophatter, it's their live chat. Not only can you talk to other buyers, but the seller as well. Nothing annoyed me more with EBay than sending a question to the seller, only to have them answer me days later once the auction had already ended. On Tophatter, the seller is right there, talking about the item and answering questions as people were bidding. At the jewelry auction I was attending, it was the same seller for everything and she had an awesome sense of humor, allowing everyone to have a blast. To me, interaction like this is what makes Tophatter interesting and fun!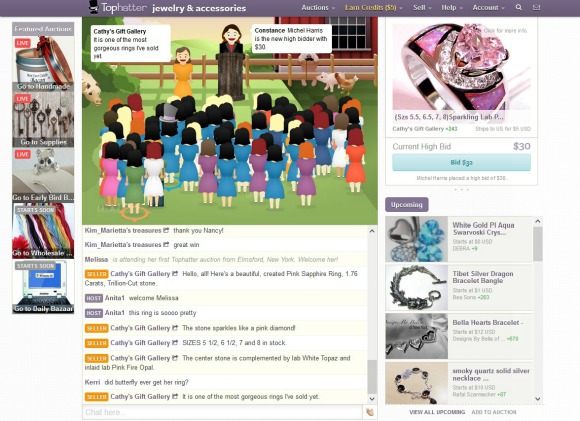 Tophatter: Overall
From my own experience, Tophatter is fun, addictive, and a great way to find some unique items. I have spent hours in the past two days looking at all the jewelry and cute craft supplies. This may be a dangerous place for my sisters, however, since they do have LOTS of Hello Kitty items as well. If you are looking for a fun auction sites, I highly recommend Tophatter and give them an A+ rating! Also, help you get started with your first auction, Tophatter is giving all of our readers at free $10 toward their first auction of $11 or more! To except this credit, click here to be directed to Tophatter.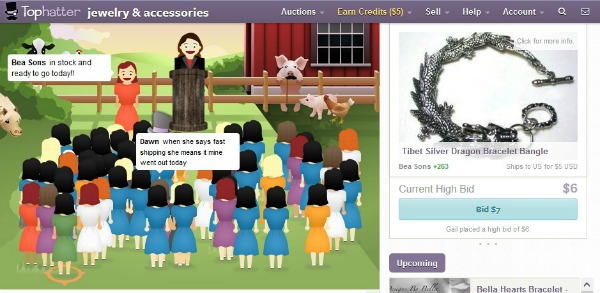 Disclosure: The author of this publication, Susan Bewley, did receive compensation for this post but all the opinions are her own & were not influenced by Tophatter or any other third party. This opinion, however, may different from your own. Budget Earth is not responsible for sponsor prize or prize shipment in this giveaway.