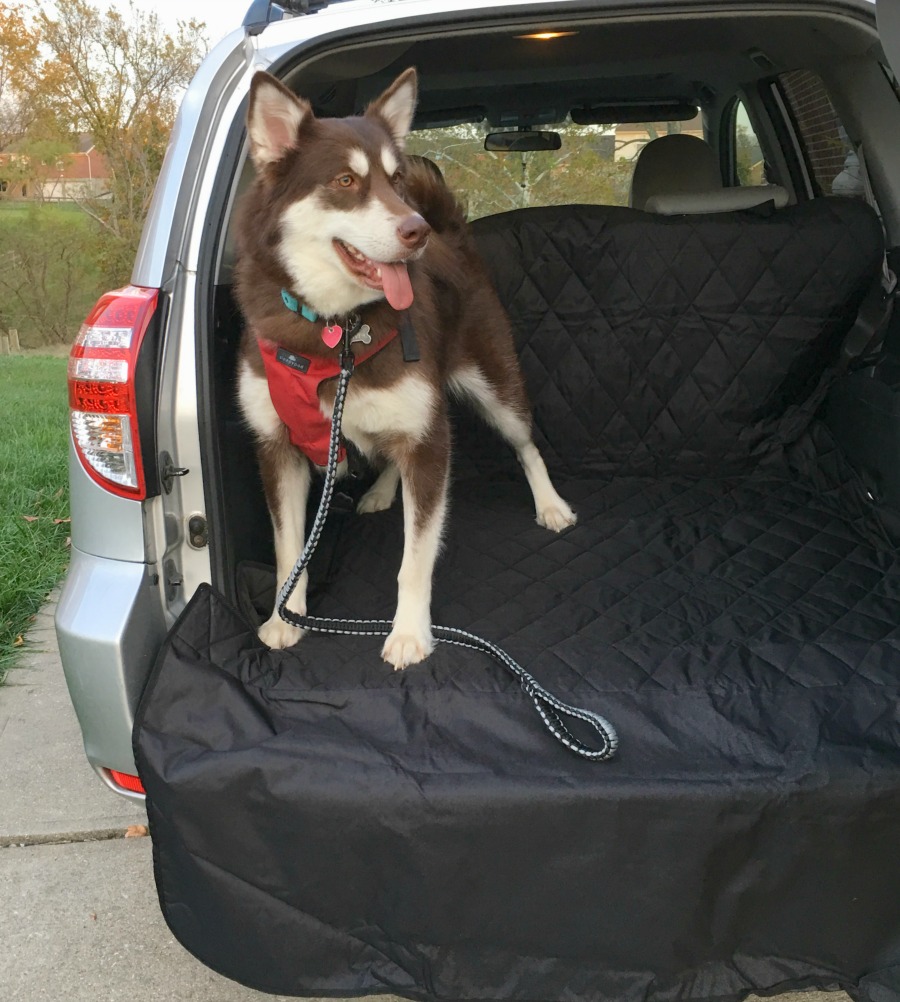 As some of you may have guessed from previous articles, my family made the big decision last month to trade in my old Accord for a new SUV. While it was comical at times fitting two malamutes in the back, my old Accord was getting up in age and at nearly 210,000 miles, it was time to trade her in for something that was better for the future. One of the reasons we went with an SUV was because it gave the girls more room. While we had car safety harnesses for the girls, what we didn't have was a cargo cover. Since we are constantly on the go and often on long car rides, we needed something that was durable, washable, and able to withstand two very happy, excitable malamutes. Luckily, while we were at BlogPaws Phoenix, we found a company that made a cargo cover perfect for all of our needs – 4Knines. After taking measurements of our Toyota Rav4 and picking out a SUV cargo cover, we couldn't wait for our complimentary cargo cover to arrive!
4Knines SUV Cargo Cover: What is It?
Looking for a cargo cover that won't just protect your cargo area, it helps your dogs feel comfortable and happy? IF so, we think you will love the 4Knines SUV Cargo Cover.  This cover was uniquely designed for the needs of families with dogs and kids, to protect your cargo area from dirt, spills, fur, claws, and whatever your furry (or less-furry) family members can throw at it. Unlike many other covers on the market, this luxury cover is designed to be not just beautiful and stylish, but durable as well, looking classy while having something strong enough to handle your family. With its padded and quilted design, it also provides extra protection to your cargo area while also being comfy for your puppy riders. To learn more about his cover, make sure to check out the video below!
4Knines SUV Cargo Cover: Our Thoughts
When our cover arrived, I honestly couldn't wait to get it in the SUV. My only fear was it being very difficult to put in the car itself. I will be honest with you guys, I have had backseat car covers for the girls that literally took two to three people to put on, with someone nearly sitting on it just to make it stay. Oh, and after all that work, the girls making it pop off the seat in minutes. I didn't want a repeat of that. Luckily, the 4Knines SUV Cargo Cover didn't just come with great instructions, but was intuitive to put on. You really don't NEED the directions but it is nice to look at them for confirmation that you installed it correctly. As well, I LOVED that it had extra protection on the sides to protect our SUV not just on the floor, but outer walls where dogs may be throwing toys or, let's face it, possibly trying to dig. My husband's favorite feature though, is the extra length designed to keep the girls from scratching or damaging the exterior of our new (to us) vehicle. Overall, I don't think we could be happier and the girls love snuggling on this cover. Based on our own experience, we are delighted to give the 4Knines SUV Cargo Cover an A+ rating!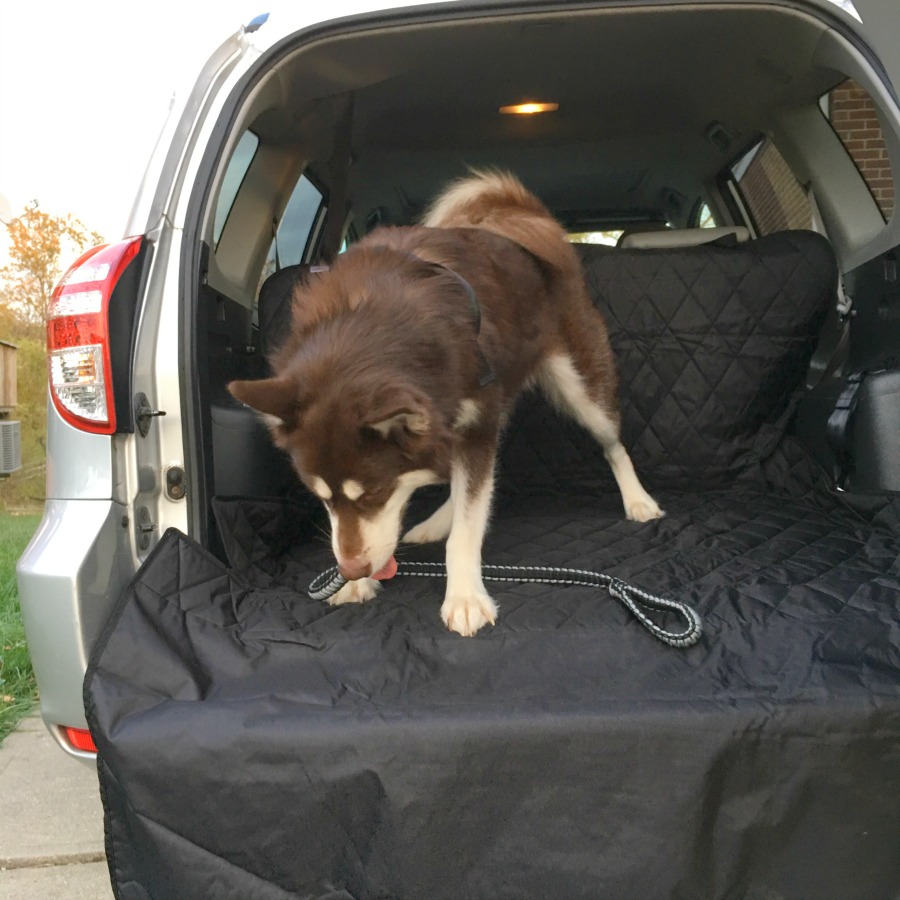 4Knines SUV Cargo Cover: Where to Purchase
Want to purchase this cargo cover for your own dog(s)? You can buy the 4Knines SUV Cargo Cover on on Amazon.com starting at $69.90.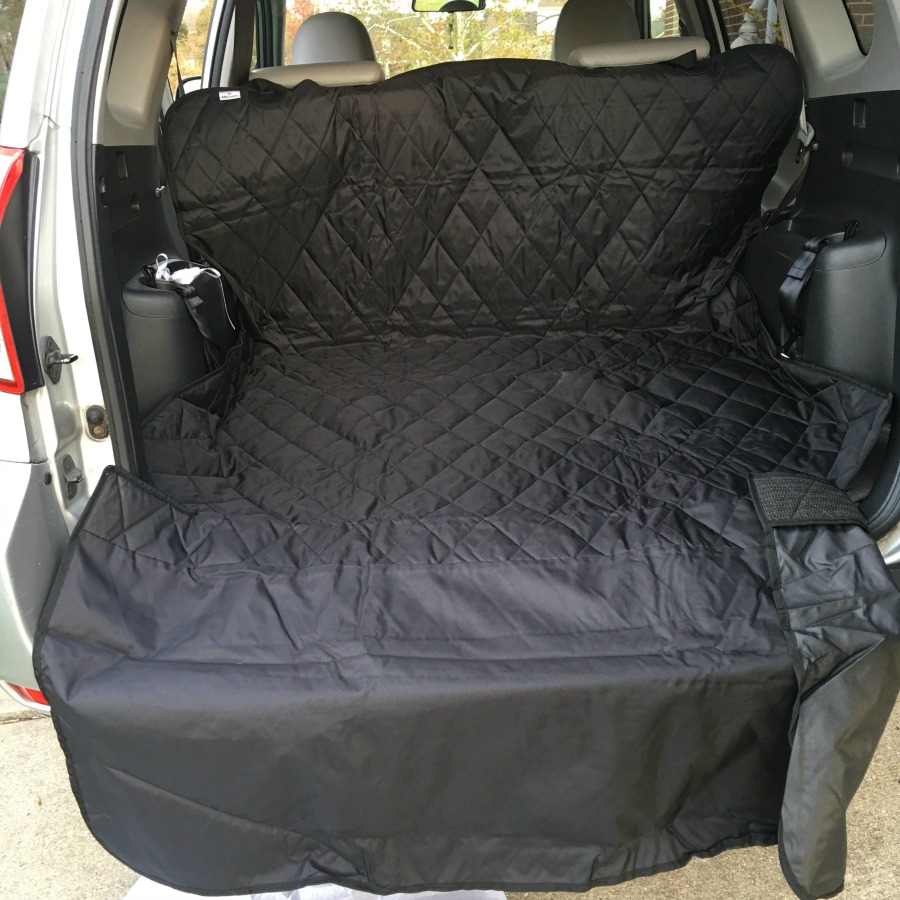 Want to learn more? Check out 4Knines on social media!
Facebook | Twitter | Pinterest | Instagram

Disclosure: Budget Earth did not receive monetary compensation for this review, but did receive products for review purposes.  All opinions on this product are my own honest assessment, and may differ from our readers' opinions. 
Would you like to have your products featured in a giveaway event? Want to increase your social media exposure? Contact susan.l.bewley@gmail.com to see how I can help YOUR company today!