When you hear the word "mushroom," what do you think of? Likely, you picture the white mushrooms you often see at the grocery store, and indeed they are the most commonly found. However, the world of fungi goes beyond the stereotypical white variety. Whether you're looking for a burger replacement for one of your vegetarian friends, or a delicious addition to your family night stir-fry, there is an array of mushrooms to meet your needs.
White Mushrooms.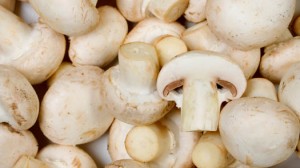 White mushrooms are the most readily found type of mushroom and are available either fresh, canned, or dried. Ranging from very small ("button") to jumbo sizes, they have many different uses. Smaller mushrooms have the mildest flavor while the larger ones are good for stuffing and baking. They are creamy white to pale tan in color, with a firm texture and a delicate flavor. If you're looking for deeper flavor, choose mushrooms whose caps have opened so that you can see the dark brown gills under the cap.
Oyster Mushrooms.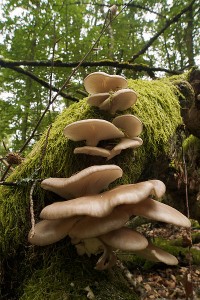 Oyster mushrooms are velvety; their stems have broad gills that rise into a flat, mostly uneven top resembling an oyster. This type of mushroom is delicate but boasts a peppery taste that, when cooked, becomes very mild. Some people compare the soft texture and delicate flavor to seafood. Oyster mushrooms respond best to quick cooking over high heat, such as stir-frying, and are also popular when fried. Choose young, small specimens, as they are considered best.
Portobello Mushrooms.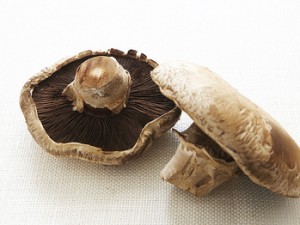 One of my personal favorites, portobello mushrooms can grow up to 6 inches across. They boast a meaty taste and texture, and the large, umbrella-like caps are great vegetarian substitutes for hamburgers. When working with this type of mushroom, be sure to remove the woody stems before eating. For the best flavor, choose mushrooms with fully exposed, dark brown gills. Try them grilled or roasted, or substitute them for part of the meat in a recipe (such as for tacos or chili).
Shiitake Mushrooms.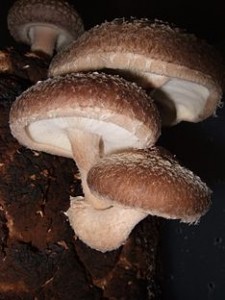 Another one of my favorites, which you may recall from my sukiyaki recipe, is shiitake mushrooms. This mushroom variety has a distinctively smoky flavor and tastes best when cooked. The caps are umbrella-like with meaty tan to dark brown coloring. Shiitake are available fresh or dried, and are delicious in stir-fries (the taste holds up well even next to strong flavors, such as ginger and garlic). While the stems are too tough to eat and should be removed before cooking, you can use them to flavor stocks or sauces before throwing them away. Shiitake mushrooms are available in a variety of sizes; large ones have a deeper flavor but also a tougher texture.
Cremini Mushrooms.
Similar to white mushrooms but with a firmer texture and deeper flavor, cremini mushrooms are actually immature portobellos. They have edible stems and button-like caps ranging in color from pale tan to rich brown. While creminis and white button mushrooms are interchangeable in recipes, creminis are especially delicious with wild rice. Try them together in a pilaf or soup.
Enoki Mushrooms.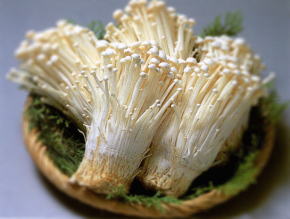 Enoki mushrooms grow in bunches with long, slender stems and small, white caps. They are crisp and have a mild, somewhat fruity flavor. Try them raw on salads or in sandwiches.