Over the past month, I have been looking at a variety of subscription boxes, hoping to find some interesting and fun snacks to add to our vegetarian eating nights. When I asked some of my vegetarian friends what boxes they would recommend, they recommended the Healthy Surprise box (which I reviewed earlier this month) and the Vegan Cuts box. Knowing that some our readers are trying to eat healthier as well, I reached out to both of these companies, and was very excited when Vegan Cuts offered me the opportunity to review one of their boxes for free! Since i know one or two of you emailed me about this box specifically, I hope I answer most of your questions about what this box is like and what you can expect to find inside. If not, leave a comment below and I'll do my best to answer!
Vegan Cuts: Opening Video
Note: This will be added later due to technical difficulties.
Vegan Cuts: Food Should Taste Good Sweet Potato Chips

When I first got these chips out of my Vegan Cuts box, I had no clue what to really think. I had never tried sweet potato chips. After trying the first one though, I was quickly hooked. To be honest, my husband and I were fighting off who would finish the chips since they were so tasty. (I was eventually nice and let him finish the bag.) This is one product I am hoping I can find in stores here since it tastes so good! You wouldn't even think they were healthy!
Vegan Cuts: Skinny Pop Popcorn
If you love popcorn, Skinny Pop Popcorn is a great product. It tastes like freshly popped popcorn that is very lightly salted. As well, there are only three ingredients in this product – popcorn, sunflower oil, and salt. This is much lighter and fluffier than the typical popcorn sold at the movie theatre. As the bag states, it is a great guilt free snack.
Vegan Cuts: 22 Days PB Chocolate Chip Nirvana

Since I am allergic to peanuts, I was dependent on my husband for this portion of the review. When he first opened the package, he was happy to see the loose chocolate chips. As someone who is very picky about food, and often rejects food for odd flavors or textures, I was surprised to hear him tell me he loved it. He said he could immediately taste the dates, the hint of chocolate liquor, and that overall it tastes like a nice combination of peanut butter and chocolate. The only issue he had with it was that it has a slight dry texture, but as he stated, the taste is excellent. As someone who doesn't normally like energy bars, he was very pleasantly surprised!
Vegan Cuts: Oloves – Lemony Lover

Even though I love olives, I have never seen them packaged as snacks. I thought these lemony olives were actually quite tasty and an excellent idea. Personally, I think the lemon flavor makes them even more tasty, but I am also one of those people who will eat a whole jar of olives if I'm not careful. I think most people who love olives will love this tasty snack.
Vegan Cuts: Meow Meow Tweet Cocoa Lip Balm

Okay, I really wanted to like this product. I mean, who can't like a company that names themselves Meow Meow Tweet? Its adorable! Unfortunately, I am not a big fan of this lip gloss. It feels a bit too oily to me. The smell and flavor seems great, but the texture of it drove me crazy. After applying it, I felt like I had eaten something a bit too greasy. I'm hoping at some point I get to try another of their products, but so far, I can't claim to be a fan.
Vegan Cuts: Milas Roasted Peppers & Artichoke Bruschetta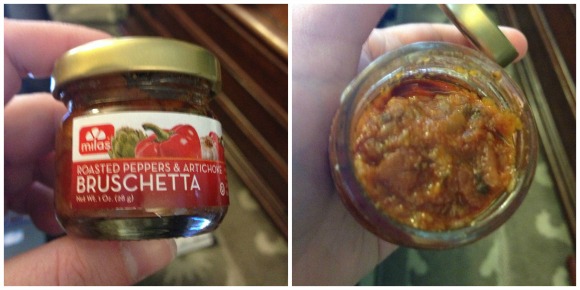 As someone who like bruschetta, I was really looking forward to try this product. I can tell you that I wasn't disappointed. It has a very nice roasted pepper flavor, and you can barely taste the artichoke (this is a plus in my eyes). I could easily eat this by the spoonful, with bread, or dipped on raw veggies. You can also taste a slight hint of garlic, making it even better in my opinion.
Vegan Cuts: Teese Mozzarella Vegan Cheese Alternative

Out of all the items in my Vegan Cuts box, this was the biggest surprise. I have tasted a lot of cheese alternatives over the years and most of them were, frankly, terrible. This one, however, actually does taste like mozzarella cheese! It has a very creamy flavor that reminds me of a cheese, just without the fat and dairy products – making it perfect for my family members who are allergic to cheese. Since one of my little brothers has never really known the taste of mozzarella cheese, I can't wait for him to try this!
Vegan Cuts: 22 Days Plant Protein Powder in Chocolate

After how much my husband loved his protein bar, I couldn't wait to try this protein shake. Being chocolate, I thought it would have a nice, dark chocolate flavor. I really couldn't have been more disappointed. It tasted like chalky Stevia. The texture was terrible and the taste was even worse. Since I'm usually not a big fan of protein shakes, however, I know some people may like it more than me – I just think it tastes nothing like chocolate!
Vegan Cuts: Teeccino Herbal Coffee Tee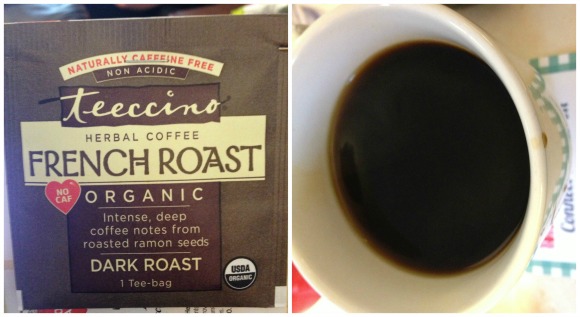 This product was very interesting, since the Teeccino Herbal Coffee Tee tastes like coffee but brews more like traditional tea. I had no clue what to expect from this product but thought it actually tasted pretty good. It has a very mild flavor, reminding me quite a bit of a light roast coffee. If you are someone who loves coffee but doesn't want to deal with the mess of brewing a pot, this would be a great product for you!
Vegan Cuts: Overall
Personally, I was very impressed with the Vegan Cuts box. This subscription box was filled with nice, yummy products that were vegan friendly and perfect for a variety of special diets. While the cost may seem a bit high for $19.95 a month, you do get a variety of fun, unique products that you likely wouldn't try any other way (the Teese itself is $15.40 for a four pack). If you are someone who lives a vegetarian or vegan lifestyle, however, I highly would recommend checking out the Vegan Cuts subscription box!