Disclosure: I received these products for free to review. The opinions in my review are honest and my own.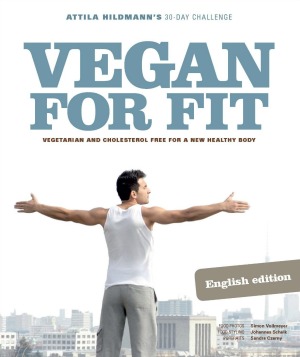 If there is one thing that we all can agree on it is that losing weight isn't easy. I know it took me awhile to find the right diet for me, which consisted of natural foods and very lean cut meats. Recently some of my vegetarian friends and readers have asked me if I knew of any good vegetarian- and vegan-friendly diets that are not only healthy, but give your body everything you need to properly lose weight. After a bit of research, I came across Vegan for Fit, a very popular German diet book written by German author Attila Hildemann. After researching out and getting a complementary version of this cookbook, here is what I found out about this diet!
Vegan for Fit: What is It
Looking for a diet that will allow you to enjoy delicious food and lose weight? If so, you will love Vegan for Fit. With this innovative vegan diet, you learn why a vegan diet is a great choice for losing weight and how it can be a natural way to recharge your body and help you become more spiritually attuned. While the book may be geared toward vegans, many of the participants who tested the diet did go back to eating meat, but incorporated what they learned into their own eating habits, helping them live happier and healthier lifestyles.
Vegan for Fit: Overall
While I am not a vegan myself, the cookbook does have some valid points that are great for someone who is looking at losing weight and doing a total diet makeover. This book isn't exactly a 'diet' but a plan for a lifestyle change. The 30 day diet is a great challenge for anyone who is wanting to lose weight quickly for their wedding or just to feel better. The only thing I will say about the diet, however, is that it is very tofu heavy. Many of the recipes do incorporate tofu, along with organic fruits and vegetables. Based on my own experience with Vegan for Fun, I am happy to give it an A rating and consider it a great addition to any exercise program.
Vegan for Fit: Where to Purchase
Want to try this cookbook yourself? You can purchase Vegan for Fit on Amazon.com for $27.847 or $9.99 in the Kindle format.
 Disclosure: Budget Earth did not receive compensation but did receive products for review purposes. All opinions on this product are my own and may differ from our readers' opinions. Facebook, Twitter, & Pinterest are in no way associated with this sweepstakes. Prize fulfillment will be handled by sponsor.
Would you like to have your products featured in a giveaway event? Want to increase your social media exposure? See how Mom Powered Media can help! Contact susan.l.bewley@gmail.com to see what we can do for your company!