This is a quick, "throw it together" kind of recipe.  My mom used to make hamburger soup every so often when I was a kid, and I loved it: the tomato base, the chunky vegetables in it.  During one of the winters I was away at college, I had a craving for a hot, hearty kind of soup.  I thought of this one, and with my mother's help I was able to recreate it without the meat.
You can exchange the canned vegetables for frozen or fresh, and add others as you like (mushrooms and green beans would be a great addition); the onions were just a little something that needed to be used up in our fridge.  I joked with my sister, as we were cooking, that this is kind of like a "use everything but the kitchen sink" soup, but for some reason she didn't like it when I suggested throwing in a random can of pineapple.  I can't imagine why.  Hawaiian burgers are totally a thing, right?
Vegetarian Hamburger Soup Recipe
Ingredients
1 (12 oz) container soy crumbles
2 stalks celery
3 cloves garlic
1/4 c yellow onions, chopped
(62 oz) container V8 or other vegetable juice
2 (29 oz) cans Veg-All, home-style large cut vegetables
herbs & spices to taste (salt & pepper, garlic pepper, tarragon, marjoram, basil, rosemary, garlic powder, chives, etc.)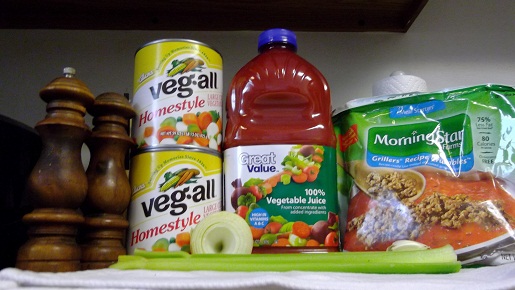 Instructions
Add the V8 juice, onion, garlic and veggie crumbles into a large pot.
Flavor soup to taste – I suggest garlic pepper, tarragon, marjoram, basil, rosemary, garlic powder, and chives. Really, it's whatever you enjoy and whatever you happen to have on hand!
Continue to cook until soup is heated through and flavorings have mingled, about 30-40 minutes. Feel free to garnish bowls with a bit of parsley and a sprinkle of sharp cheddar or mozzarella.