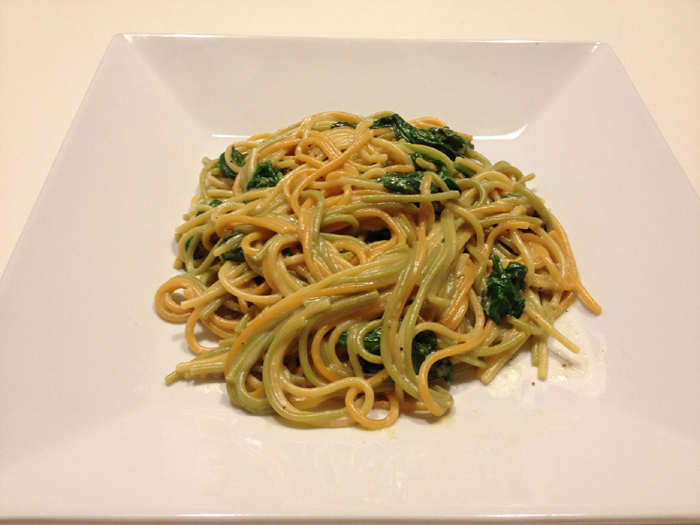 I have a confession to make – I am addicted to Pinterest.  At night, it is not too uncommon for me to be snuggled up on the couch while my husband plays on the video game consoles, happily pinning away on my laptop.  More than once, I have to admit, I didn't even realize he had turned off the tv and was getting ready for bed since I was busily writing comments on other blogs or saving recipes that looked absolutely delightful!  I'm just so busy looking through homemade recipes or eyeing the latest vegetarian dinner recipe that someone created on Pinterest.  My only problem is that I know I won't make half the recipes I'm pinning, since I see many of them as rare treats, or foods I will only make if someone is visiting.
As always, I am constantly looking for fun, quick vegetarian recipe ideas to add to my arsenal of recipes for vegetarian days.  Some of you may know from reading prior entries that my husband and I try eating vegetarian three to five days a week, and Demelza herself is a vegetarian.  Finding good vegetarian dishes is never easy, since many people assume that 'vegetarian' means throwing tofu or processed fake meats into a pot, hoping that is 'good enough'.  Personally, I am a purist. I love my dishes being filled with fresh fruits and vegetables that I can pick up at the grocery store or preferably, the local farmers market.
Anyways, recently on Pinterest, I found a  vegetarian recipe that really caught my interest.  The recipe, from the Kitchn, was titled "Spaghetti with Mascarpone, Meyer Lemons, Spinach, and Hazelnuts." Now, I was a bit baffled looked at his recipe, since I only ever heard of using Mascarpone cheese in Tiramisu.  Like most thing, I decided to take the risk of curiosity killing the cat (or our food budget) and picked up what we needed to make this, since Mascarpone cheese was on sale for $3.50 a container and would easily be the most expensive part of it.
Not being too thrilled about some ingredients in the original recipe, I decided to experimenting and do some changes. What I ended up with a delicious dish that was unlike anything I had ever tasted! It was rich, creamy, and very much unlike any other vegetarian dinner recipe I had made. While my husband was unsure what to think at first, we both ended up loving this simple dish.  Best of all, this vegetarian recipe was easy to make and looked pretty fancy (at least I thought it looked fancy!)
Print
Vegetarian Recipes: Marscarpone Spinach Delight
Marscarpone Spinach Delight
2

cups

Mascarpone Cheese

2

Lemons

1

pinch Salt

1

pinch Pepper to taste

1/2 Teaspoon

Nutmeg

5

cups

Fresh Spinach

1

Box Ronzoni Garden Delight Spaghetti
Instructions
Put 1 teaspoon of dried lemon peel in a bowl, or zest a lemon to get about the same equivalent from one of your lemons.
Cut open the lemons and squeeze the juice out of the lemons. After squeezing the lemons, scrape out some of the flesh from the lemons and put them in a bowl. This will give a more lemon flavor to your dish.
Combine your your lemon mixture with the mascarpone cheese, pepper, salt, and nutmeg. Mix thoroughly in a bowl.
Place the cheese mixture in the pot with your pasta on low heat.
Place the spinach in the pot with the pasta and sauce, and cook until the spinach looks wilted. Stir constantly for about five minutes to keep from burning. Note: I put the spinach in whole. If you want smaller pieces, cut it up prior to this step. This may also speed up the cooking process.
Take off heat and serve hot.