Disclosure: I received these products for free to review. The opinions in my review are honest and my own.
While I hate to admit it, I have lost touch with most of the toys that are popular today. It has been a long time since even the youngest of my siblings was a child (my youngest sister in law turned 16 in Nov. – yikes!) and I am now struggling to find the perfect gifts for my three year old niece. If it weren't for my blogging friends with kids, I wouldn't have a clue where to even start, and I know I will be depending on them quite a bit when I have my own children. For now, I am reading about their children's likes and dislikes, and trying to determine what my 3 year old niece may like as a gift. As I was searching for the perfect gift this past Christmas, I was approached by Vinci, asking if I wanted to review one of their brand new children's tablets.
In the past, I had been reluctant to give her technology as a gift, mostly since I wasn't for sure if any form of technology would survive her. After hearing that she had been 'borrowing' Daddy's iPad, I thought this may be the time for her to have her own big girl tablet. Once I learned a bit more about the tablet from Vinci, I was eager for the brand new tablet to arrive and see not only the specs of this tablet, but the quality of the learning software preloaded on the Vinci Tab III M 5" Learning Tablet.
Vinci Tab III M 5" Learning Tablet: What Is It
Looking for an adorable children's tablet that can easily grow without your child without having to spend a fortune on cartridges? If so, we think you will love the Vinci Tab III M 5" Learning Tablet. This learning tablet is designed to let kids play learning in a safe learning environment, with educational games built to help a variety of developmental areas, including Thinking Skills; Emotional & Social Skills; Language & Literacy; Math & Logical Reasoning; General Knowledge; and Science.
With Wifi parent login, parents can instantly switch the tablet into a high quality browser, allowing you to use the tablet yourself or download games online yourself. With two fully functional cameras, quality speakers, and modern graphic acceleration technology, this learning tablet can even support 3D mobile gaming. In other words, this learning tablet can grow with your child, allowing them to enjoy this table from the time they are toddler to age 9. With it's built-in multi-level curriculum and even more learning software available online, parents and kids alike will love learning with Vinci!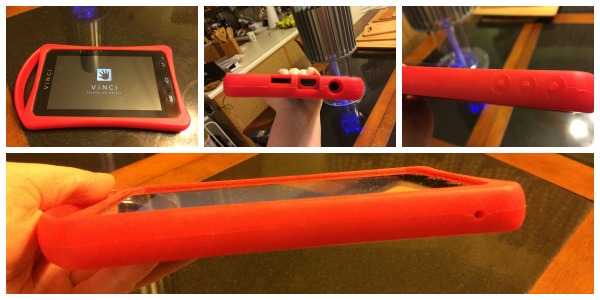 Vinci Tab III M 5" Learning Tablet: Overall
Out of all the different learning tablets I have seen on the market, I have to say that the Vinci Tab III M 5" Learning Tablet may very well be the best I have seen yet. Most of the children's tablets on the market are, from what I have seen, very slow and run hardware that most parents wouldn't even consider using themselves. This can make working on many children's tablets frustrating not only for adults, but children as well if they were used to playing on their parents' iPad or Android based tablet before getting their own. Seeing a company who made a fast, durable Android based tablet for kids is a refreshing site, putting it steps above their competition. Not only is the hardware impressive, but this little Vinci tablet is designed especially for little hands, allowing children to easily manipulate the tablet, while being protected from roughhousing and accidental dropping. In other words, this tablet can survive being the favorite toy of even the roughest of kids!
What I have to say impressed me the most with the Vinci Tab III M 5" Learning Tablet, however, is it's curriculum. The learning games themselves are colorful, thought provoking, and inspiring with their variation of animated graphics, sounds, and music. Even the read along books are amazing. As a certified teacher, I am excited to be giving this to my niece, knowing that it will be tablet that she enjoys for many years to come (and no doubt Daddy will be happy to have his iPad back). After having experimented with this tablet for the past month, I am excited to give the Vinci Tab III M 5" Learning Tablet an A+ rating and recommend it to any parent looking to purchase a learning tablet for their own children.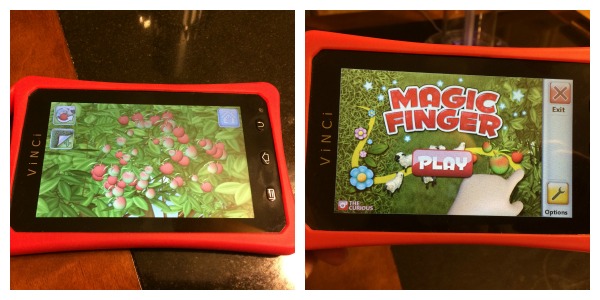 Vinci Tab III M 5" Learning Tablet: Where to Purchase
Would you like to buy one of these adorable kids' tablets? They can be purchased through most retailers online, including Amazon.com, Best Buy, Diapers.com, Toys R Us, Wal-Mart, and of course, Vinci's own website. Currently, this tablet is selling for $129 on the Vinci website, making it a great deal for anyone looking for a safe learning tablet for their children or grandchildren!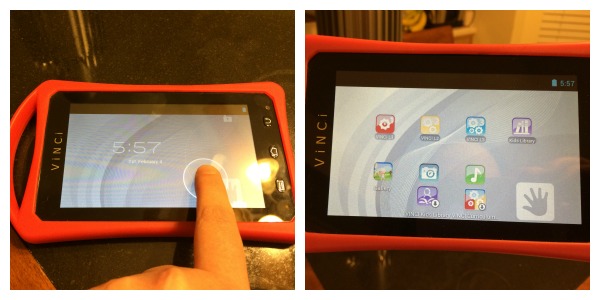 Disclosure: Budget Earth did not receive compensation but did receive products for review purposes. Budget Earth may, however, receive compensation through purchases from affiliate links in this post. All opinions on this product are my own and may differ from our readers' opinions.
Would you like to have your products featured in a giveaway event? Want to increase your social media exposure this holiday season? See how Mom Powered Media can help! Contact susan.l.bewley@gmail.com to see what we can do for your company!