Have you heard of the VTech InnoTab Learning App Tablet
? This cool, interactive tablet is designed special for children between the ages of 3 and 9, allowing them to have a tablet just like the big kids (or their parents).
Not just an interactive learning toy, the VTech InnoTab Learning App Tablet
also gives children a chance to be creative. While taking a break from the games and audio/video players, children can use the rotatable camera to take real pictures and video! With a 5 inch color touch screen and tilt sensors for gaming, children can easily have hours of fun with this sleek and durable educational toy.
Unlike other tablets on the market, this children's tablet features a variety of fun educational games and activities, along with 4 different media players:
Interactive Ebook Reader
MP3 Player
Photo Viewer
Video Player
One of the best features of the VTech InnoTab Learning App Tablet
is it's ebook reader, which narrates stories to children with their favorite characters voices in an environment filled with graphics, sound, and music. Children can easily follow along with the story, since the tablet highlights words as they are read, promoting increased reading comprehension, vocabulary, and learning of phonics. Since each book also comes with its own story dictionary, children can better understand the story while increasing their vocabulary and learning proper pronunciation.
For parents, getting new learning games for this tablet is also very easy! You can purchase cartridges from most retailers, or download learning games from the VTech learning lodge navigation website on the tablet. With 64 MB of on board memory and an SD slot, you can easily fill the VTech InnoTab Learning App Tablet
with your child's favorite games, music, and video to keep your children learning for hours!
Want to learn more about the VTech's InnoTab Learning App Tablet? Click on the picture below to read more about this popular children's popular, including reviews written by parents who have purchased this tablet.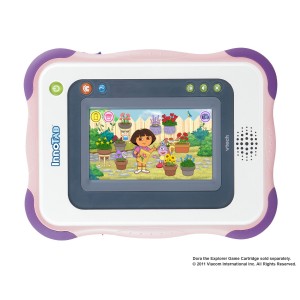 Note: Budget Earth & its writers did not recieve compensation or products from said company for this post and it's completely the opinion of the writer.