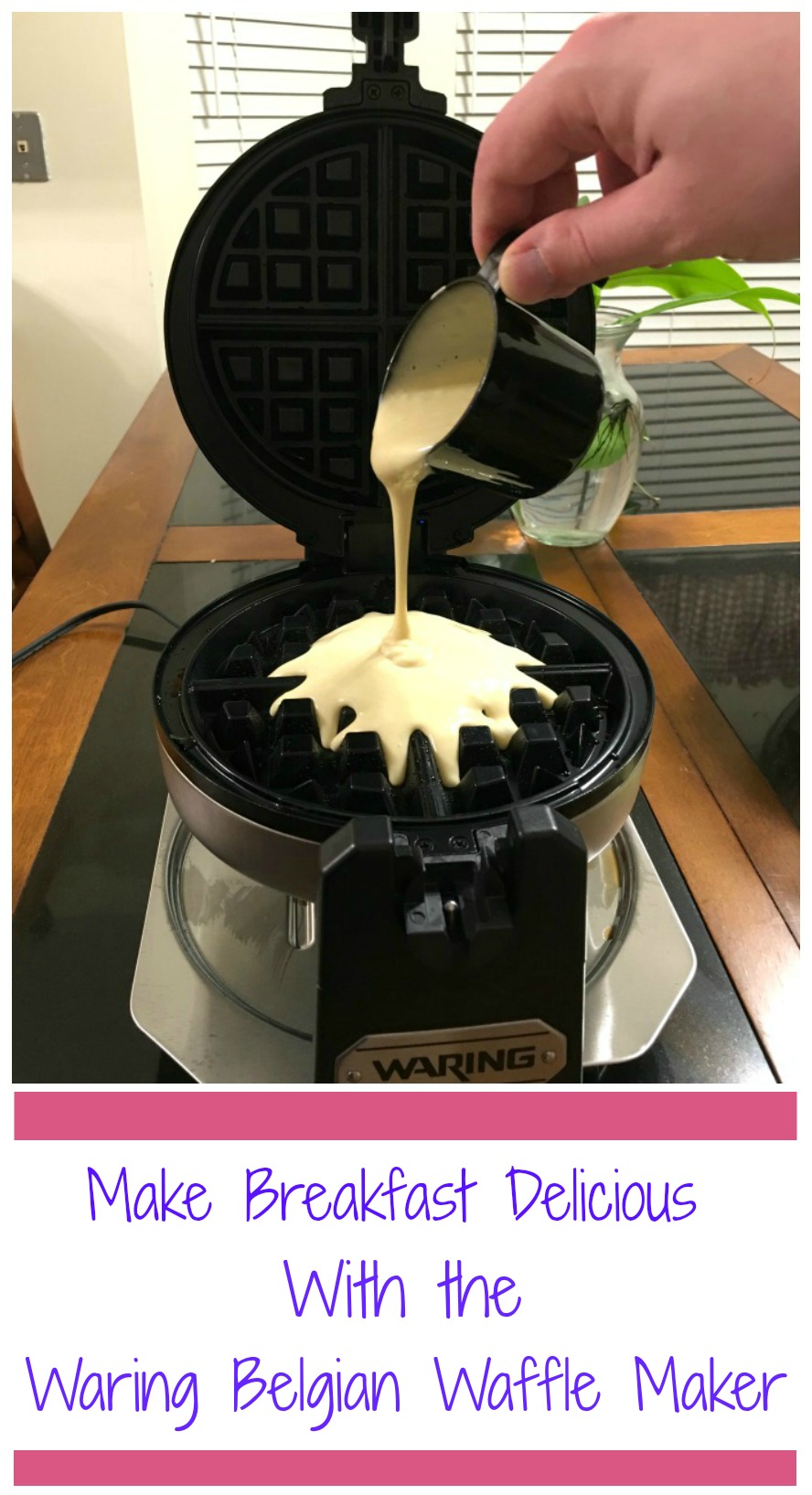 How many of you love waffles? In my family, getting waffles was a rare treat reserved for times my mom had a three day weekend with us growing up, or when we were traveling. What I loved the most about the restaurant waffles was not just their size, but the deep holes in the waffles for syrup or extra whipped cream (yes, I'm a weirdo who LOVES whipped cream and fruit on waffles). As an adult, I was surprised how hard it was finding a good restaurant quality waffle maker, especially if I didn't want to have a GIANT unit that cost hundreds of dollars. Recently, however, we learned of an awesome new waffle maker that was perfect for our family – the Waring Belgian Waffle Maker. After reading a bit more about the unit, I was delighted when I found out Waring wanted to send us a complimentary unit to try for ourselves.
Waring Belgian Waffle Maker: What is It?
Looking for a high quality, restaurant style waffle maker? If so, we think you will love the Waring Belgian Waffle Maker. This maker makes crisp on the outside, light and fluffy on the inside waffles, using a rotating waffle maker design. With extra deep 1-inch restaurant style waffles, you can enjoy extra syrup and other toppings on your waffles, using your favorite waffles recipes. As well, the nonstick coated waffle grids aren't just easy to clean, but for releasing your waffles, allowing you to make waffles easily and quickly. With this professional quality waffle maker, you will never buy waffles at a restaurant again!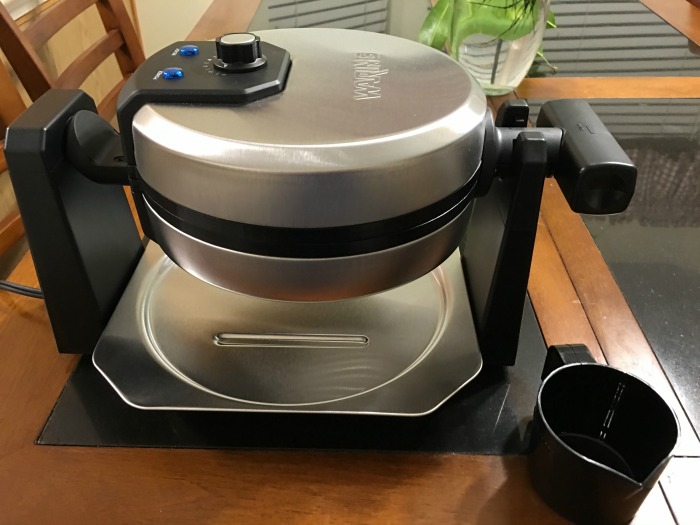 Waring Belgian Waffle Maker: Our Thoughts
Before I go any further, I have to say we were super excited to get into the box when the Waring Belgian Waffle Maker arrived. Both my husband and I love waffles, and honestly, it had been a long time since I made them. I just didn't really care for my old waffle maker – it was a giant mess. What confused us when we first got it out of the box, however, was that there was no way to remove the plates. That seemed odd to me but after the directions said they wouldn't need it, especially if they were seasoned properly with brushed butter or something like PAM. So, following the directions, I sprayed the heated plates with PAM coconut oil spray and get to work making waffles. Oh, before I go into how the waffles and cleaning went, I do want to say I love the LED lights that let you know when the unit is not just on, but ready. This same light is on the back of the unit once it is rotated.
Once the unit told us the first waffle was ready, we couldn't wait to open it up and see how it looked. In all honesty, it was absolutely a gorgeous. I mean, picture perfect and came off super easy. This happened with all the waffles as we finished the batter I made. As you can see from the picture, the waffle was a gorgeous color and very fluffy!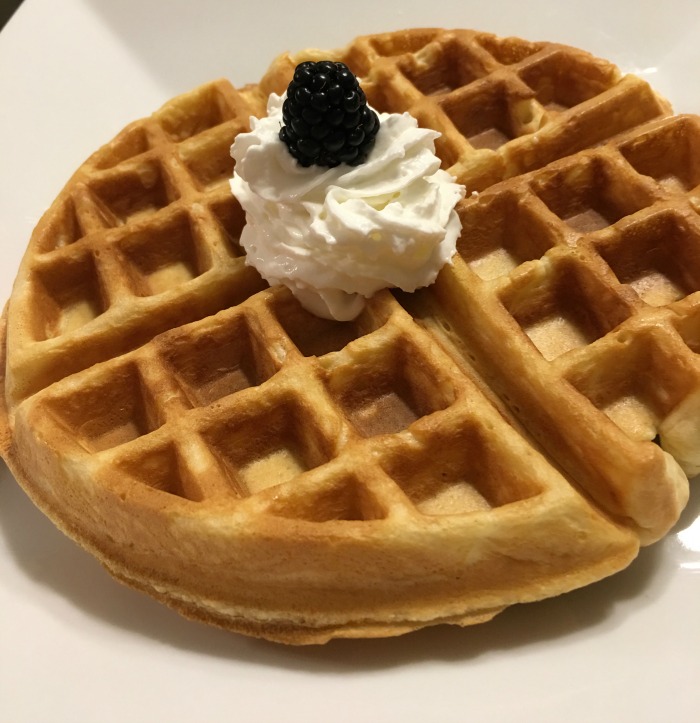 What impressed me the most, however, was that the directions were right – you DON'T need to remove the plates for cleaning. The only thing that was messy was the drip tray. All you need to do is wipe it with a damp cloth, and honestly, not very much came up. It looked just as clean as when we started! I don't think I could be more impressed with the quality of the waffle maker and the ease of use. Based on our own experience, we are delighted to give the Waring Belgian Waffle Maker an A+ rating and highly recommend it to our readers!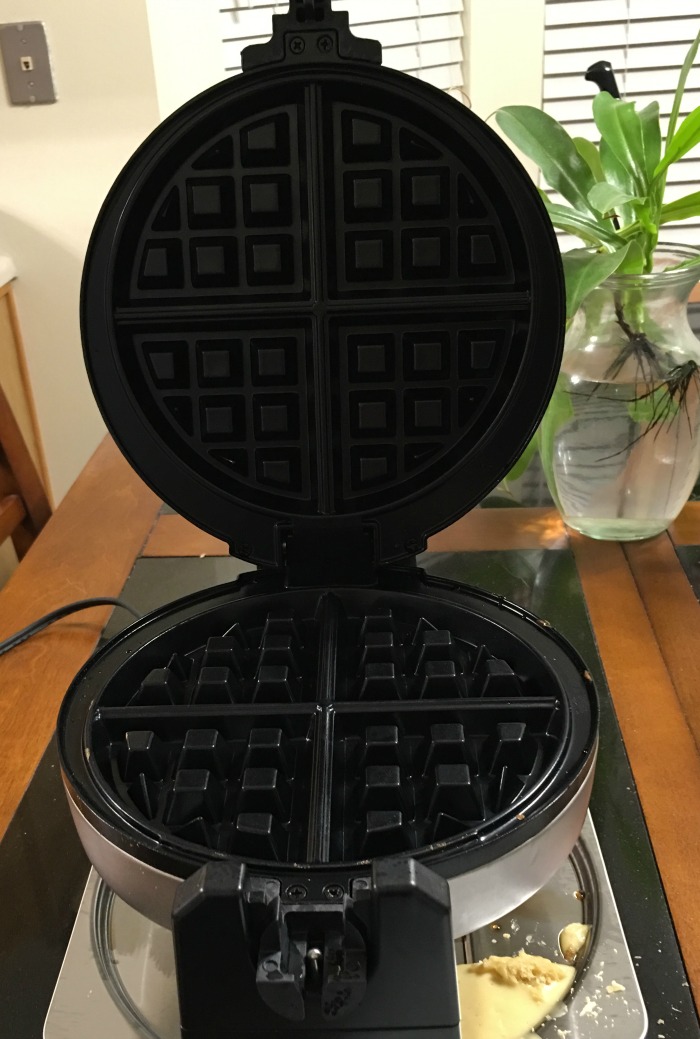 Waring Belgian Waffle Maker: Where to Purchase
Want to purchase this awesome waffle maker for yourself? You can buy the Waring Belgian Waffle Maker for $39.95 on Amazon.com!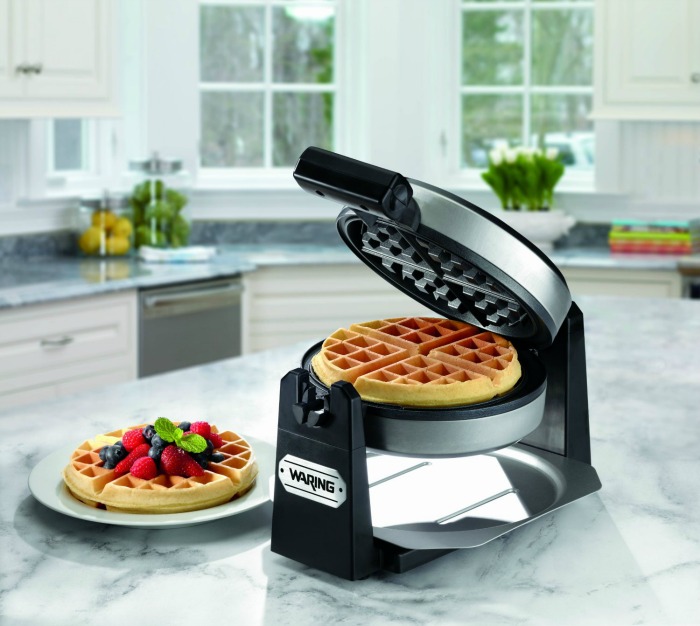 Disclosure: Budget Earth did not receive monetary compensation but did receive products in exchange for this post review. All opinions on this product are my own and may differ from our readers' opinions.
Would you like to have your products featured in a giveaway event? Want to increase your social media exposure? Contact susan.l.bewley@gmail.com to see how I can help YOUR company today!