Like many other people, I have spent time looking at the different brochures and ads at my dentist's office. Almost every time I'm there I'm drawn to the video they are showing with the latest teeth whitening system available. While I have never been that self conscious about my teeth, I know they aren't as white as they used to be, especially after all the soda and coffee I drank in college. My problem with most of these systems, however, is that they are not only expensive, but filled with strong chemicals I could never imagine putting near my body, never mind in my mouth. Even many of the home based kits are made with some rather frightening ingredients, keeping me from even considering trying these products.
As a girl who tries using home-made cleaners, I have also tried some of the do-it-yourself solutions that you find every so often on Pinterest. Big surprise – they didn't work. Just when I was about to give up, I was reading online and discovered a company that claimed to have a green alternative for teeth whitening – Whitening Lightning. Having never heard of the company, I did a bit of digging, and learned a bit more about the Dial A Smile: Zero White Teeth Whitening System. After a bit of research, I approached the company and was excited to find out that they wanted me to try their product and give an honest opinion of my experience to my readers. Having never heard of a system like it, I was excited to try it!
Dial A Smile: Zero White Teeth Whitening System: What is It
What is so special about Whitening Lightning's new eco-friendly teeth whitening system? Dial A Smile: Zero White Teeth Whitening System is the only system on the only professional quality teeth whitening system on the market designed to whiten teeth without using harsh chemicals, including high-concentration peroxide. Using their innovative formula made with all natural ingredients and baking soda as its main active ingredient, the Zero teeth whitening system is perfect for those with sensitive teeth, allowing anyone to restore teeth, crowns, veneer, and even caps back to a natural, white color. Best of all it is simple to use and extremely effective since it uses an LED light, just like the expensive systems used by dentists.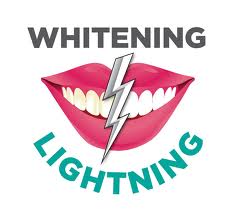 Dial A Smile: Zero White Teeth Whitening System: How It Work
I'll be the first to admit, I was a bit nervous trying this system at first. I had never tried a professional teeth whitening system but I assumed it was going to be difficult. As a matter of fact, I was waiting until my husband could sit down and read the directions with me. When I saw how simple they were, I kept thinking I must be missing something. How could it really be that simple? There had to be a catch somewhere. First things first, here is everything you can find in the box. As you can see, it all looks pretty simple. The scariest looking thing is the syringe with the whitening gel. Luckily, that's where the scariness ends since it's designed to make things easier for you, helping to measure out the 3 -4 whitening applications per kit.
Before starting, I brushed my teeth and then used one of the teeth wipes that came with the kit. This is get rid of any film or nastiness on your teeth. Once that was finished, the next step was simply brushing the gel generously on my teeth. I worried that the gel would be annoying or taste bad, instead it was just slightly cool and had a nice minty taste. After applying the gel, you put the LED light guard in your mouth and wait 20 minutes. Really, that was the worst part of the whole experience – the wait. Luckily, my husband put on an episode of our latest TV fascination, allowing me to be distracted while I waited for the timer to go off!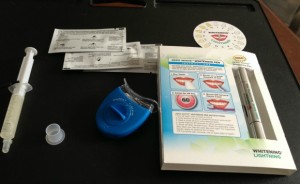 Dial A Smile: Zero White Teeth Whitening System: Results
After the timer went off, I couldn't wait to go brush my teeth and see the results. While the gel doesn't taste bad at all, I still didn't want it on my teeth any longer than necessary. Right after brushing my teeth, I was very quickly amazed by the results. My teeth were two shades lighter based on the chart! I couldn't believe it either at first. Best of all, my gums weren't hurting and I had nice minty breath. Really, I thought the Dial A Smile: Zero White Teeth Whitening System did a great job!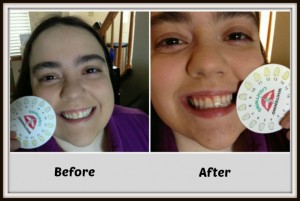 Dial A Smile: Zero White Teeth Whitening System: Overall
As you can see from my results, I think the Dial A Smile: Zero White Teeth Whitening System did an amazing job of my teeth look white and beautiful. Best of all, the entire system was super easy to use, allowing me to help myself without any trouble or complicated directions. Really, I can't think of a negative thing about this system. It worked well and was much easier than I expected, making it one of the best products I have tried in long time. For this reason, I happily give the Dial A Smile: Zero Teeth Whitening System an A+ rating and highly recommend this system to anyone who is trying to whiten their teeth for a job interview, date, wedding, or just to boost their self-image!
Dial A Smile: Zero White Teeth Whitening System: Where to Purchase
Would you like to try this system yourself? Currently, the Dial A Smile: Zero Teeth Whitening System is available on their website for $399.99. White this price may seem a bit expensive, realize too that many of the quality kits out there cost $800 – $1500, or even more if you purchase it from your local dentist. As well, make sure to be careful where you purchase this system, since I did see one knock off being sold on Amazon. Since you can get three to four applications out of this system, I think it is definitely worth the money!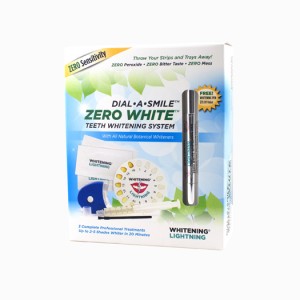 Disclosure: Budget Earth did not receive compensation for this review but did receive a Dial A Smile: Professional Home Zero Teeth Whitening System for review purposes via working with the company through Tomoson.com . All opinions on this product are my own and may differ from our readers' opinions.
Would you like to have your products featured in a similar giveaway event? Want to increase your social media exposure before the holiday season? See how we can help! Contact budgetearth@gmail.com to see what Mom Powered Media can do for your company!