Disclosure: This post is sponsored by Virbac® Sentinel® Spectrum® and the BlogPaws® Pet Influencer Network™. I am being compensated to help create awareness about protection against common parasites found in dogs, but we only share information we feel is relevant to our readers. You can find more information about Sentinel Spectrum here. Virbac is not responsible for the content of this article.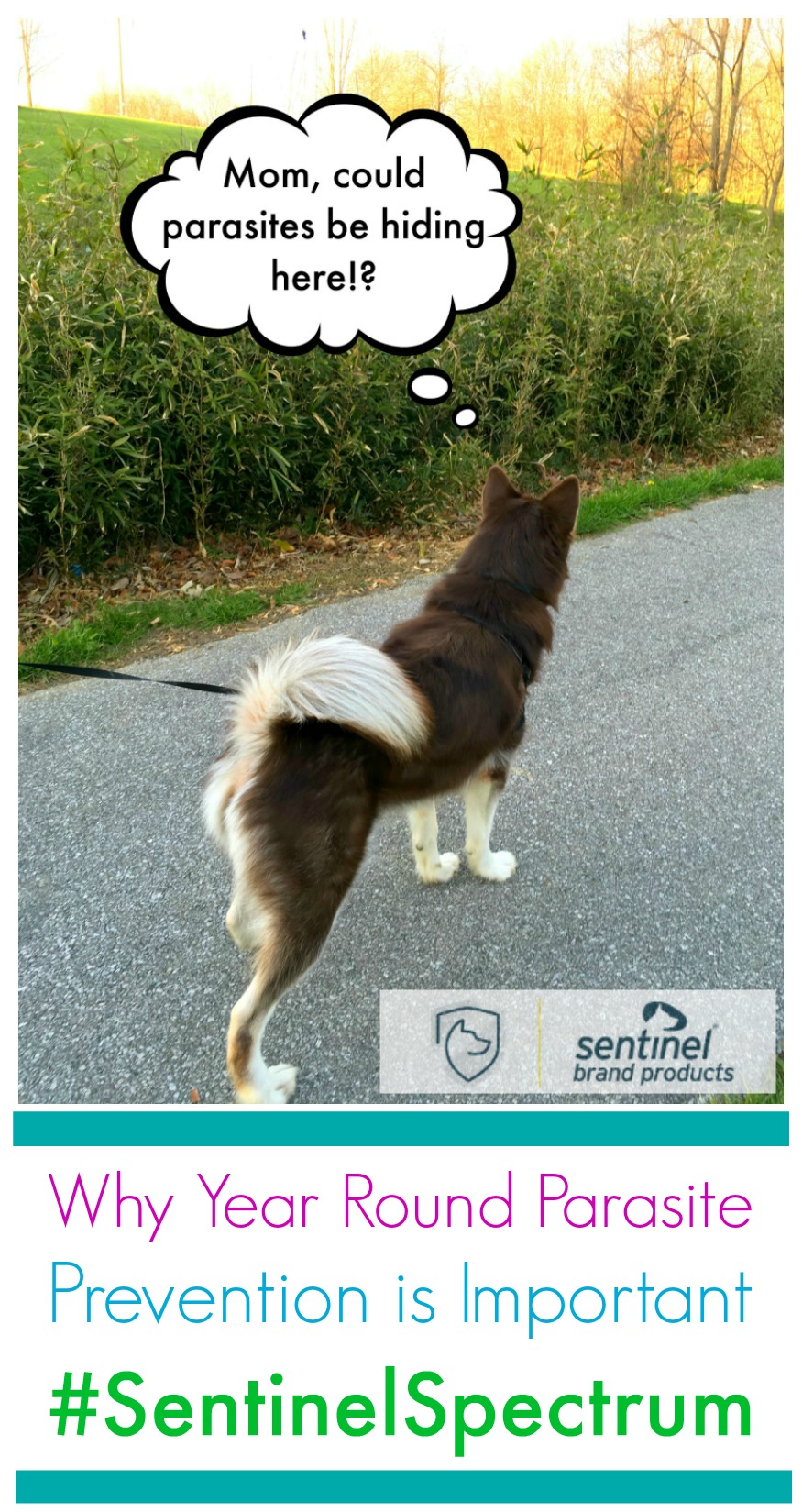 How many of you use year-round prevention with a paraciticide to protect your dogs from parasites like fleas, heartworms, tapeworms, hookworms, whipworms, and roundworms? In our household, we have always used some form of prevention with our girls, mostly because I'm very paranoid about parasites, especially fleas. Once your house is infested with them, it is extremely difficult to get rid of them, and when you have double coated dogs, it is very difficult to get them out of fur, never mind carpet. What I hadn't actually thought much about, however, were worms. They became a lot more of a concern in our household, however, when Rylie entered our home. While our new addition was truly adorable, what wasn't cute were the spaghetti-like worms (adult roundworms) that came out in her poop. Even though Rylie was very contagious to other dogs, Ivi had nothing to fear-because our normal year round prevention medicine had her covered – Virbac® Sentinel® Spectrum®.
After dealing with Rylie's roundworms (which are quite gross by the way), I was never so thankful to have my big girl on year round prevention. I was even more shocked when I learned that normal deworming only targets worms that had already hatched, not the eggs, making preventative medicine even more important. This floored us since we thought once a puppy was dewormed, they wouldn't have to worry about worms! Scary or what!?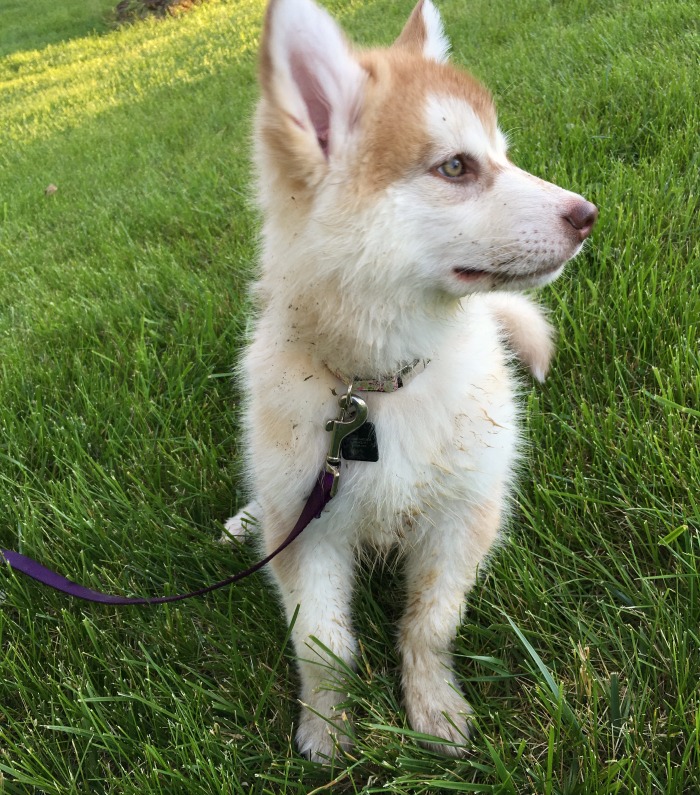 While I had heard for years it was important to use a preventative throughout the year against heartworms, even for indoor dogs, I had never considered other dogs exposing her to parasites. Even just a visiting dog could have given her worms, or a stray flea or mosquito that found its way in the house. With how dangerous all of them can be for dogs, it is quite understandable why year round prevention is so important.
As if that wasn't enough, being the worried dog mom I am, I started doing more research online. On the Companion Animal Parasite Council™ (CAPC) website, I learned that they are predicting that 2016 is going to be a big year for ticks and mosquitoes, and not in a good way for our pets. Not only do we have to worry about Lyme disease and other scary illnesses, but heartworms as well. While I knew that that our vet always did an annual blood test to screen for heartworms, I never realized just how important this test was for dogs -this test makes sure that there aren't heartworms, or that they catch them fast to make sure they don't harm our dogs.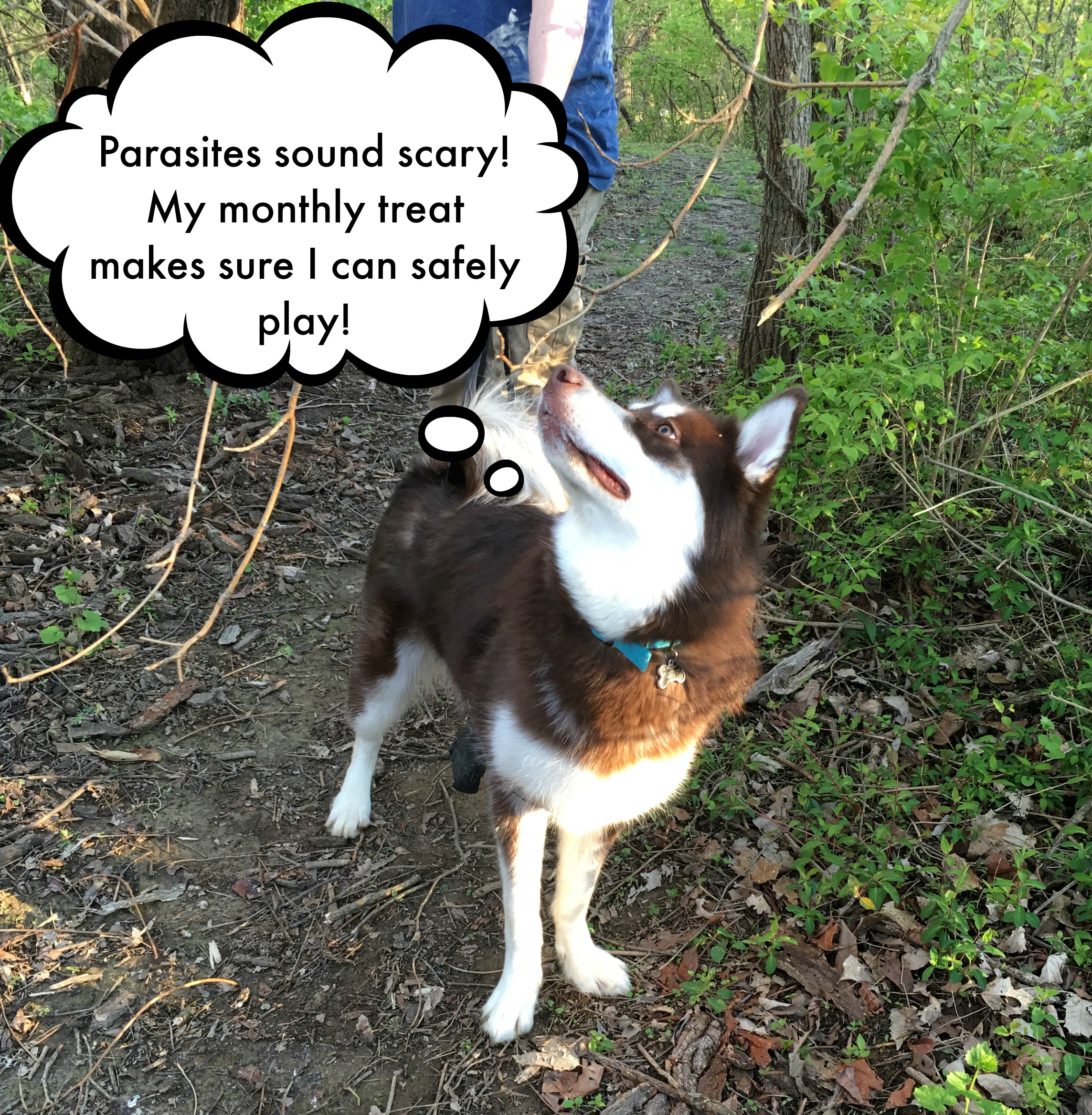 What I didn't know was that typical medications for heartworms target heartworms in their developing stages for the first three to four months after a bite. Dogs don't even show signs of adult heartworms until they are infected for 6 or 7 months after infection, which can be especially dangerous for developing puppies or younger dogs. As well, by the time heartworm larva are visible in feces, the adult worms are already reproducing, causing a huge problem for dogs if they aren't on some form of prevention.
If dogs aren't on their regular medication and the heartworms develop past this stage, there is actually a gap where no drug can do anything to stop the heartworm from becoming an adult, beginning about 6 months after the first bite. To protect our dogs from heartworms or ever having to worry about our dogs having a positive test, it is crucially important that our dogs never miss a dose of preventative heartworm medication to make sure they have a proper barrier against infection ever occurring.
Oh, and the CAPC website also had quite a bit to say about fleas as well. I can easily consider them one of my worst fears with dogs and cats, especially since I have had my house infested in the past. We learned that unless you see a flea early, by the time you find them in your home, it is too late. What you see on your dog is only a small portion of the flea population in your home, especially since they can live in carpet or bedding – without a host! – in your home for up to a year. Once the female has their first blood, they start producing eggs within 20-24 hours. From there, they produce 40 to 50 eggs a day for about 2-3 months. In other words, you house will be infested, especially if they burrowed in a nice comfy spot during the winter. To make sure it doesn't happen, you need to make sure you dog isn't a suitable host. In our house, Sentinel Spectrum protects our girls from fleas by preventing flea larvae from developing.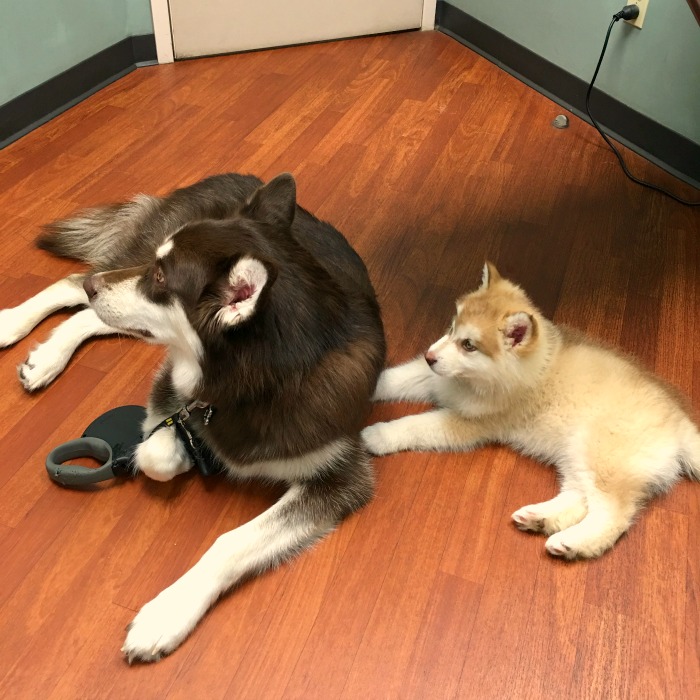 As you can see, I consider Sentinel Spectrum an absolute lifesaver in my home. Not only does it protect my sweet Ivi from parasites, it protects little Rylie as well. Once her worms were gone, she was given her first dose and is protected. Want to learn more about the year round protection we use on our dogs? Virbac Sentinel Spectrum is a tasty chew that protects your dog against all 3 parasite groups – heartworms, fleas, and intestinal parasites (roundwomrs, whipworms, hookworms, and tapeworms). Currently, it is available in 4 different sizes depending on your dog's weight and can be given to any dog older than six weeks. Just remember, you will need to visit your vet since Sentinel Spectrum is only available with a prescription. Virbac even makes life easier for dog owners with a rebate for Sentinel Spectrum and a monthly email or text reminder to help your remember your monthly prevention.
So, what do you do to protect your dog(s) against intestinal parasites? Budget Earth, Virbac, and BlogPaws are working together on a Reader Survey to learn more about parasites and we will be sharing this information with all of you next month as a fun infographic. To help us out, please take this short survey and tell us what you think in the comments below!
Disclosure: Budget Earth received monetary compensation for this post. All opinions on this product are my own and may differ from our readers' opinions.
Would you like to have your products featured in a giveaway event? Want to increase your social media exposure? Contact susan.l.bewley@gmail.com to see how I can help YOUR company today!