Disclosure: I received these products for free to review. The opinions in my review are honest and my own.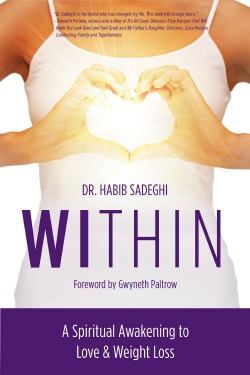 For many of us, the hardest part of weight loss is getting started. We know in the end that weight loss is simple science, counting calories and exercising. Yet, sometimes it feels like something is missing, an important step that is keeping us from losing weight. You may be surprised to know that most of it revolves around your attitude – how you personally feel about losing weight. While I had never been a huge fan of spiritual books, i was intrigued when I read information about Within and its unique approach toward weight loss. Wanting to know more, I agreed to review the book, excited to what it could offer to help with my own weight loss.
Within: What is It
Looking for a book to help you find that missing link between you and weight loss? In Within, Dr. Habib Sadeghi uses a mix of spiritual teaching and science to teach others about the secret to weight loss – self-love. While the method may seem far fetched, he goes through steps showing why people haven't succeeded and what they can to take charge of their own lives, and use the latest science to help them take care of both their body and spirit. Once you have read this book and done a variety of the exercises, you may well no longer be cynical about the book, and understand why the center of taking care of yourself starts with your mind!
Within: My Thoughts
Before I go any further into this review, I want to make it clear that this is a book about getting attuned with yourself and what your body and the world are telling you. Most of the tips in this book can be used for just about anything, but the main focus is weight loss. While we know that counting calories and exercise will help you lose weight, you won't go anywhere if you don't believe in yourself, adopt a positive attitude, and get to the root of why you have a weight problem. The book is written to be very down to earth and personal, giving you your own guide to helping you love yourself and your body as you go through your journey. While I was a bit cynical about certain parts of the books, I do think it is helpful and will be taking some of the advice, especially in the form of meditation and thinking through some of my decisions. Based on my reading of Within, I am happy to give this book an B+ rating
Within: Where to Purchase
Would you like to read this spiritual book yourself and see if the methods help your own weight loss? You can buy a copy of Within for $14.92 in paperback or $9.99 on your Kindle via Amazon.com
Disclosure: Budget Earth did not receive compensation but did receive products for review purposes. Budget Earth may, however, receive compensation through purchases from affiliate links in this post. All opinions on this product are my own and may differ from our readers' opinions.
Would you like to have your products featured in a giveaway event? Want to increase your social media exposure this holiday season? See how Mom Powered Media can help! Contact susan.l.bewley@gmail.com to see what we can do for your company!