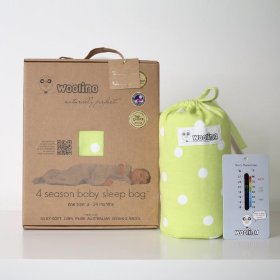 With my husband and I considering having children sometime in the future, I have been reading quite a bit about newborns. While so many people I know are having children, I want to wait until we are ready – both financially and mentally. One thing that especially makes me nervous is SIDS. As a teacher, I learned quite a bit about SIDS in college, both in my early childhood development and psychology sources. If there is anything that can keep parents up at night worrying – it's SIDS! The one question I have had, however, is how exactly do you keep infants warm at night if you can't use blankets? After a bit of reading, I finally found the answer – a Woolino Merino baby sleeping sack.
Woolino Merino Baby Sleeping Sacks: Quality
Like many of you, I try only buying products that are proven to last and are of the best quality. When I first started looking at the Woolino Merino Baby Sleeping Sacks, I was happy to see it was the winner of the Mom's Choice Award and Creative Child 2012 Top Child of the Year Award. Parents who have tried this bag seem to absolutely love it! This bag is made out of both merino wool and GOTS certified organic cotton. Why is this important? It means that you and your baby both can enjoy very soft, natural fabric. Since my husband is allergic to polyester, this is very important for us to consider.  Personally, if an item in my household is made from a synthetic material, it's a no sell!  The lining is designed to be used year round, so you want something that is going to feel comfortable for both you and your baby.   With this bag even being machine washable and naturally fire resistant, it seems like a must for any expecting or new parent.

Woolino Merino Baby Sleeping Sacks:  Comfort
No matter how great the Woolino Merino Baby Sleeping Sacks seem in concept, they have to be safe for children. As nearly every parent knows, you cannot put blankets, pillows, stuffed animals, or anything that could potentially cause a child to suffocate in the crib. With blankets not being an option, this means you have to find another way to regulate a child's temperature throughout the year while they sleep. While Woolino wasn't the first one to come up with this concept, they were the first one to make one that was completely safe for children. Most of the children's sleeping sacks that are on the market are made from synthetic materials like polyester, leading to children overheating. The Woolino Merino Baby Sleeping Sacks are 100% natural, made from merino wool from Australia, which is known for being hypoallergenic and being excellent at regulating temperatures. This means that your child will be comfortable at temperature between 68 – 78 degrees all year round! Parents will also appreciate that this bag has natural anti-microbial and anti-fungal properties from the wool.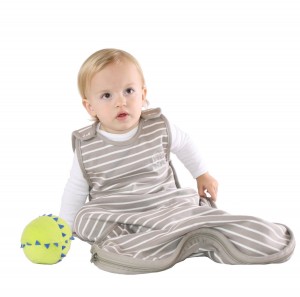 Woolino Merino Baby Sleeping Sacks: Usability
What really impressed me about the Woolino Merino Baby Sleeping Sack is just how user friendly it is for parents and baby. I was a bit skeptical when I heard this bag was designed for children 3 months to 24 months, since this is a very large size difference. Once I read a bit more, however, I was impressed. This bag has both shoulder snaps, and fully inverted side zippers, making it easy for parents to adjust this bag to an suitable size, without being a safety risk. The zippers especially are important since they are located in a position where babies can't chew on the zipper itself. For smaller babies, there are even snaps to close the arm holes, leaving your baby very secure and comfortable. Best of all, with how the bag is designed, changing diapers is extremely easy!
One of the things that really impressed me about this bag is the fact that Woolino even thought about travel! With how often many parents today travel, it is important that baby items convert easily to the car. The Woolino Merino Baby Sleeping Sacks have a built in seat belt slot, making it easy to transfer a baby from the crib to the car, without making your little one uncomfortable.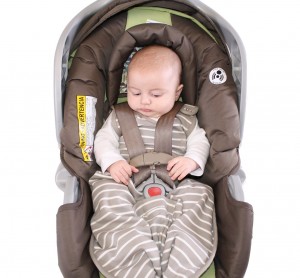 Woolino Merino Baby Sleeping Sacks: In the Box
Matching Travel Bag
Nursery Thermometer
Woolino Merino Baby Sleeping Sacks: What Others Think
I have to admit, I am very impressed with the Woolino Merino Baby Sleeping Sacks. With many of my friends having kids in the next few months, I will highly  recommend that they purchase these bags for their newborns. I just really wish I knew about this sooner since they would have been the perfect baby shower gifts before. One thing is for certain, when I'm pregnant, I am going to be putting these bags on my baby registry.
Currently, the Woolino Merino Baby Sleeping Sacks have a 4.6 out of 5 star rating on Amazon, making them one of the most popular baby items on the site. Here is what others are saying about these natural baby sleeping sacks!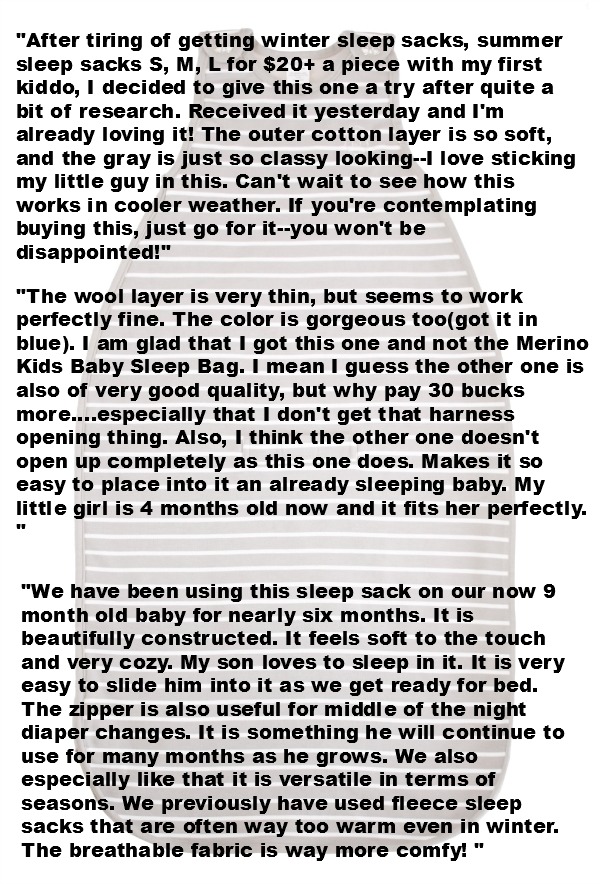 Woolino Merino Baby Sleeping Sacks: Where to Purchase
Currently, there are two well known places where you can purchase the Woolino Merino Baby Sleeping Sacks – Woolino's website and Amazon.com. While both sites are selling these bags for $119, Amazon currently has these bags on special and with free shipping. Right now, you save an extra 10% when you purchase 2 or more of these sacks, as long as you use the code 2WOOLINO at checkout.  You can also purchase a toddler size of this bag from both of these sites, which fits children between the ages of 2-4 (link for Amazon, link for Woolino's website). Either way, the Woolino Merino Baby Sleeping Sacks really are the perfect gift for baby showers, Christmas, or any holiday for children' in your family!
Woolino Merino Baby Sleeping Sacks: More Reviews
Want to read more about the Woolino Merino Baby Sleeping Sacks? Click on the picture below to read more reviews written by parents and grandparents who have tried these sleeping bags.