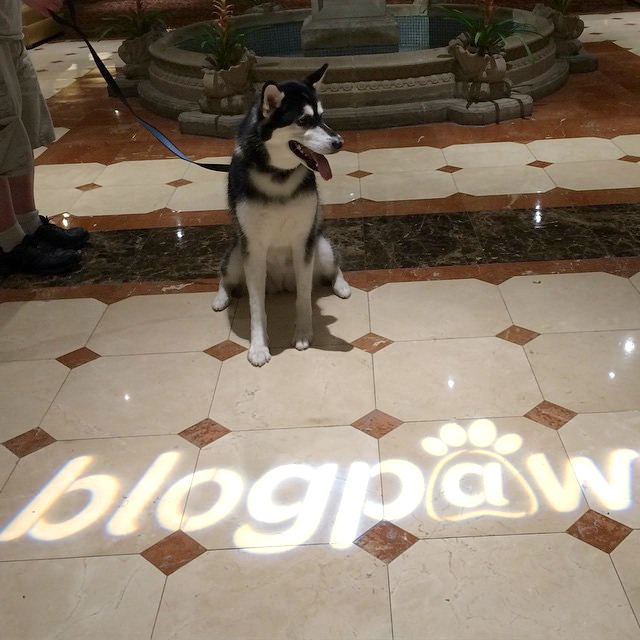 Over the years, I have had a few of your ask me about blogging. Some of you have wanted to know everything from how to get started, to how to make it online working from home. As some of my blogging friends and family know, it didn't happen overnight and there are many weeks where I put in countless hours.  Part of what makes blogging so difficult and bringing it to the next level is making the right connections and staying up to date with all the latest laws, protocols, and of course, updates when it comes to software we use regularly. As many of you know too, my love for my blog really didn't happen until Reya became part of our family in 2013. My black and white beautiful malamute was the love of our life and she loved showing off for the camera. While we did fairly well at first, we really didn't step up our game until 2014 when I was introduced to an amazing group of pet bloggers – BlogPaws.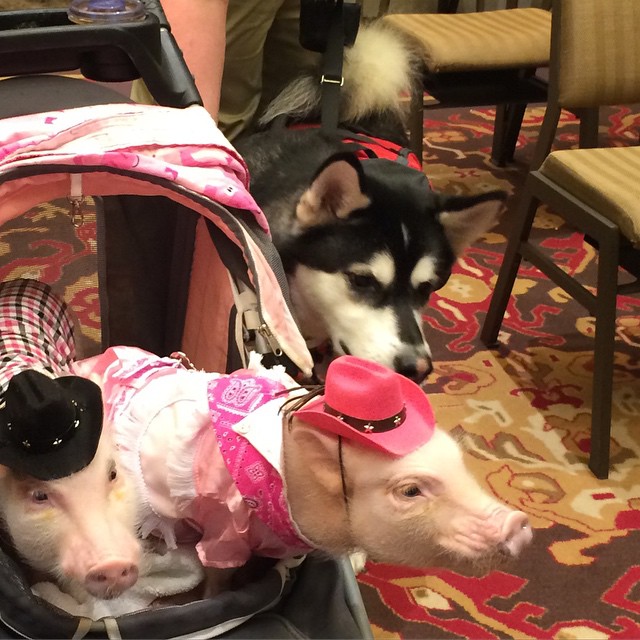 For those who haven't heard about BlogPaws, they are an amazing network of pet bloggers. I could write an entire post about BlogPaws but we will have to save that for another day. No, this is more of a story of how a girl, her dog, and her blog were taken to the next level last year when attended her very first BlogPaws Conference last year in Nashville. This three day conference for pet bloggers is jam packed with:
Education Sessions
Networking with Like Minded Influences
Exhibt Hall
Brand Events
Networking with Brands
Non-Profit Events to Help Animals
Pets, pets, and more pets
And more!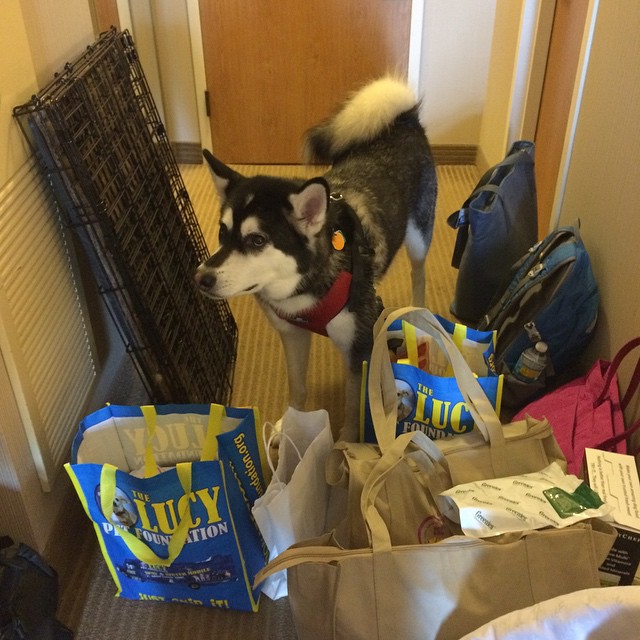 This unique social media and pet conference is perfect for pet bloggers of all experience levels. When Reya and I were on the floor with my husband, we were meeting bloggers who had just started their blogs, as well as others who were internet famous, no question. We were somewhere in the middle but honestly, as a shy girl with anxiety, I had no clue where to begin. For the first time, I felt right at home in the crowd and was surrounded by one of my major lifelong passions – animals.
Honestly, BlogPaws changed my blogging life by giving me lifelong friends, contacts, and proving to me that I had what it took to go the extra mile. While I was there, Reya and I mingled with pet brands and Reya and I both ogled at some of our favorite brands (okay, she may have spent a bit too much time at the Greenie's, Honest Kitchen, and Jones Natural Chews booths). With what I learned at this 3 day conference, I was able to consistently increase my monthly income, and learned in a comfortable environment what I needed to help my blog and help others while we sat down for meals.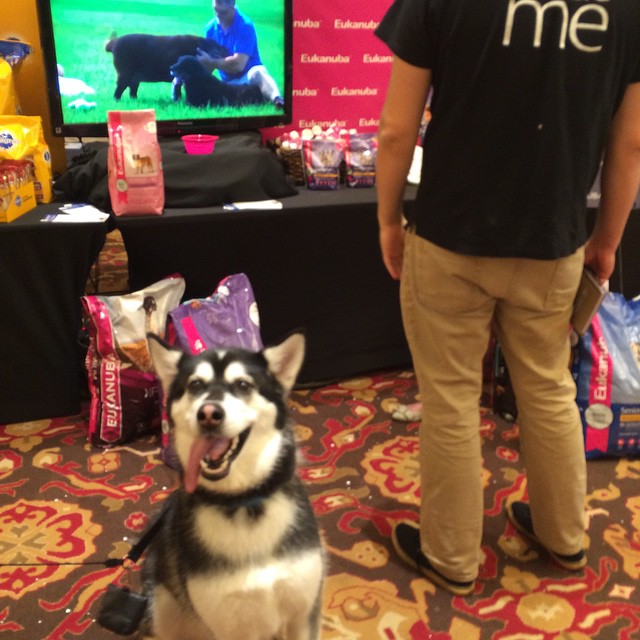 If you are someone who loves pets and have considered blogging (or already own a blog), this is one conference I wouldn't miss for anything. This year, I am planning a long (over 26 hours) car trip with Ivi to Phoenix, Arizona so that we can attend this year's BlogPaws. Even crazier, this one is going to be even bigger than last year, since it will also include the Cat Writer's Association Annual Conference – giving you two conferences for the price of one!
Also, we have a special treat for our readers and blogger friend who want to attend BlogPaws Phoenix! With our code you can get an additional 10% off the conference! All you have to do is use this discount code – BP16-BUDGETEARTH.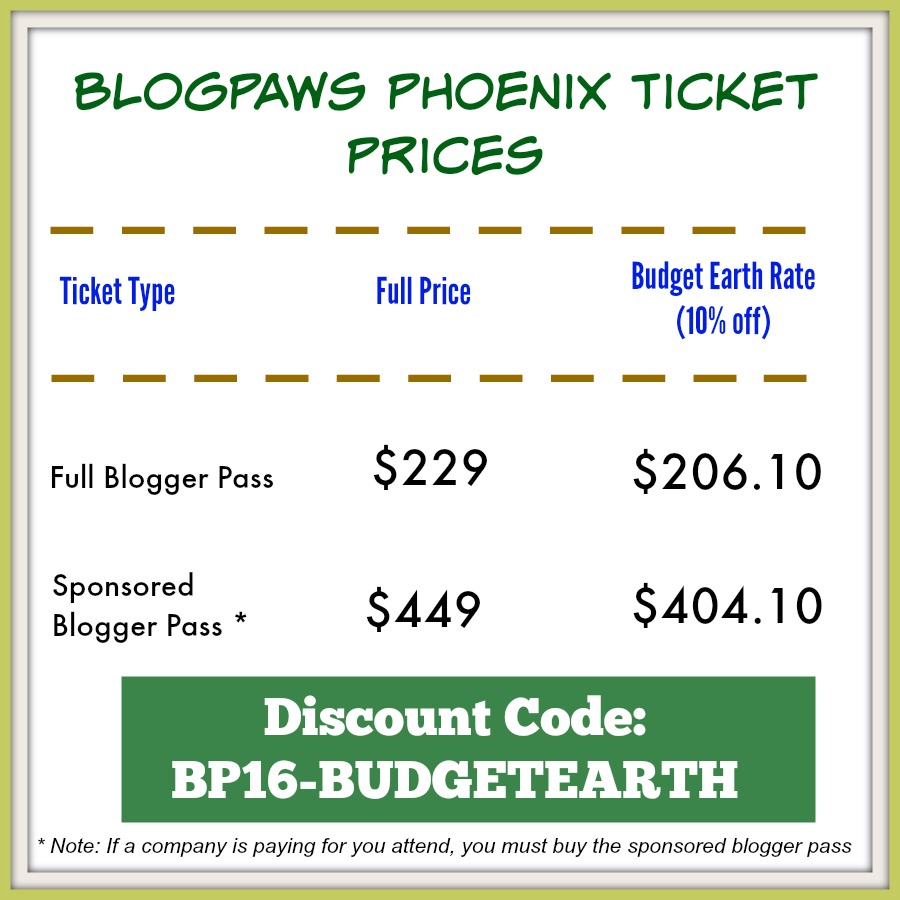 So, what are you waiting for? Learn more about how you take part in an amazing, pet friendly conference (where pets are allowed) here!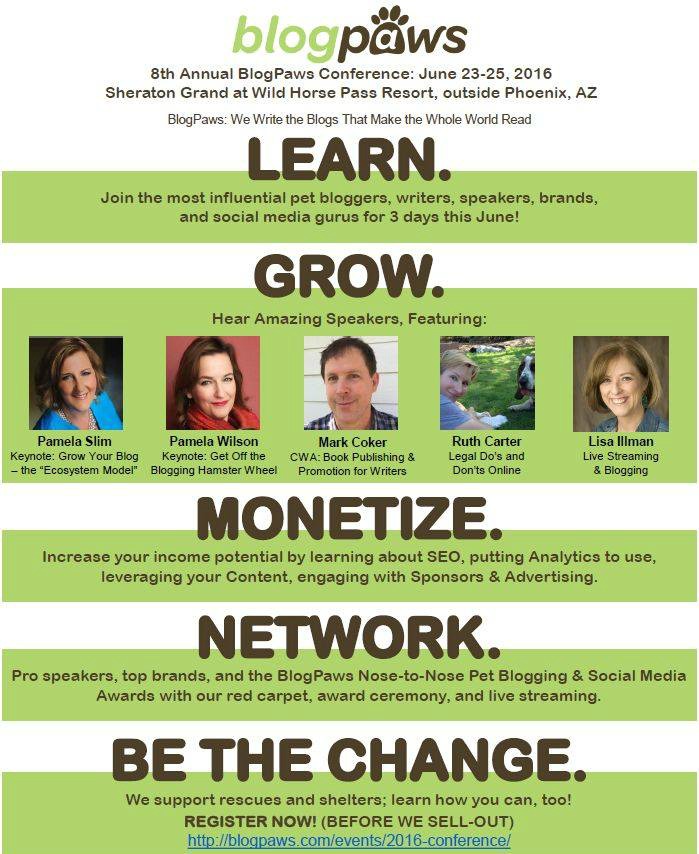 Disclosure: Budget Earth did not receive monetary compensation for this post. All opinion are based on my own experience from BlogPaws 2015. This post may have an affiliate link. All opinions on this product are my own and may differ from our readers' opinions.
Would you like to have your products featured in a giveaway event? Want to increase your social media exposure? Contact susan.l.bewley@gmail.com to see how I can help YOUR company today!