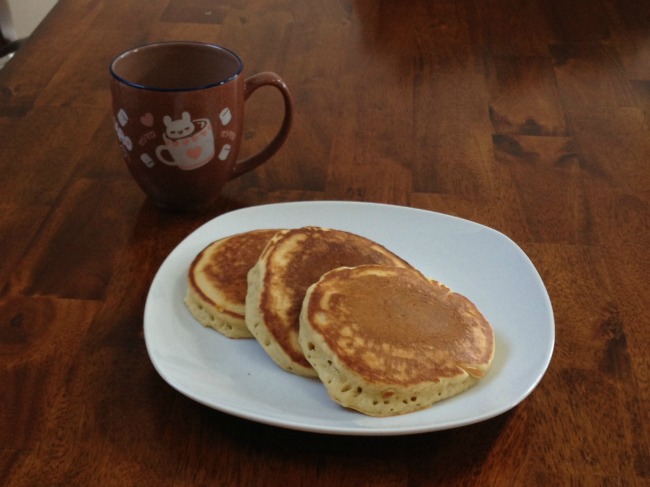 For some reason, I am never too inspired to make breakfast in the summer time. While some people love summer, I can't wait for the heat to end and for me to back outside walking. With the weather starting to get slightly cooler, I am back to making breakfast on weekends and baking, something my husband seems to be enjoying.  One of the quick recipes I have always enjoying making are pancakes. Not the stuff that comes out the box, but honest to goodness homemade pancakes!
To me, nothing is better than sitting down with a cup of coffee in the morning with a plate full of pancakes, and a tiny bit of pure maple syrup! After pulling up my sleeves, I decided that this was going to be the day I was going to make pancakes. My husband got the coffee going and I was busily getting out my ingredients.
Normally, cooking in my house is rather uneventful, but someone seemed to have told my bowl that I needed to start testing my Skoy clothes (you will see a review of these on Wednesday) a bit more. Right in the middle of cooking, busily flipping pancakes, my nicely balanced bowl decided to become unbalanced. As you can guess, half of my batter turned into a lovely bunch of pancakes, while the rest was easily cleaned up with our new paper towel substitute. Luckily, this recipe is easy enough to make that I was able to get more going in the mixer without any trouble!
So, what are these buttermilk pancakes like? Well, I would call them heaven when it comes to pancakes! It is one of the few pancake recipes I have ever tried where the finished pancake can be eaten without any condiments – even butter! They have a very slight sweet, vanilla taste that I love, and can easily be complimented with a tiny bit of butter, preserves (what my husband prefers), or pure maple syrup.
Feel free to tell me what you think of this recipe! I can tell you they are quick, easy, and make a lot of pancakes! While these pancakes may look small in the picture, they do rise very well, leaving you with thick but fluffy pancakes! This recipe is doubling friendly, but I have found that it makes about 10 pancakes if you measure your batter carefully.
Print
Homemade Buttermilk Pancake Recipe
Homemade Buttermilk Pancake Recipe Yield: 3-5 Servings or 8-10 pancakes
1 1/4

cups

All Purpose Flour

1 Teaspoon

Baking Powder

1 Teaspoon

Baking Soda

1

Egg

1 1/2 Teaspoons

Pure Vanilla

1 1/4

cups

Buttermilk

3 Tablespoons

Salted Butter

1/4

cup

White Sugar

1/2 Teaspoon

Salt
Instructions
Stir all the dry ingredients together thoroughly. I do this in my Kitchenaid Mixer Bowl.
Beat the egg in a separate bowl and than add it to the buttermilk.
Add the egg & buttermilk mixture to your dry ingredients. Mix in a stand mixer (like the Kitchenaid Stand Mixer) or with a hand mixer. Blend until it looks smooth.
Add the melted butter & vanilla. Mix thoroughly. Remove and prepare to make your pancakes.
Before cooking, get out a 1/4 cup bowl or equivalent. This will make sizing your pancakes much easier on the skillet
Heat your skillet or griddle on medium low heat and grease with a small amount of butter or margarine. With the butter begins to sizzle, you are ready to start cooking.
Fill your 1/4 cup bowl with pancake batter & pour it onto your skillet or griddle. When your pancakes are ready to turn, they will have risen and the sides will look slightly brown. If it's not ready to turn, it will stick to the griddle. Once flipped, heat until you see no loose batter if you gently press on the pancake.
This recipe will make about 10 medium size pancakes. Serve warm!