Disclosure: This post is part of a series of posts in partnership with Petbrosia to teach pet parents about pet health and the importance of pets staying healthy in the new year.
During the winter months, especially when it's snowing outside, none of us want to spend a great deal of times outdoors. While our dog may want to go running and playing, we can only take very low temperatures for so long. As someone who own a 'working dog', its not too shocking that Reya would prefer running around and playing in the snow all day long. I personally am not a fan of temperatures in the teens, leaving Reya having short spurts of outdoor time. That being said, its my job to keep Reya active and happy throughout the winter . Like us, dogs need their daily exercise to keep their heart and muscles healthy.
Since many of us keep our dogs active outdoors, it is important that we play a variety of games indoors to keep our pups active during the winter! Below, I included 10 of our favorite indoor games!
Tug of War – Before I go further on this one, make sure you know your dog's limits. We didn't play Tug of War in our household until all dominance issues were dealt with and Reya knew her commands well in case she got too excited. We usually play this with a rope and pull back and forth, letting Reya lead. If you don't have time for this game, use something like the Tuggo that has built in weight that your dog can pull around and play with for this type of game!
Hide & Seek – Like kids, dogs love hide and seek. This is an adorable game to play with your dog, and is a fantastic way work on command that could easily save your dog's life outdoors. Tell your dog to STAY as you move and hide in the house. When you give the command to COME, have them find you and reward them with a treat. This will be a great way to get you and your dog exercising together!
Puzzle Toys – While this may not get your dogs heart pumping, it will get them thinking. With dogs, a bored dog is usually a destructive dog. Get toys that encourage them to manipulate objects with their nose and paws to get them thinking and moving their muscles.
Stairs – If you have stairs in your house, use them! Throw balls down the stairs, get out the laser pointer, and get your dog running! Don't forget that you can run down them as well with your dog, getting back of you walking and running on those days when it is too cold and snowy to exercise.
Play Dates – If you have only one dog, consider scheduling play dates with other dogs in your neighborhood. Give them time to play indoors and have fun. Just make sure they are dogs that know one another well first and you know the limitations of both dogs. We actually have toys that are only out when visiting dogs are over since Reya can be territorial with her toys.
Agility Courses – As you might have guessed, I am all about making my Alaskan Malamute think and move. Practicing agility can be done with or without a leash (I prefer without in the house, but it can be great practice for puppies). What you do is move around furniture and various objects around your house, and teach your dog to weave around them, duck, crawl, and so on. This is a great time to work on commands as well. Just make sure to be frugal with the treat unless you know you are going to be VERY active.
Fetch – In our household, Fetch isn't something that is just played outdoors. Reya has a few soft toys and balls that we throw to her and throughout the house for her to catch. Make sure you have an area where you can't accidentally break something and get your dog moving. We usually do this in the basement or a hallway.
Scavenger Hunt – As silly as it may sound, scavenger hunts are a great deal of fun with dogs. Take your dogs favorite treats and hide a few of them around the house. By now, you have likely noticed dogs are fantastic scavengers (my poor trash can…) and love to put their nose to work in hopes of a food reward. Just make sure to hide them in approved places where you want your dog and take note of where you hid them so you don't have issues later if all the toys aren't found.
Laser Pointer – In our household, the laser pointer is Reya's most favorite toy. She will actually start nosing it on my husband's desk in hopes of playing. Not only is the laser pointer a great for Reya to run throughout the house and up and down stairs, but it challenges her mind. We will move the laser throughout her range of sight, with it sometimes taking her a moment to spot and find it. At the end of this game, we usually have on happy, tired dog. Just make sure you have an open area for playing (we do this in the basement).
Indoor Walking – As silly as it may sound, sometimes it's fun getting Reya in the car and bringing her to a local pet store. She loves going to Petsmart, walking up and down the aisles, and greeting other dogs who came in with their mom and dad. While we usually do end up buying something, it's a great way for Reya to let out some energy, play, and walk around the store.
From personal experience, I found that many of these activities usually end in a very tired dog if you play long enough. Of course, a tired dog is a happy dog!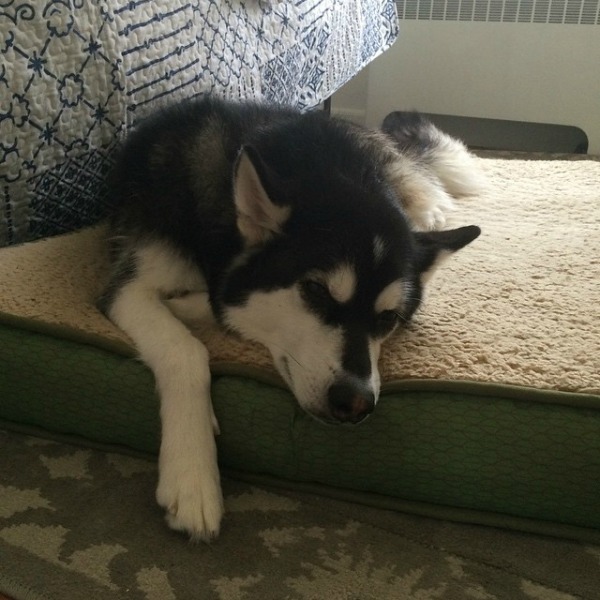 Of course, it is also important that you monitor food during the winter and don't give too many treats if you are dog is going to be less active. It is also crucial that you keep your dog on a healthy diet with nutritious food.